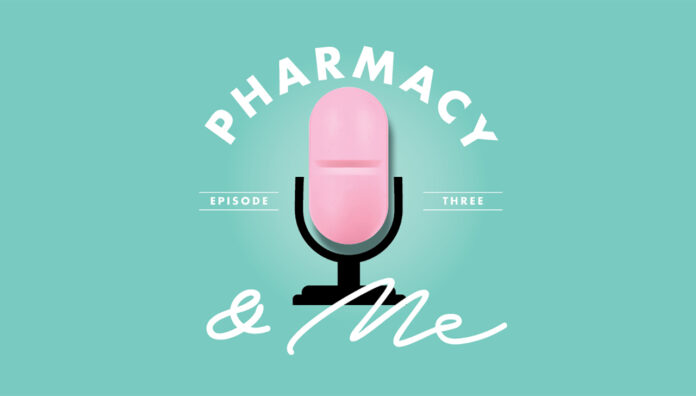 From producing the world's first comprehensive guide to drugs in sport to supporting her community through bushfires, and now the pandemic, Linda Badewitz-Dodd MPS is always willing to step up to the challenge.
Her pharmacy in Merimbula on the New South Wales south coast, which she co-owns with business partner Tania Dwyer, provides a wide range of professional services with a focus on personalised support and care. 
But community pharmacy wasn't always Linda's passion. 
It wasn't until 2013, when her husband David Dodd, also a pharmacist, was tragically killed, that she had to throw herself into a new role and take over his share of the business. She has since become the epitome of a professional community pharmacist who is practicing to her full potential, and is a pillar of support for her community.
In this episode of Pharmacy & Me, PSA's 2021 Pharmacist of the Year speaks with hosts Peter Guthrey and Hannah Knowles about her career, knowing when to give 'more hugs than drugs', her best advice for early career pharmacists and why life is too short to keep waiting for the big moments. 
Listen to the episode below or find it on Spotify, Apple Podcasts and Google Podcasts.
Pharmacy & Me is proudly produced by the Pharmaceutical Society of Australia.
'We're there for the general wellbeing of our patients and if we can share our knowledge and share what we do, it's only going to be better for everybody else.'

Linda Badewitz-Dodd MPS
Follow the timestamps to jump to the topics below:
[00:02:55] Why Linda chose pharmacy

[00:03:50] University life and Grand Rounds in the 1980s

[00:09:00] Becoming the editor of MIMS

[00:12:00] Producing the world's first comprehensive guide to drugs in sport

[00:17:50] Taking on a treechange

[00:27:35] Dealing with bushfires
[00:35:00] Implementing new pharmacy services

[00:37:10] Linda's top tips



Resources:
Linda [00:00:00] We're there for the general wellbeing for our patients and if we can share our knowledge and share what we do, it's only going to be better for everybody else.
Peter [00:00:15] From the Pharmaceutical Society of Australia, hello, and welcome to Pharmacy & Me, a podcast that explores how pharmacists do the extraordinary things they do. I'm Peter Guthrey from PSA and a community pharmacist at a 24-7 pharmacy in Melbourne. 
Hannah [00:00:30] And I'm Hannah Knowles, a Senior Pharmacist at the Royal Brisbane and Women's Hospital. Each episode, we speak to a pharmacist doing outstanding work about the highs and lows of their career, and we unpack what they've learnt and how you can put their experience into your practice. 
Peter [00:00:47] Today we're very excited to be speaking with the 2021 PSA Symbion Pharmacist of the Year, Linda Badewitz-Dodd. Linda has accomplished a lot during her career, from producing the world's first comprehensive guide to drugs in sport to supporting her community through bushfires and now the pandemic as a committed community pharmacist and owner in Merimbula, on the New South Wales south coast. Thanks very much for coming on the show, Linda. 
Linda [00:01:12] Lovely to be here, Peter, thanks. 
Hannah [00:01:14] It's great to have you on, Linda. And first of all, massive congratulations on being PSA's Pharmacist of the Year for 2021. How did you feel when you found out? 
Linda [00:01:24] I actually probably can't say that out loud, I think. When I got the phone call, I was actually quite busy and I'm going, sorry, sorry, I don't have time now. Can you call me back later? And they've said sorry, I got to tell you that you won this award. And then I was just gobsmacked, speechless for a  while. So, yes, I was very initially, shocked is the best word, but then also obviously very honoured and humbled to have been chosen. 
Hannah [00:01:54] Absolutely and what does the recognition mean to you? 
Linda [00:01:57] For me personally, I, the aftermath of it has been quite outstanding. I sent a note to Symbion to thank them for it, and I felt like I was actually at my own wake and people were being so nice and saying lovely things that generally you either have to die or retire for, so, done neither, so that's very nice to actually be in the room when people are saying nice things about you. So it has been overwhelming. Several different people have come from different parts of my life to come back and congratulate me, so that has been really lovely and unexpected. 
Hannah [00:02:34] One of the things I'm really interested to know is: how did you celebrate? 
Linda [00:02:39] Well, gin and tonics at work. And then I went to the Tathra Bowlo with my family and some friends, and they made me wear silly hat and made me drink a little bit. And then I came home and I think I went to work the next day and injected people. 
Peter [00:02:57] We will be talking a bit more about your amazing community pharmacy work and more recent achievements, but you had a really fascinating career. And I'd like to initially take you back to the 1980s when you're finishing high school and deciding what to study at university – why pharmacy? 
Linda [00:03:13] In my last year at school, I sort of I had to make a decision on what course I wanted to enrol in, and I was tossing up between pharmacy, because I thought that would fit my personality (I'm a people person) and the science is where my strengths were, and also architecture. I thought I might like to be in architecture. I had to make a decision because I was going off to a Rotary exchange in Japan for a year, and it was kind of like, you've got to get your applications in and you've got to get it deferred before I travel overseas and it was, yes, that's a good choice, happy with that one, and that's basically how it ended up. 
Hannah [00:03:53] And what did pharmacy look like during your time at Sydney University? 
Linda [00:03:58] It was bloody awesome, best time of my life, university was fantastic. In that time, it was such a small cohort, comparatively. You did everything together, you know, you went to lectures together, you went to Manning Bar together. You did your pracs. So we had this amazing cohort of people of which I still have so many friends. It was just one of the most magnificent times and experiences in my life. And I feel really sorry now for my daughter, who is in second year pharmacy and has been at university in a proper lecture theatre for a very small amount of time and hasn't got to know her peers as well as I have. 
Hannah [00:04:46] And with university being so fun, how did you then transition into the workforce? 
Linda [00:04:52] Oh, it took me a while. I ended up after my bachelor degree, did a postgraduate diploma in hospital pharmacy, and then I decided, I quite like university and I started doing my master's qualifying and started being a tutor in the pharmacy department that was cool. I really enjoyed teaching. I think a lot of my friends were out earning a whole lot of money, and as a tutor at university, you didn't earn much and then you were doing all this study. A friend, who is possibly known to a lot of pharmacists, Amanda Venables, was the teacher in charge of, she was a joint appointment between Prince Alfred Hospital and Sydney University. She said to me, we're looking for a pharmacist to work at RPA in neurosurgery ICU and neuro ICU, you know, what do you reckon? So I left the university and went to work there, which was an amazing clinical experience. And Amanda, was the, her joint appointment was in the renal unit, and they were doing the first transplant, kidney transplants, and it was all really exciting, you know, grand rounds where you just, you know, you go down to the theatre on a Friday afternoon and they'd wheel in somebody who had something that nobody could diagnose and everybody would be sitting around and trying to work out things. It was a really wonderful time to learn stuff. 
Hannah [00:06:30] It's great to hear that that's the start of grand rounds, ours looks a little bit different now in an auditorium with a pre-prepared PowerPoint rather than a live case. 
Linda [00:06:40] Yes, live cases were really good, because they weren't actors. And I mean, I have seen Peter be a very good patient in the Intern of the Year, you did a great job, Peter, but real patients are really good. 
Peter [00:06:56] I had lots of treatment for my migraines by the end of that session. I'd like to touch on the point you made about RPA in Sydney. You previously said that those ward rounds with the doctors were where you realised that we're all together for one purpose and that is looking after the patient and that really helped shape your belief that pharmacists are part of the health team and can contribute meaningfully. This was probably at a time where the role of pharmacists was quite different. How did that shape how you saw your role as a pharmacist from there? 
Linda [00:07:26] It's really interesting, because that was my start, so I didn't know that it was any different. Like when you're going on rounds and the doctors and the professors, who are going on rounds with you, expected you as a pharmacist to have that knowledge. And you would be asked to speak up and to give your input in the Postgraduate Diploma of Hospital Pharmacy that we did and with placements, you were encouraged to do that. You were there, you contributed and you all debated and people would disagree and you'd end up with a result that was good for the patient. So that's how it started, that's how it should be. 
Peter [00:08:06] Did you have some moments of, oh, this isn't how it is everywhere else at any stage after that? 
Linda [00:08:13] Yes, when I would say, well, why don't you just ring the doctor? If you don't think that that's right, ring the doctor, that's what you've got to do. And if they get snippy, you go well, could you please educate me? Nowhere have I seen that that dose is reasonable for a five-year-old. If you could show me the paper, I'd like to learn, because in my reading, if they go through that bottle of antibiotic syrup in 3 days, they're going to have very bad gastrointestinal upset. Oh, they say, or they provide you with a paper. You're not necessarily being defensive when you ring the doctor. If you don't know and you don't think it's right, ask. People are more than happy to share their knowledge. The worst they can say is no.
Hannah [00:09:01] Some excellent advice. 
Peter [00:09:02] Helping people 'know' seemingly became a passion of yours, who ended up by the 1990s as the Managing Editor of MIMS. First of all, how did you get there? That's an incredible appointment. 
Linda [00:09:14] Can I tell you? Also, Amanda, the teacher at the, in my post-grad  diploma. I don't know. She must have heard about something. We just happened to be having a chat and she said, oh, you know they're looking for an editor for MIMS, don't you? I went no. She said, I reckon you'd be good at that. I went, oh, well, you know, I'd been at PA for a while and I thought, I'll go and have a chat. So I went over and met Chris Wills, who was the publisher then. And he sort of showed me the portfolio of books that they did. And you know, I'm from a farm. Yeah, all those ag products here, I've used a few of those, Dad uses that, yes, that's cool. Yes, I could do that, no problems. Ended up getting that job and I distinctly remember ringing my mother to tell her that I was now the editor of MIMS, and she said, but Linda, you can't even spell! And I said, I know the important words. I said, and I'm sure there'll be people there who are better at the grammar than I am. And I did and I had some wonderful staff to work with at MIMS and a job I basically fell into and loved.
Peter [00:10:27] What was that transition from a hospital pharmacy role to a desk job like? Desk jobs often conjure connotations of just staring at a screen, but at least your initial emotions, they're really excited. 
Linda [00:10:39] I was very excited. The job at PA was intense, intensive care at Royal Prince Alfred Hospital isn't a place for the light-hearted, shall we say. 
Hannah [00:10:49] Certainly not. 
Linda [00:10:50] It was just a different change of pace. I'd done a lot of stuff there and it was stressful in that the instantaneous decisions that you have to make when somebody turns around and goes, what's the dose of bretylium for this patient, that sort of stress. It was very interesting at the time and it was just, yes, it was just a change.
Hannah [00:11:08] And how would you explain to someone what your day-to-day was like? 
Linda [00:11:12] Communicating with companies, generally, with the medical and scientific departments of the pharmaceutical companies trying to, you know, get information out of them. Also liaising with the PBAC and PBS doing the MIMS bi-monthly as it was then, and getting that information up to date. We would also be responsible for, the editorial department, for abbreviating the information from the full information. So deciding what's important to let doctors and pharmacists, at a glimpse, know what was important about a particular drug, making sure that was all okay, that you didn't have mistakes. 
Peter [00:11:58] As someone who is involved in the production of Australian Pharmacist, that is my worst nightmare to discover errors after you hit the print button. During your time at MIMS, you also became quite interested in drugs in sport. When did that start? 
Linda [00:12:10] When I was looking at MIMS and about trying to provide more information and more useful information to people, I was having a chat to the Coeliac Association and we we're talking about gluten intolerance. And so I decided I could put a symbol in the MIMS bi-monthly that indicated whether something had gluten in it or not, because we didn't include inactives in the brief information in MIMS bi-monthly. But we could include this gluten symbol. So I'd sort of gone through, we'd gone to a database and I could do that. So when the Commonwealth Games were coming up and we were putting in, we used to just put in the WADA IOC guide to drugs in sport. And I'm looking at it, I'm going, if you're not a pharmacist, how can you tell if something is or similar or is chemically related or whatever? And I thought, that's next to bloody useless. So I went, but I can go through that. I can go through these ingredients and I can tell you whether it's a beta-blocker or if it's a peptide hormone or a stimulant or any of those things. And because the data for MIMS exists in a database, I could just go through and highlight ingredients and then make an algorithm that said, if one or more ingredient is prohibited, then that product is prohibited. And then we went, well, if we can do it to be printed in MIMS bi-monthly, we can then extract that information out in another way and make a publication that's going to be useful for athletes, doctors, sports managers and things like that with just a little bit of information to say yes, it is, no, it's not and why. It seems really obvious, but nobody had done that before the WADA list existed. But at the time, it was just sort of basically staring us in the face going through and identifying it absolutely in black and white. Yes, it was just an obvious thing to do. 
Hannah [00:14:11] And it's something that's had a really big impact with all of the sport that we've had and facilitated in Australia since then. So I read that with your position at MIMS you stepped away when you had your first child, can you talk us through that decision? 
Linda [00:14:27] Well, my husband and I had been married a long time, and we were always going to have children, it was just I was really busy and it's a very demanding job publishing and you've got deadlines. You've got to get things done. And you know, we weren't getting any younger. So it was sort of I hit 30 and went, oh, probably about time, you know, that I had a baby. So we just made that decision and right up until basically, the day that she was born, I was going back, I was, you know, going to have a nanny. It would just be, I would have this child who would be perfect and I would go and do my job, come back, be the super mother and super wife. And anyway, I had Georgia, my oldest child, and, you know, went, oh my God, this is awesome. I am so never going back to work. So at about 2 weeks, I went back in to see my boss, and I just said, I said, I can't come back. I'm really sorry. I can't come back. Why didn't somebody tell me how great this was? So yes, I did some consulting for them and kept up doing the drugs in sport consulting but that was well in hand. So yes, but it was just one of those unconscious decisions. 
Peter [00:15:49] At some stage when you were in Sydney, I understand that you joined the PSA New South Wales Branch Committee and as part of that work, you produced an education programme on cassette tapes. For some of our younger listeners of Pharmacy & Me can you explain what a cassette tape was and why you would listen to that for education? 
Linda [00:16:09] You're so funny, Peter. I was a councillor on the New South Wales branch. But because I'd sort of had time on my hands and I was asked to produce these Insight tapes. So yes, a cassette is something that we had in our cars and you'd put them in and you could listen to them on your way to work, a bit like a podcast. It's an old fashioned podcast with tape, ask your parents because they quite often got chewed up and unravelled. But I would interview various people on a theme. So with two sides of things, one was sort of like a little, just a little pop, bits of information and then a big update. I think I did four a year. That was great fun and I liked learning about things from specialists. It was a really fun thing to do and kept me off the streets and out of trouble, mostly.
Hannah [00:17:05] So there are some fantastic topics on the cassette, do you remember more broadly within the branch committee some of the main themes and issues that were topics of discussion about pharmacy? 
Linda [00:17:17] One of the best things that I think we did when I was at New South Wales Council was the Young Pharmacists Committee. We as a group developed the asthma card, which we felt as a group of young pharmacists, we really needed to get a bit of a handle on inappropriate use of reliever medications and, you know, highlighting how people inappropriately use their preventers that was a really big achievement, it was very useful for a long time and it's something I'm very proud of that one. 
Hannah [00:17:51] And that's a massive achievement to look back on now. I'd like to jump ahead a few years now into the late 1990s, when you and your husband, David Dodd, who was also a pharmacist, moved your family from Eastwood in Sydney's northwest to Tathra on the New South Wales south coast. What happened when you got there? 
Linda [00:18:08] The reason we actually left is that my husband really wanted to go to see the Rugby World Cup in the UK. He had a very busy pharmacy in Eastwood, but couldn't get anybody to manage it for the 6 weeks or so that we needed to go and see the Rugby World Cup. And I could get tickets through my connections at MIMS. And he was just working really hard and he said, oh bugger it, let's sell the business. And I went great, we could move down the far south coast. My family is down there. I've got a house down there. Let's do that. So we did that, did a fair bit of travel and then I, with my husband, we walked into the pharmacy in Merimbula where I'd actually done my internship when I was at university, and saw my old boss. Walked in and I looked at him and said, would you like a couple of pharmacists? I actually meant David. I wasn't going to work. Would you like a couple of pharmacists? And he just, he looked at both of us and just nearly hugged me and just sort of grabbed hold of David. He was a wonderful pharmacist. And that started an amazing personal and business relationship for us since 1999. And Warren has just recently sold his part of the business to myself and my current business partner after working with him since 1999 but more closely since my husband passed away in 2013. But he and David had an amazing relationship and great business partnership, and it's a fantastic business that I'm very proud to own and be a part of. 
Peter [00:19:44] You've said community pharmacy wasn't initially your passion, in fact, it was tragic circumstances that led you to pharmacy ownership when David was killed and you took over his share of the business. That's a really awful and overwhelming time personally, but also a challenging time to make a really big decision on a new role. Was that an easy decision to make in hindsight? 
Linda [00:20:05] You don't get to make that decision, that decision is made for you. People say to me how resilient you are, how strong you are, how you cope, but you don't have a choice. You don't know how strong you are until you have to be strong. You don't know how clever and resilient kids are until they have to be, or staff even for that matter. You give them a chance to step up and they will. And it's, I think, an advice that I would give is give people an opportunity to stuff up, give people an opportunity to stand up and just give them an opportunity to succeed because you will be really surprised by what people do, if you give them an opportunity. And for the young pharmacist, take the opportunities when they're provided and given to you. Don't just say I couldn't do that. You don't know. Try it. You may be able to do it. You probably will if you believe you can, you're more likely to than if you believe you can't. If you believe you can't, you're buggered from the start. 
Peter [00:21:13] What helped you believe that you could? 
Linda [00:21:15] I had to, I suppose. My business partner, then Warren and Tanya, who's now my business partner, who was at that time working for David and Warren, they were just magnificent. They carried me, absolutely carried me and we didn't want to make a business decision about selling the business until I was ready and in a state of mind to do that and that took some time. In hindsight, I could go, wow, I don't remember 6 months of my life. I don't remember making those decisions. I can remember half driving to work and turning around and coming back home because I couldn't go to work and face it, because in a pharmacy, and David was very much part of the community there, like, I was consoling everybody else. They were coming in to console me, but I was doing the consoling. And that was, it was beautiful, but holy hell, it was taxing. So it was, yes, a horrible time, but a lovely time as well, if you know what I mean. 
Hannah [00:22:21] And unfortunately, it's tragic circumstances like that where you realise the value of community and the fact of how many good relationships you have and when you're in a small town that's the town that rallies with you and with your family. 
Linda [00:22:36] Absolutely. I have such a big debt, for want of a better term, to repay to my community because they were there for me when I needed them. So I need to be there for everybody else. Nobody is keeping score and nobody expects you to keep score. But that's just how I feel and it's very wonderful to be able to give. And it's also, you need to also be generous to receive it as well. It's really hard to accept help when you're the one that's providing help most of the time or support or solace or succour or whatever it is, but it's a gift to other people to accept it, as well as to provide it. 
Peter [00:23:19] And that's a really good point, accepting the help and kindness of others, it can be quite challenging. And it's something that is in some ways a learnt skill, but it's incredibly rewarding when you do open yourself up to it. And in your nomination for Pharmacist of the Year, you had peers who described you as a 'coal-face pharmacist who practises what you preach', as a 'pioneer', a 'community leader'. These are all some of the lovely elements of community that you've just alluded to – what are the things that bring you the most joy and passion being a community pharmacist? 
Linda [00:23:51] The everyday chatter, the looks on your patients' faces when you have a bit of a cheeky chat with them and have a bit of a flirt and just generally have concern about where their day is and how their day is going. For some people, loneliness is awful, and to come into the pharmacy and have a bit of a chat and for somebody to care about them is a wonderful thing and you can see how they respond. I love telling jokes. People laughing at your jokes is very rewarding. You know, it's just, it's that interaction and making you feel not so alone and making other people feel not so alone as well. It's very lovely to see that and obviously helping them on the health side, but on a personal side, the ability to relax with people, I think, is also important and not take yourself too seriously. Be serious when you need to be serious, but a human interaction, people are going to remember the smile in your eyes and the cheer in your voice that personal interaction is what makes us different and makes us the community and community pharmacy, I reckon. 
Hannah [00:25:09] So, Linda, you talk about things that you're very passionate about now, how do you go about finding passion in your work? 
Linda [00:25:15] Appreciate the little things. Don't expect everything to be life-changing moments. Just enjoy, enjoy the little things, enjoy time to appreciate funny moments in every day. Life's too short to keep waiting for the big moments. If they happen, they happen. But enjoy what time and what interactions you can with as many people as you can, I suppose. 
Hannah [00:25:45] And you've spoken a lot about people, how important is it to throw yourself into the 'community' aspect of community pharmacy?
Linda [00:25:51] In a regional area, you know everybody, you're in the supermarket with the doctors or you're at the beach, you're in the surf club with them and you're just part of the family. So it's kind of like being a friend. If you want to have good friends, you've got to be a good friend as well. If you want to live in a great community, you've got to be part of that community and not just sit back and let other people do things. You don't think about it, it's just second nature that you help, you get in, you contribute because you want to make the place a bit better than when you found it. 
Hannah [00:26:29] I can relate quite closely. I remember before horse events, all the kids would be lining up because Mum and Dad were the secretaries and you're getting all the folders together and printing out all the forms and going, why do we do this? And then as you grow up, you realise it's because someone's got to do it and that's your responsibility in the community and the joy that it gives you. 
Linda [00:26:50] Yes. I was involved for a long time in a fundraising swim between Tathra Wharf and the beach, so we call it the Tathra Wharf to Waves and we raised money jointly for the Tathra Preschool and the surf club that's been going for a number of years now. We haven't had it in the last couple of years because of COVID and there was bushfires and, you know, lots of disasters, but that was amazing. It's just being part of the community. And if you want the community to be there for you and have that nurturing side of things, you've got to be part of it as well. You can't just rock up and expect it to happen. You need to contribute to benefit. 
Hannah [00:27:37] Absolutely and you touched just before on the bushfires and along with your business partner, Tanya, you led your community through the devastating Black Summer bushfires, staying open to supply face masks, essential medicines and emergency support while also facing the threat of fire in your own home. In one of the interviews, you described it as giving out more hugs than drugs – what was that like? 
Linda [00:28:00] It was really, really sad because we did have people coming in who had lost homes, who'd lost their medications, who couldn't find their animals, had lost their life savings, being able to help them and that sometimes you just need a hug. And if there isn't anybody there to give you one because you didn't have family or, you know, sometimes it's just so lovely to have a hug, or to give a hug and to receive a hug. It was just what people needed, and you can tell when people need a hug. Tanya and I decided that we would keep the pharmacy open because there would be people who needed things. We had firefighters coming in who, you know, they couldn't see, and they're trying to find money to pay us. We're going, don't be stupid, just take whatever you need. Is there anything else that we can give you, have you got enough, what else can we do, who needs help, tell us how we can contribute. I mean, our efforts were alongside everybody else in the community, we were just doing our bit.
Peter [00:29:12] On the point of the bushfires, we had a situation where people needed medicines, they didn't have prescriptions, we had 3 day supply rules that were in place, and I'm not sure how much you know about this story, but in our background research for today, we were speaking to some of the team in New South Wales who said that conversations and correspondence with people like you really became the catalyst to see those emergency supply laws expanded and start to incorporate a month or a single pack supply. What was the impact that made when you finally had the law backing up what people really needed? 
Linda [00:29:50] It's about time that some common sense came into play, that's what I thought. Having that backup is really important. We're health professionals, we have the patient's best interest at heart. Let us do what we can to help people. I had a GP who happened to be going to Canberra and we could not, the petrol tankers could get through, the food trucks could get through, but our drug deliveries were being held up and we were nearly out of Ventolin and preventers. And I remember Andrew Topp, who is, he's the CEO of Capital Chemists in Canberra. I rang him. I said, Andrew, I really need, if you've got any spare salbutamol, any spare steroids, can you get them to me and I will get them sent, you know, when I can get my orders in, I'll get them sent back to you? And he said, yes, sure, I'll chase around the stores. How are we going to get them there? I said, I've got a GP who's over in the car park at Bunnings buying, she's buying P2 masks. He said give me 20 minutes and he drove around to the stores, collected medication for us and the GP bought them back along with every spare P2 mask that she could find so that we had something to give to the patients. So it's again, it's community, it's connections. Andrew was on the Young Pharmacists Committee with me when we did the, he was on the New South Wales branch as well, but he was part of the Young Pharmacists Committee, who did our asthma card. 
Peter [00:31:23] And I love how every disaster and Australian story somehow has Bunnings wound into it somewhere as well, it's the constant storyline there. In terms of a fire disaster, they sweep in very quickly. And then in some ways, you also have the attention of the nation sweeping quite quickly and then disappearing quite suddenly. But you have a community that's trying to recover after that, what were the needs of your community once the immediate bushfire and  those early recovery days had passed? 
Linda [00:31:54] I think reassurance that it would get better. There are still people affected by it now. I've still got, you know, friends who haven't finished building their houses and prior to the 2020 fires, we had fires in Tathra in 2018. They're still building their house, they're still building their homes and that 2020 fire was really scary for them, that bought back, it was like a post-traumatic stress because they'd been through it once and they thought they were going to go through it again. Just facing the hell again was pretty awful for them, and supporting them during that period was really important and making sure their mental health was good. I think mental health is the big worry now. I mean, just fires and COVID as well. It's just, it's such a hard thing to address. There are not enough practitioners. I think we're pretty well equipped to deal with it because we're good listeners. We ask questions and we respond but we certainly need to spend more time doing that and being there for people. I think being there, giving hugs is a good place to start. 
Hannah [00:33:04] Linda, you've already achieved so much, but is there something that you have your sights on next? 
Linda [00:33:11]Travelling again. 
Hannah [00:33:13] Amen. 
Linda [00:33:16] Oh, you mean professionally. I think we've got a number of services in the pharmacy and I think expanding, expanding on those. I know this does sound like a plug for PSA, but going to conferences and hearing peers, enthusiastic people, enthusiastic lecturers and people who are doing things that you don't do and being excited about that is really one of the great things about pharmacy and about the education events that it does. And a classic example, before we had a little period of time before COVID, when we had the New South Wales therapeutic update and I was having a chat with Shane Jackson, because I said, I've just put on this RN and she's fantastic and she's, we can give, you know, intramuscular injections and subcutaneous injections, and she can do that because she's trained. And Shane looked at me, and said, you can do that. I went, what? It's within your scope of practice. All you need to do is, you know, there's this course. I didn't know, but that's what he was talking about the next day at the course. And suddenly this penny dropped. And I'm going, of course I can. Oh my god, I've been giving flu vaccines, why the hell can't I do this? And it's sort of seeing people putting their words into practice, it's inspiring and that's, you know, it's travel, it's education, it's learning and it's seeing opportunity. So I think doing a hell of a lot more of that is on my agenda and I look forward to doing those sorts of new challenges. 
Hannah [00:35:00] Now, do you have any advice for other community pharmacists who might want to expand their offering of professional services? So how do you go about setting up a new service and the implementation? 
Linda [00:35:11] Ask a peer. Ask a friend who's doing it. Go and visit them. See what they do and how they do it. Most people, I find, are very generous with their time. It's not necessarily something competitive that I've got that you haven't got. We're there for the general well-being for our patients and if we can share our knowledge and share what we do, it's only going to be better for everybody else. So I'm happy if anybody wants to come down and visit the beautiful far south coast and come have a look and see what we do and how we do it. More than happy to share. But don't be afraid to fail. I know people have said that before, don't, just if you're afraid you won't achieve anything. You won't do anything. You won't grow. You've got to try things. You don't succeed in life by always being successful. You need to know your limits, what you can't do and why you couldn't do it and don't accept no without a qualifier. Can you tell me about this? No. Why won't you tell me about this? If you give me no and a damn good answer, that's fine, I'll accept that, but I'm not accepting no, just because you couldn't be bothered. 
Peter [00:36:25] Don't accept no, I love that because it challenges us to always be better, and it challenges us not to accept things in the world that we shouldn't walk past and accept. 
Linda [00:36:34] Absolutely. 
Hannah [00:36:35] There are a couple of questions that we like to end on with all our guests, starting with what's the best piece of advice that you've been given that's helped your career? 
Linda [00:36:44] Don't accept no without a qualifier. I know I tried to pass that off a minute ago as my advice, but I'm just passing it on. Have a go and be passionate and be sincere in what you do. If you're not sincere and passionate, don't bother being in the conversation. People can tell when you're sincere and when you're passionate and when you're not. 
Peter [00:37:11] Well, and I think you've stolen my final question, which is what are your top three tips for other pharmacists who want to practice to their full potential? 
Linda [00:37:17] Don't take no without a qualifier, be sincere and have a positive outlook about things. Just enjoy the time that you've got. You don't know how long you've got, so enjoy the time that you have. And if you enjoy your work, it's, if you enjoy it, it just makes getting out of bed and heading to work and all that much more enjoyable and fulfilling. And have a go, try stuff, if you fail, try something else, if that fails, try something else. 
Hannah [00:37:51] Absolutely, some really great advice there, Linda. We'd like to thank you so much for coming on the show. It's really been a pleasure. 
Linda [00:37:58] Thank you, it's been fun. 
Hannah [00:37:59] We'd like to say a big thanks to everyone for listening. You can check out the show notes for links to everything we've spoken about today. And don't forget to subscribe to get episodes as soon as they're released. 
Peter [00:38:09] And thanks so much, Linda, I really appreciated the openness and the generosity of sharing your career with us. It's both inspiring and really valuable to learn from. 
Linda [00:38:20] You're welcome. 
Peter [00:38:21] And if you'd like to learn more about Linda's incredible career journey or discover more about other PSA Excellence Awards winners, you can read all about them on the Australian Pharmacist website at australianpharmacist.com.au or maybe catch her at the next PSA Conference.