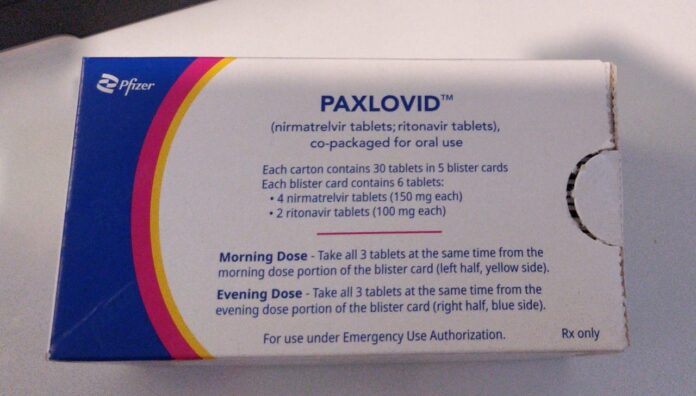 The COVID-19 treatment Paxlovid (nirmatrelvir and ritonavir) will be listed on the Pharmaceutical Benefits Scheme (PBS) from 1 May. Here's what pharmacists need to know.
1. Interactions? Yes, there are plenty!
There are heaps of contraindications for Paxlovid for active ingredients which are dependent on CYP3A for clearance and for which elevated concentrations are associated with serious and/or life-threatening reactions. Some are surprisingly common; including simvastatin, piroxicam, diazepam, amiodarone and colchicine. 
Paxlovid is also contraindicated for concomittant use with medicines which could cause loss of virologic response and possible resistance, including carbamazepine, phenobarbital, phenytoin, rifampicin and St John's Wort.
Before dispensing Paxlovid, pharmacists should routinely check all other medicines taken for interactions.
At this stage, it is unknown whether Paxlovid is safe for use in children and pregnant women. Intravenous antiviral medicines, however, are safe at all stages of pregnancy, Dr Charlotte Hespe said in a recent PSA webinar, Oral COVID-19 Treatment Update.
Ritonavir could impact the effectiveness of combined hormonal contraceptives. Patients should be instructed to use alternative contraceptives during treatment with Paxlovid, as well as during a menstrual cycle post-treatment.
2. The tablets MUST be taken together
University of Queensland Associate Professor Paul Griffin told the webinar that patients should be advised that oral antivirals are not a substitute for vaccination.
Treatment must commence as soon as possible after diagnosis of COVID-19 and within 5 days of developing symptoms.
'Once patients are in the inflammatory stage, these medicines are going to have little to no effect,' A/Prof Griffin said.
Paxlovid is a three-tablet dose. The standard dosage is 300 mg nirmatrelvir (2 x 150 mg tablets) and 100 mg ritonavir (1 x 100 mg tablet), taken twice a day (every 12 hours) for 5 days.
Nirmatrelvir and ritonavir must be taken together to ensure sufficient plasma levels of nirmatrelvir for the desired therapeutic effect, which will not be achieved if the tablets are taken separately.
The tablets should be swallowed whole and can be taken with or without food.
3. Who can receive Paxlovid under the PBS?
Both Paxlovid and Lagevrio (molnupiravir), which was also recently added to the PBS, are an Authority Required (STREAMLINED) benefit for patients with mild to moderate COVID-19, who have a high risk of developing severe disease. 
Clinical trials conducted by Pfizer show the treatment reduces the risk of hospitalisation and death by 89% in this demographic. Lagevrio, on the other hand, is far less effective, which with a risk reduction of 30% for hospitalisation or death.
Despite this difference in relative efficacy, Paxlovid has numerous interactions and is not appropriate for patients with renal impairment. Based on the limited data currently available, no interactions with Lagevrio have been identified. Dosage adjustments are also not required for patients with renal impairment or hepatic impairment.
Taking this into account, those who are eligible to receive a prescription for Paxlovid are patients 18 years of age and older who not require supplemental oxygen due to COVID-19.
PBS eligibility criteria includes patients who:
are 65 years or older, with two other risk factors for severe disease, such as

cardiovascular disease, diabetes, hypertension or chronic lung disease

are 75 years or older with one additional risk factor 

identify as Aboriginal or Torres Strait Islander, and are 50 years or older with two other risk factors

are moderately to severely immunocompromised.
Interactions with immunosuppressive medicines such as tacrolimus may require complex dose adjustment for people eligible due to moderate-to-sever immunocompromise.
4. As the patient will be isolating, delivery will be the default
While initially prioritised for distribution in residential aged care facilities (RACFs) and rural and remote communities through the National Medicines Stockpile, Paxlovid will be accessible from community pharmacies via a prescription from a medical practitioner or a nurse practitioner.
Patients need a positive PCR or rapid antigen test to COVID-19 to receive a prescription for Paxlovid, which they are advised to obtain via telehealth.
Where necessary, pharmacists should home deliver Paxlovid to patients. With isolation rule changes being introduced in New South Wales and Victoria, close contacts may collect medicines on behalf of patients. However they must wear face masks when indoors – and should be reminded of this where relevant.
5. The limited supply of Paxlovid should be prioritised for patients in need
The Australian Government secured 500,000 courses of Paxlovid in 2021, with another 500,000 expected to arrive throughout 2022 for supply through state and territory health departments and the PBS.
The Commonwealth Department of Health has emphasised that Paxlovid must be prioritised for patients at highest risk of developing severe COVID-19, as reflected in the PBS eligibility criteria. 
To reserve stock for appropriate use, it was suggested Paxlovid should not be prescribed or dispensed for people to keep on hand.
While private prescriptions of Paxlovid are not illegal, the Department has stressed they should not be dispensed privately – noting that the price point ($530) may be prohibitive for this method of supply.
Resources and further information