A new report has laid out PSA's vision for exactly what roles pharmacists should be taking in patient-care positions, along with how those roles should be remunerated.
Launched at PSA19 in Sydney this morning, the Pharmacists in 2023: Roles and Remuneration report notes that remuneration for Australian pharmacists does not equate with their value or reflect their skills, training, expertise or responsibility in the healthcare system – with the average hourly pay rate for community pharmacists well below that of professions with comparative levels of professional responsibility and training.
PSA's National President Dr Chris Freeman said PSA members had raised the remuneration of pharmacist practice time and time again.
'Pharmacists are completely dissatisfied with the remuneration as a reflection of their critical skills and training, and contribution to patient care,' he said.
'Over the past 10 to 15 years we have had calls that pharmacist pay is too low but we haven't had any commentary about what it should be. No one has set the bar.
'PSA has taken some leadership in this area around what the remuneration of pharmacist practice should look like. This will be controversial to some, applauded by others and at the very least should engage people in conversation around what pharmacist remuneration should look like.
'Many of you will ask "How can we achieve that?" but we've got to set the goal before we talk about the how.'
The report sets out the minimum annual salaries PSA is working towards for different levels of practice by 2023 in the table below.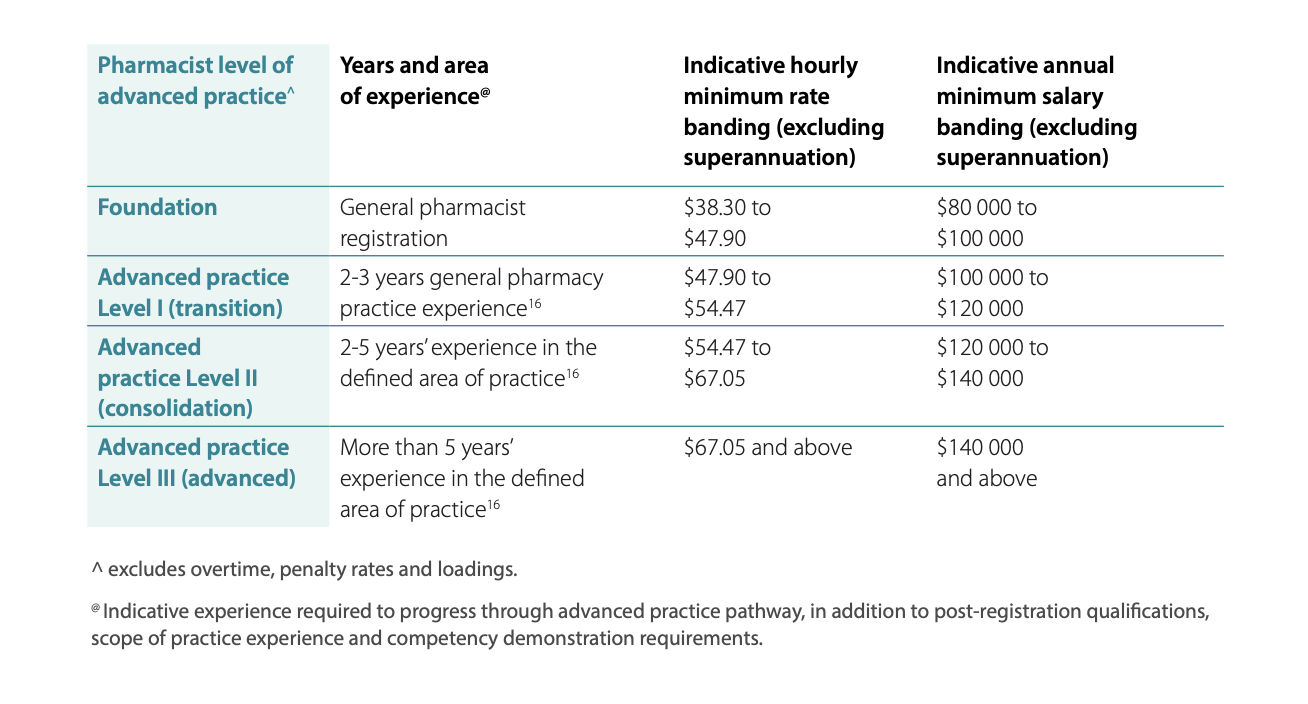 'As the complexity of pharmacy practice increases, pharmacists need properly remunerated and supported career pathways,' Dr Freeman said. 
In constructing the salary ranges, PSA looked at other health professions with similar training and expertise, here in Australia, and internationally.
It is PSA's view that the most appropriate mechanism to support increased remuneration for pharmacists is to link remuneration with activity as well as the value that pharmacists bring to the community through their skills, expertise, and training. 
'The Advanced Practice Framework is the most logical application of this and, while this may take some time to implement, it is clear we need to forge a path that delivers better value for pharmacists – we believe this is the way,' Dr Freeman said. 
He said PSA was buoyed by Federal Health Minister Greg Hunt's recent commitment to not only continue but to expand various programs and health services in the next agreement.
Much of PSA's efforts are also being focused on funding pharmacist practice through the MBS.
'This is something that PSA has worked on tirelessly over the last two years. We have written submissions to the MBS Taskforce, we have spoken to the health minister, we have spoken to the chair of the taskforce, we've provided pre-Budget submissions – it has been a consistent effort over a long period of time to see pharmacists achieve parity in the health system and be able to access the MBS,' Dr Freeman said.
'The Taskforce draft recommendations that are currently out for consultation have two key recommendations, the first of which I think is critical – that pharmacists, as part of the non-medical health professions, should be paid for their contributions to case conferencing.
Integration of healthcare is very hard to achieve when the funding mechanisms cause practice to happen in silos.
'Pharmacists will be a critical member of case conferences, because the two key pillars of primacy care are pharmacist practice and general practice.'
To learn more, view the report here.