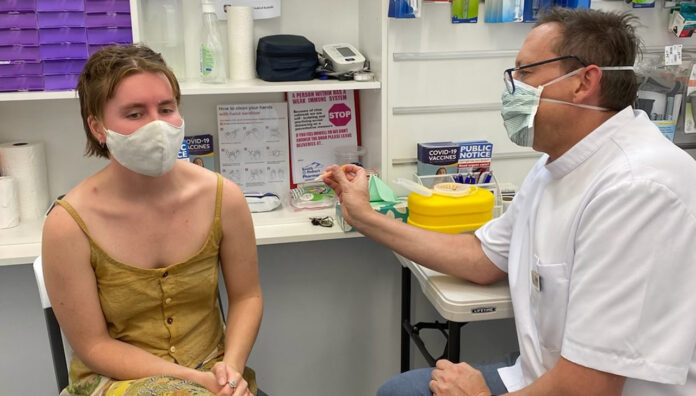 UPDATE 01/06/22
Free influenza vaccinations will be available in pharmacies and general practice in WA, NSW, Victoria, Queensland and SA in June. No equivalent programs have been announced in the ACT, Tasmania or the NT.
Each program is different. The fees vary depending on whether the vaccine is already free on the NIP and the rate the relevant state government has agreed to.
The PSA's National President Associate Professor Chris Freeman welcomed the announcement of free vaccines, but cautioned more must to be done to protect Australians this winter and in future flu seasons.
'We must act with urgency and work together to vaccinate as many people against influenza as soon as possible,' he said.
'However, these state-based time-limited programs are only a band-aid for the bigger problem of funding arrangements which have not kept pace with population health needs. We need to make it easier for all Australians to be protected against influenza every year, by removing cost barriers currently faced by many Australians.
'It is time for the Federal Government to extend the Medicare Benefits Schedule to fund the costs to patients for administration of NIP vaccinations by their pharmacist.'
While PSA welcomed (23 May) Monday's announcement of free flu vaccines for Queenslanders aged 5–65, pharmacists on the ground were frustrated that there was no warning or time to prepare ahead of the program rollout. 
As influenza cases surge and threaten to overwhelm the hospital system, the Queensland Government has urged all people to get vaccinated now, committing $40 million to flu shots in pharmacies and general practices. But in launching its response to the emerging health crisis, pharmacists and GPs were inundated with patient requests for free flu vaccines following an announcement they didn't know anything about.
Queensland pharmacists are frustrated at the lack of notice given to them ahead of Health Minister Yvette D'Ath's announcement. Pharmacists were given less than 24 hours to prepare before Queenslanders would be able to receive vaccines, which need to be entered into GuildCare regardless of the administering pharmacists' normal booking system. 
The administrative burden of re-entering booking data, on top of increased demand for pharmacists over the coming months, means that Queensland pharmacists are under pressure to work just as hard, if not harder than they have over the pandemic. 
Pharmacists need time to prepare
Queensland pharmacist manager James Buckley MPS told Australian Pharmacist that more warning before an announcement of this scale would have been helpful.
'In my experience, we have coped with the change in the best manner possible,' he said.

'The most challenging part of this change this time was securing stock and managing a new booking system without warning or proper set-up time.'

Another pharmacist took to social media to express her frustration.

Why can we not have a health initiative that is well planned with all involved parties aware before it is announced to the public,' she said.

'Free flu vaccines have been announced to all Queenslanders… beginning tomorrow and the pharmacists found out today,' she said on Monday. 'We deserve better.'
Vaccinations are key to protecting communities
The PSA's Queensland Branch President Shane MacDonald pointed to the COVID-19 vaccination program as an example of how pharmacists can play a significant role in ongoing vaccination schemes.
'This week's announcement is a great development for Queenslanders and points to the recognition and success of pharmacists providing vaccination services. This is something the PSA has long been advocating for. It's important that our communities be vaccinated as quickly as possible this flu season,' he said. 'However, ideally, pharmacists need time to prepare before their workloads increase so dramatically.
'As always, pharmacists will step up and support their patients in times of need and PSA will continue to advocate that they are adequately remunerated and supported for the role that they play.
'The most challenging part of this change this time was securing stock and managing a new booking system without warning or proper set-up time.'

James Buckley MPS
'The PSA has been in contact with Queensland Health and the Health Minister's office since the announcement to support the improvement and streamlining of the process for pharmacists to support their patients.
'Given the circumstances, I'm really proud of the profession's response and it demonstrates the government's faith in our ability to deliver. The system is not perfect, and we will continue to be our members' advocate to improve how it's being delivered.
'Funding of primary care is usually the federal government's responsibility and I applaud the Queensland government for stepping in and supporting Queenslanders as influenza grips the state.'
Both New South Wales Minister for Health Brad Hazzard and Northern Territory Chief Minister Natasha Fyles have announced that similar programs could take shape in their jurisdictions in the coming days.
New Labor Government must act urgently to reduce out-of-pocket costs for all consumers
This announcement follows PSA's repeated calls for the federal government to ensure pharmacists can deliver National Immunisation Program (NIP) vaccines without out-of-pocket expense to patients.

Under current provisions, pharmacists are often paid less than other healthcare providers for services like COVID-19 vaccinations.

For providing three doses of a COVID-19 vaccination in a major city, a pharmacist would receive $68 in remuneration while a GP would receive $139.05.
'Every state has now enabled pharmacists to administer influenza vaccines via the NIP influenza stock, however consumers face out-of-pocket expenses for the administration of the vaccine,' said PSA National President Associate Professor Chris Freeman.

'The PSA again urges the incoming federal government to provide an MBS service payment to pharmacists for administering all NIP-funded vaccinations in community pharmacies.'