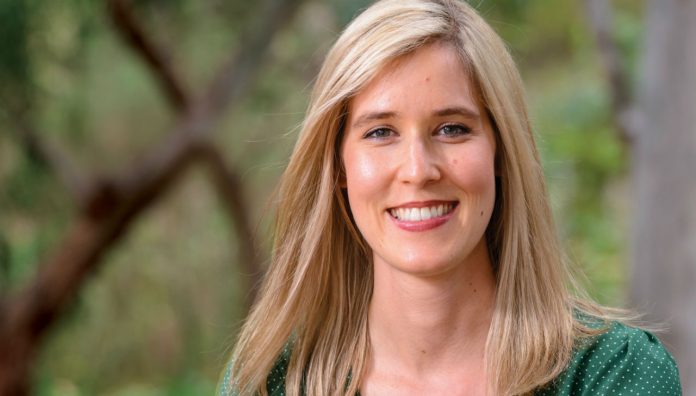 The same day Jessica Chapman-Goetz MPS became a registered pharmacist in late 2015 she received a diagnosis for breast cancer. But she wasn't about to step away from the job she loved, and has come to understand the integral role that pharmacists can play in providing supportive care for oncology patients.
How did you manage your treatment while working as an early career pharmacist?
It certainly wasn't easy, but I made a decision that I wanted to try and limit the impact that breast cancer was going to have on my life. So I would organise treatment on a Friday afternoon, try to be back at work (at TerryWhite Chemmart Grange, in South Australia) by Tuesday, and then I was able to work full-time for about two and a half weeks before the next round of treatment. It was important for my mental health to work during treatment and be surrounded by my co-workers and beautiful community.
In what ways did your personal experience inform how you approach oncology care with patients?
As a patient I was observing what information was given at different stages and who provided it. I noticed that quite a lot was lacking. I also noticed that a lot of women were using online breast cancer forums to ask about the management of common chemotherapy adverse effects, and often the answers were not evidence-based. That prompted me to investigate how pharmacists feel about providing supportive care in the community for oncology patients.
I found that a lot of community pharmacists feel a bit apprehensive about it because they're not sure exactly what treatment the person is on, or what it's for. They more commonly refer to a GP because they feel more comfortable doing so than, say, managing basic mucositis themselves.
You said you noticed that quite a lot was lacking in terms of information. How can pharmacists help fill the gap?
Pharmacists can help make sure patients are getting information as they go through their journey, rather than all at once at the time of diagnosis, which is what commonly happens. Along the way, pharmacists can provide support and prompts by saying, 'Okay, how is your mental health going? Have you thought about calling Cancer Council for services there? How are you going with side effects?' Also, check what medicine information the oncology team has given the patient and, if there are gaps, offer to provide education from resources like EviQ (www.eviq.org.au). I didn't receive anything from my oncology unit in terms of printed medication lists, and I know many other patients haven't either.
What role could pharmacists be playing in assisting with treatment?
The biggest gap would be managing what would be termed 'minor' adverse effects from chemotherapy, whether it's oral or intravenous. Often the oncology patient will feel like it's too minor to bother the oncologist, or they'll call the oncology nurse which takes them away from caring for inpatients. But often these minor adverse effects are something a pharmacist could really assist with.
If patients aren't managing side effects such as small mouth ulcers, they can progress to the point where they can't eat. And if you're having multiple side effects at one time it really doesn't take much for you to feel like everything's too much. So pharmacists can make a big difference.
You're now working as a hospital pharmacist at Flinders Medical Centre in Adelaide, but you're continuing to explore ways of improving care for oncology patients. How?
I've done the Cancer Pharmacists Group Foundation Course with the Clinical Oncology Society of Australia (COSA). I could do stage two, which would make it easier for me to work in hospital oncology, but at the moment I don't know that I want to do it full-time – it's still a little bit close to home.
Instead I'm really enjoying empowering other pharmacists to provide supportive oncology care. I started off with a presentation here in Adelaide just with some peers. I've also spoken in Whyalla, Alice Springs and Darwin, and I'm going to be presenting at the TerryWhite Chemmart masterclass in April. I've also established connections with the Cancer Council to increase pharmacist involvement in allied healthcare for oncology patients.
Photography: Simon Casson