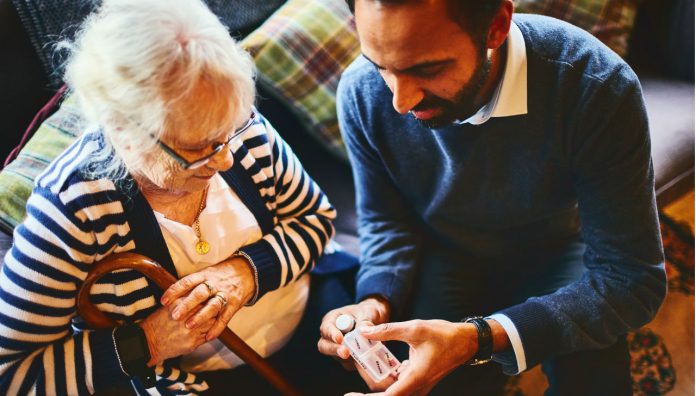 When the Aged Care Royal Commission began in February, Minister for Aged Care Ken Wyatt, released a statement reaffirming the government's commitment to the regulation of chemical and physical restraint in aged care facilities. But experts say that meaningful change requires funding for multidisciplinary healthcare teams that include pharmacists.
The wellbeing of residents in aged care facilities came into sharp focus last year when the ABC uncovered alarming footage of physical restraints being used on residents for extended periods of time, as well as evidence of chemical restraints.  
Pharmacist and researcher Amy Page, who specialises in the quality use of medicines for older adults and has been involved extensively with aged care facilities, told Australian Pharmacist that problems in aged care have been an 'open secret' for some time.
'Medicines are often being used as a substitute for care because facilities just aren't adequately staffed to be able to manage people,' she said.
Recently the Department of Health changed the guidance notes for providers, announcing that the list of questions to be used by quality assessors at unannounced monitoring will include specific questions about restrictive practises, but former pharmacist and University of Tasmania researcher Juan­ita Westbury expressed concern that these early updates were 'vague and unspecific,' and made no mention of the role of pharmacists.
'It's not just antipsychotics that are overused. Other agents, especially benzodiazepines, are not referred to at all,' she told The Australian.
At present the role of pharmacists in providing support for medication use in aged care facilities is limited by a lack of funding, according to Dr Page. She said that if facilities had the resources to expand the role of pharmacists they could play a valuable role in alleviating the burden on carers and provide a higher quality of medical care for residents.
'I would like to see, depending on the size of the facility, pharmacists there on a part or full-time basis,' she said.
'It's having someone there to actually answer questions from the residents and their families. Somebody to be available to answer questions for the nursing staff and the carers and facilitate with the GP's and other healthcare providers when they need new medicines and  scripts written – that sort of thing.'
Dr Shane Jackson, Vice-President of the Pharmaceutical Society said, 'clearly we need to do something differently regarding medication management in aged care.'
'Simply, we need to have the health professional with the most expertise, and training regarding the use of medicines supporting other health professionals with the safe and effective use of medicines'.
In line with the Pharmacists in 2023 report, pharmacists need to be embedded within aged care, Dr Jackson said. Pharmacists can educate and train other health professionals, residents and family members on the safe use of medicines, they can lead clinical governance activities and they can deliver and coordinate patient level medication reviews. According to Dr Jackson, this needs to be done, sooner rather than later.
The Commission has announced their intent to investigate the options for seniors remaining at home. Dr Page said that pharmacists might also play a role in this area of aged care, particularly in medication management.
'One of the reasons that people end up going into care is that they can no longer manage their medications themselves,' she said.
'Part of the role of pharmacists is having a look at ways we can simplify people's medicine so that it's easier for them to manage and administer their own medicine – sometimes a device might be too fiddly to use, and finding ways that we can support them in working out which medicines are really essential.'
While each patient should be approached on a case-by-case basis, Dr Page suggested that pharmacists can play a role in ensuring that a patient's medication matches their care goals – which will likely differ between patients who prioritise staying at home and patients who are willing to enter an aged care facility.
Ultimately, she said, the Royal Commission could provide a valuable opportunity to increase the resources available to healthcare professionals in the aged care sector, where pharmacists could 'fill a niche'.
'Ideally, the role that I'd like to see for pharmacists is being available to support residents and their families,' she said. 'But also to support the other healthcare practitioners and people working in that environment to administer medicines properly and advocate for the best possible use of medicines.'