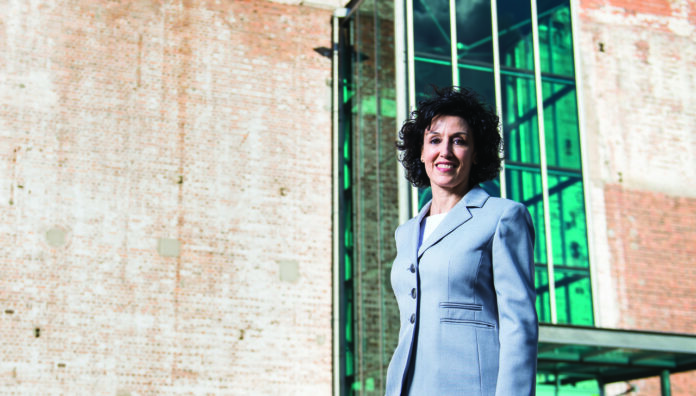 As a doctor of clinical pharmacy, consultant pharmacist and an oral health specialist teaching doctors of dentistry about pharmacology – Geraldine Moses FPS has one of the most varied careers in the profession.
She also has some advice about the adverse effects of complementary alternative medicines (CAMs).
What is your background in pharmacovigilance?
'I've been a pharmacist for 4 decades, starting out as a hospital pharmacist specialising in medicines information (MI).
'Answering medicine-based questions all day led to a 20-year stint hosting a medication talkback show on the ABC, along with the opportunity to establish the Queensland Medication Helpline and the national NPS Medicines Line.
'This work exposed the gap between what we think people know about medicines and what's really happening – which was both fulfilling and scary. 
'We discovered that the adverse drug reactions patients reported were either not well documented, or not documented at all in the product information – which is how I became involved in pharmacovigilance. After hundreds of patient reports, we even unearthed the sleepwalking adverse effects of zolpidem (Stilnox).'
What are the risks of taking complementary medicines?
'While the NPS Medicines Line was operating, numerous adverse effects of complementary medicines were reported, including psychotic reactions to Garcinia cambogia, liver impairment from black cohosh, and bleeding from turmeric and fish and krill oil supplements. 
'I've also seen health professionals come to the realisation that they have been impacted themselves by these adverse effects. Just last year, while lecturing at a conference about turmeric, the penny finally dropped for an attendee who had been taking a turmeric supplement for arthritis, and over that time had experienced severe nose bleeds. He advised that the nose bleeds resolved when the turmeric product was stopped.
'A nurse practitioner at another seminar had a similar "ah-ha" moment. To prepare for a total knee replacement, she switched her meloxicam for turmeric a week before surgery. But 4 days later, the nurse experienced a massive gastrointestinal bleed, leading to the cancellation of her surgery along with blood transfusions.
'

While prolonged use of nonsteroidal anti-inflammatories was no doubt a predisposing factor, the addition of turmeric was likely the final straw and caused the bleed.

'
How should complementary medicines be approached?
'Like the name suggests, complementary medicines are medicines, meaning they are pharmaceutically manufactured products that, like any medicine, can potentially cause adverse effects and drug interactions. 
'But because they're sold at the front of the shop, pharmacists often don't get the opportunity to discuss these risks with patients.
'Ancillary labels on front-of-shop products could help to prompt these conversations. For example, as turmeric not only carries a risk of bleeding but also a potent drug interaction risk, a label saying, "please check with the pharmacist about drug interactions before you buy this product" could alert the consumer.
'It all comes down to therapeutics and rational use of medicines, which can mean sitting down with the patient to talk about the real benefits, risks, and what they're trying to achieve by taking the product. 
'While lecturing at a conference about turmeric some years ago, the penny finally dropped for an attendee who had been taking the medicine for arthritis and had experienced severe nose bleeds for 6 weeks.'

Geraldine Moses FPS
'If the patient has something concrete they want to achieve, such as taking turmeric for arthritis pain relief, but they are already on three other drugs that carry a risk of bleeding, perhaps the teeny tiny benefit of taking the medicine is outweighed by the risks.'
What would you like to see happen in pharmacovigilance?
'More reporting of adverse events! Particularly when it comes to complementary medicines. This will be a key message at my PSA23 presentation.
'As busy healthcare professionals, [our] reporting can fall by the wayside. But the COVID-19 pandemic showed us what a difference it can make. 
'With the entire world as a clinical trial population, potential safety issues of COVID-19 vaccines were discovered very quickly. 
'As the most accessible healthcare professionals, pharmacists should encourage consumers to report issues with their medicines to the Therapeutic Goods Administration.
'Adverse reaction reporting to a central agency can help us develop an understanding of whether adverse effects are from a drug, or not, as the case reports increase in frequency, or they don't!
'It's like that old saying among pharmacovigilance professionals: "If you don't report an adverse drug reaction, it's like it never happened."'
What are the pharmacy trends you're most excited about?
'With new roles emerging in general practice and aged care, pharmacists are finally receiving recognition as highly experienced medicines management professionals.
'But I'd like to see us expand even further. If my dreams came true, pharmacists would one day work in dental practices as well. We have a practical role to play in multidisciplinary teams and we can contribute to patient care in our own right.'
Why is PSA membership important?
'I've been a member of PSA since I first became a registered pharmacist. I believe in PSA's message that it's the only professional pharmacy organisation that represents pharmacists from all walks of life, working in any field of practice.
'The PSA also does incredible advocacy work, which I was privy to as a PSA Queensland Branch Board member for 10 years. If we want pharmacy to move forward, we need professional organisations like PSA out there fighting for us.' 
Your sign-off message to pharmacists?
'Be brave and keep fighting the good fight. When people ask you to do something different and take pharmacy in a new direction, say yes and keep swimming because we have so much to contribute.
'While incredibly brave pharmacists won battles to get us into general practice and aged care, we shouldn't fall prey to the misconception that our work is done.
'Let's also strive to get the message across about the risks of complementary medicines. 
When we document people's medicines, we should always include their complementary medicines and assess them for risks of adverse reactions and drug interactions – like we would with any other drug.'
Don't miss Geraldine Moses talk about the potential adverse reactions and drug interactions of CAMs at PSA23, to be held in Sydney from 28–30 July. Attending pharmacists will be equipped with practice tips and tricks to help consumers make informed choices about the risks and benefits of taking these medicines.