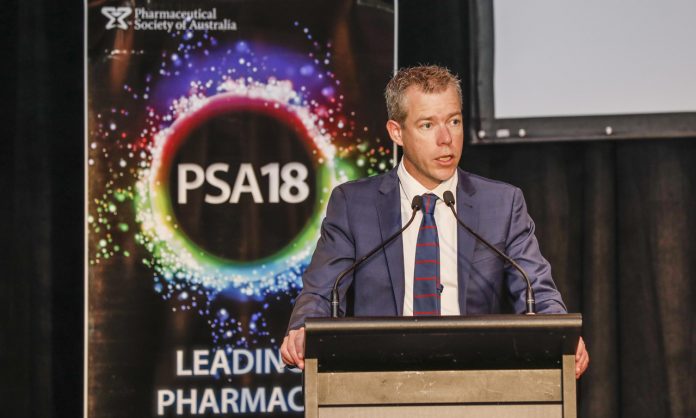 PSA National President Dr Shane Jackson has used PSA18 to issue a call to arms for the future of pharmacy, illuminating a vision for the profession in which pharmacists' greater role in healthcare is properly recognised and remunerated.
'Now, more than ever, is the time to come together for the benefit of patient care, to enable the profession to deliver to its full scope, to be widely recognised in the health system,' Dr Jackson said.
In addition to launching the Pharmacy in 2023 Discussion Paper, he highlighted the three Rs – roles, recognition and remuneration – that PSA is pursuing in order to make that agenda a reality.
The growth of pharmacist roles is already underway, he said, pointing to pharmacist vaccination, the expansion of Pharmacist Only Medicines, the embedding of the pharmacists into collaborative care teams and their core role in medication review.
'It is about creating and grasping the opportunities for pharmacists to be active members of the healthcare team by practising to their full scope,' Dr Jackson said.
'This is not expanded or extended scope this is simply utilising a highly trained, skilled profession to take responsibility and accountability for medicines management.'
As well as roles that empower the pharmacy workforce to make a greater contribution to healthcare, Dr Jackson said recognition was essential for driving the profession forward.
'It is the recognition by patients, by doctors, by the public and by decision-makers of the key skills, expertise and training that pharmacists have to address medication safety,' he said.
'This recognition component is underpinned by having a highly trained workforce, that is supported in practice and that is recognised for their diversity and diversification in their activities.
'It is about advancing practice and it is about quality and integrity in whatever we do.'
In addition to pharmacists having their role in the healthcare system broadened and recognised, they must also be fairly remunerated, Dr Jackson said.
'You deserve to be paid a fair day's pay for your expertise and training, and your responsibility as a healthcare professional – a healthcare professional that is responsible for medication safety,' he said.
'Our members tell me day in and day out that remuneration is their biggest issue. If it is our members' biggest issue, then it is our biggest issue.'
Dr Jackson highlighted the recent announcement of funding for pharmacists to be embedded within general practice as an example of how diversification of funding models allows for better use of pharmacists.
With 7CPA firmly on the horizon, PSA was focused on ensuring the profession had the evidence to demonstrate the worth of investing in pharmacist services.
`We are leading a Pharmacy Trials Program embedding pharmacists within Aboriginal Health Services. We are partnering on the asthma management program announced at PSA17 and we are working closely with project partners on the Pain Medscheck Program and Health Care Homes announced under the 6th Community Pharmacy Agreement,' he said.
'The PSA has over 30 discrete projects focused on the 7th Community Pharmacy Agreement,  which will allow the society to be well placed to influence the agreement in a positive way.
'The strength of PSA is our members. We need you to stand behind the society in achieving the outcomes we all desire. One thing I can tell you is that we won't waver from the objective – pharmacists utilised to their full scope of practice to deliver quality care for our patients.'