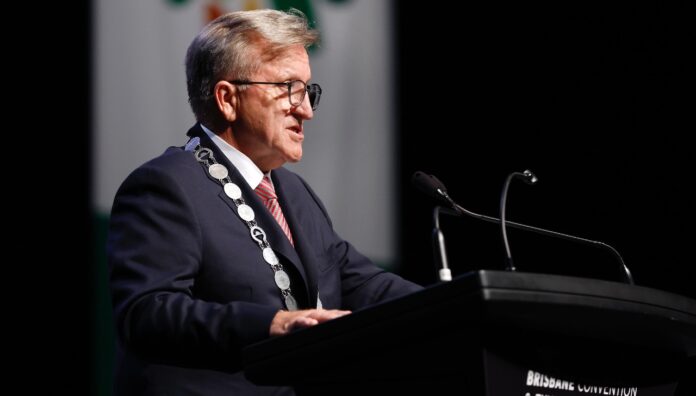 A resounding theme at the 2023  International Pharmaceutical Federation (FIP) World Congress of Pharmacy and Pharmaceutical Sciences in Brisbane is the need for action on climate change.
At the opening of the Congress on Sunday (24 September), new FIP President Paul Sinclair AM MPS said the negative impact of the healthcare sector on our environment has been a marginal topic for too long.
'Effective action on climate change must be a priority for the pharmacy profession,' he said.
'Every part of pharmacy has a responsibility; from pharmacy associations promoting environmental sustainability and the industry reducing its carbon emissions to net zero, to pharmaceutical scientists practising green medicines development and regulators collecting standardised national data on pollution. From educators teaching environmentally sustainable pharmacy practice to practitioners preventing waste through ensuring the optimal use of medicines, every act will help.'
New climate policy announced
To address these calls for climate change action in pharmacy, FIP announced a new  Statement of Policy on Tuesday (25 September). The policy mitigation and adaptation measures in the policy are tailored to pharmacists across all healthcare sectors.
For example, optimising medicine management is a mitigation measure that can reduce healthcare's environmental footprint. Community pharmacists should update their disaster plans for emergencies and provide regular training or drills on disaster plan procedures to adapt to more frequent extreme weather events.
'This statement is intended to bring forth the urgent action needed in the pharmacy sector,' said Dr Shellyza Moledina Sajwani of Canada, co-chair of FIP's policy committee, which developed the statement.
Showcasing Australian pharmacists at FIP
Meanwhile, standout FIP sessions presented by Australian pharmacists at the Congress include presentations from the University of Sydney Professor Parisa Aslani MPS on medical research funding in pharmacy in Australia, and colleague Sarira El-Den on mental health training for pharmacists.
Pharmacists from five Australian hospitals shared their ways of working with FIP delegates this week. Congress participants had the opportunity to visit Cairns Hospital, Princess Alexandra Hospital, Queensland Children's Hospital, the Royal Brisbane and Women's Hospital, and the Surgical, Treatment and Rehabilitation Service (STARS) Hospital.
The amazing and always inspiring @sarahdgriffin providing @FIP_org recommendations for community pharmacy sustainability around the globe 🌏 #pharmacists providing professional services as the medication experts #FIPCongress #APSAFIP2023 pic.twitter.com/gfnzb8LCny

— Anna Barwick MPS (@IndispensablePh) September 26, 2023
'The Hospital Pharmacy Section organised hospital site tours this year, providing opportunities to experience how hospital pharmacy services are delivered in Australia,' said the section's secretary Jonathan Penm from the University of Sydney.
'Ten visits were organised and delegates have found the initial visits exciting and hope to take away things they have learned to their places of practice.'
Amazing session in place in M3 at #FIPcongress with Indigenous Leaders in pharmacy @TeKaruL @DrFayeMcMillan and @JarisSwidrovich – cultural safety in action! A first time session for our international pharmacy community. #LIPPE pic.twitter.com/jdpezMTFxW

— Bronwyn Clark (she/her) (@Bronslemans) September 26, 2023
An Australian pharmacist also took home first place in an early morning Fun Run yesterday (26 September). Dr Simon Bell, from Monash University's Centre for Medicine Use and Safety, beat 87 fellow congress participants in the 5-kilometre run along Brisbane's South Bank.
Pharmacists are well placed to perform a knowledge broker role in RACFs. Find out more from @AmandaJCross at #FIP2023 @CentMedUseSafet pic.twitter.com/e15oYTf94o

— Brigid McInerney (@BrigidMcInerney) September 25, 2023
FIP also hosted poster exhibitions on a variety of topics each day related to pharmacy practice, medicines, academic pharmacy and more. One of those highlighted at the poster exhibition on Monday (25 September) was research to improve disease prevention in Australian livestock.
A single administration of both initial and booster doses for the vaccination of livestock may be achieved using a bioresorbable polymer implant. This allows delayed release of the booster due to degradation of the polymer, research presented by Norman Ilich of the Queensland University of Technology has found.
This new method could lead to vast logistical improvements, removing the need to re-herd livestock for booster doses.