This International Overdose Awareness Day (31 August), pharmacists share how the Take Home Naloxone (THN) Program is helping to save patients' lives.
Since the national rollout of the THN Program on 1 July 2022, there has been a significant jump in participating community and hospital pharmacies. 
According to data from the Department of Health and Aged Care, there are approximately 2,595 sites registered to participate in the THN Program, with an additional 1,053 registering since the program went national.
As of 22 August, the total number of THN units supplied under the Program through community pharmacy is 70,429, with 12,580 units supplied since 1 July.
Participating pharmacist Adam Forrest MPS, who is based in Adelaide, saw the benefits of the program first hand when one of his patients taking prescribed opioids used THN after a suspected overdose.
'The patient was still admitted [to hospital], but there was cause to use it,' he said.
Another patient who received THN came back to the pharmacy asking for more naloxone to provide to others.
'We were careful not to press for details because we didn't want that to be a barrier,' he said. 
'You've got to be very careful not to appear judgemental while making sure people are aware that help is available.'

Adam Forrest MPS  
Sydney-based community pharmacist Curtis Ruhnau MPS, who also participated in the THN Pilot, said it was 'heartening' to see the program roll out nationally.
'This is a program we can start and finish completely autonomously,' he said. 'We can actually put the tools in people's hands to save lives.'
The next step
Results from the THN Pilot found that the initiative saved three lives every day. But PSA National President Dr Fei Sim said the next hurdle is getting naloxone into the hands of those most at risk, and ensuring their friends, family and carers know the signs of opioid toxicity and how to administer the medicine. 
'The majority of deaths from opioids are from prescribed opioids, are unintentional and more often than not a family member, carer or friend has unknowingly noticed the signs of toxicity, but not known they could have acted and saved their life,' she said. 
'We know the main issue here is awareness of signs of toxicity, rapid availability of naloxone and knowledge of how to administer – all things that the THN Program will continually address.'
The early success of the pilot has led to shortages of naloxone, with the nasal spray particularly in short supply, Dr Sim said.
'I encourage pharmacists to access naloxone through the s19A arrangement to help support demand in the short term including the injectable forms,' she said.
'A brief demonstration on how to administer the injectable form of naloxone will ultimately save lives.'
Perceptions on opioid doses are shifting
Since supplying THN through the Program, Mr Forrest has noticed a shift in patients' perception of their prescribed opioids.
'I've had at least four patients on high-dose opioids ask, "Do you think I should be on this?" [or] "Is this a big dose?"' he said. 
'On subsequent occasions, we've seen these patients bring in prescriptions for lower doses. [THN] plants the seeds that [opioids] are potentially dangerous enough that I need to have an antidote at home.'
Mr Ruhnau said it can be challenging convincing patients that they are at risk of opioid overdose. But Real-Time Prescription Monitoring (RTPM), recently introduced in New South Wales, presents a new opportunity.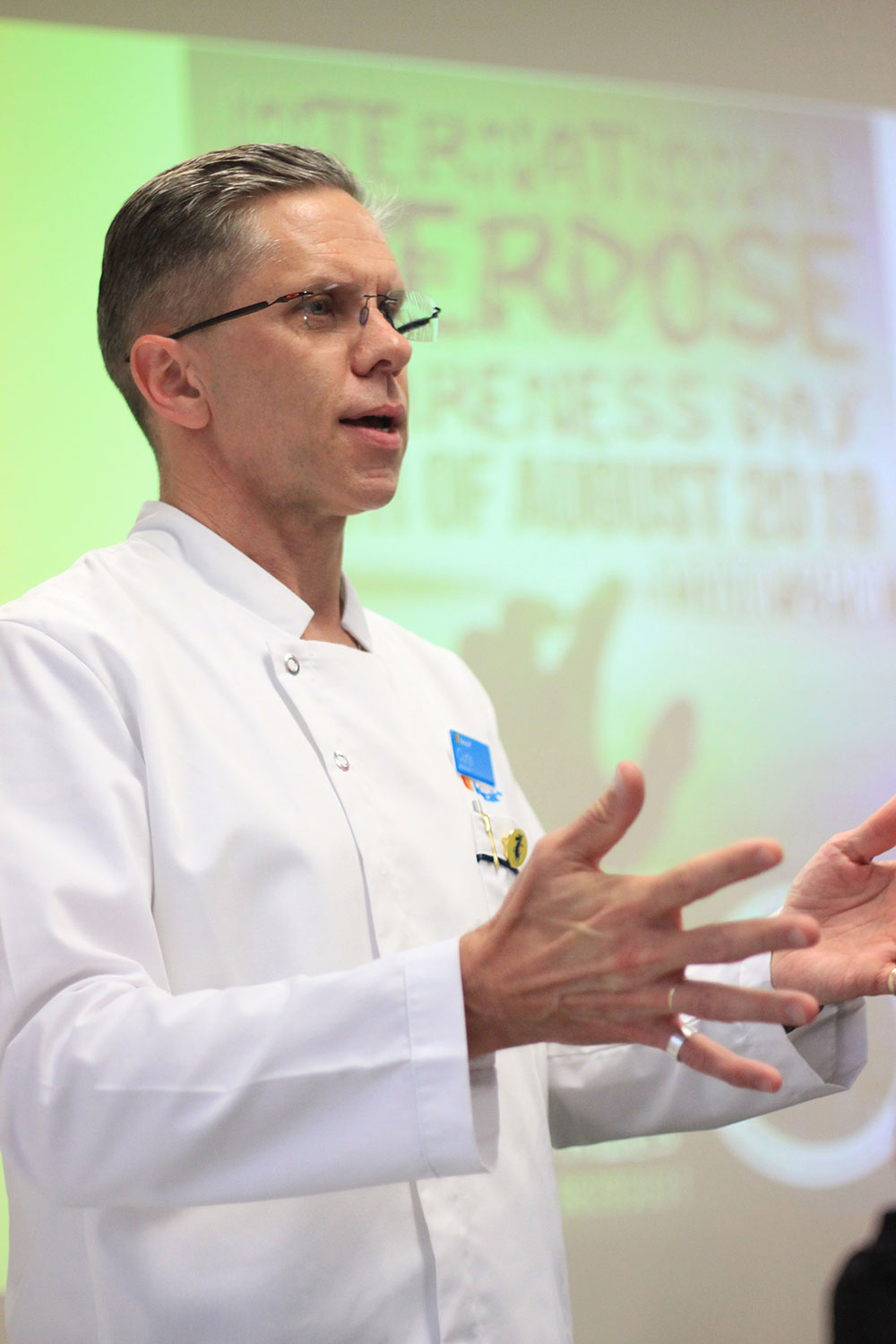 'We just signed up to SafeScript NSW and that gives us a warning if a person has a daily dose of more than 100 oral morphine milligram equivalents,' he said. 
'It's a great opportunity for us to point out that the recommendations around pain management have changed dramatically over the last few years, and they [should] have a fresh conversation with their prescriber about whether they should continue using these medications, or if they should aim to reduce them.'
While not all patients respond well to 'pharmacists getting involved', Mr Ruhnau, who recently participated in a webinar about SafeScript NSW hosted by harm-minimisation group DanceWize, said it's crucial to explain pharmacists' role in medicine management.
'They often come out of that conversation with a better understanding of their own health and a new respect for what we can do for them,' he said.
 Leave the judgement at the door
Similar to supplying emergency contraception, Mr Forrest said it is imperative that judgement is not a barrier to accessing naloxone.
'You've got to be very careful not to appear judgemental while making sure people are aware that help is available,' he said.
Leaflets are a useful way to get the message across, Mr Forrest suggests.
'At the beginning of the pilot, there were some little cards you could give out with high-dose opioids briefly explaining that naloxone is the reversal agent, it's free and the pharmacist considers it might be appropriate,' he said.
'It allows people to self-select. A lot of them won't read it, but you're promoting awareness in a non-confrontational way.'
It's also helpful to get local prescribers on board to shift the mindset of supplying naloxone as standard practice, Mr Forrest said.
'We've got a handful of prescribers who feel very strongly about that,' he said. 'They've started recommending that people come and get naloxone, which makes it really simple.'
Mr Ruhnau tries to break down bias towards naloxone and opioid use by sharing patient stories with staff.
'I've had methadone patients who have had a motorcycle accident and ended up addicted to opioids because they were prescribed pain medication, and now they have a substance use problem,' he said.
'Users, or [former] users often feel like they're stigmatised against in pharmacies. [But] this isn't a weakness in character. This is a health issue that needs to be addressed.'
Practice tips for supplying naloxone
The approach you take when supplying THN is crucial to ensuring uptake, Mr Forrest said.
'My standard explanation is: "In the unlikely event that something ever went wrong, say the medicine releases too quickly, this will give you the ability to do something about it".'
He refrains from using words such as 'double dose' or 'overdose', which can be off-putting to patients, with 'severe reaction' being the preferred term. However, Mr Forrest is firm in his position that naloxone is vital.
'If you say, "Do you want one?" it's too easy for people to say,"I don't really think I need it",' he said. 
It's also essential to explain that naloxone is a safe medicine to keep around the house. 
'It's main action in the body is to reverse an opioid, so if you gave it to somebody, and they didn't have any opioid in their system, we would expect it would not do much at all,' he said.
If the patient accepts the THN, Mr Forrest also gives them a double-page leaflet from the Penington Institute. 
'On one side it's got how to recognise opioid overdose and on the other, it [explains] how to administer naloxone,' he said. 'I actually stick the [leaflet] to the naloxone, so hopefully the patient keeps them together.'
Along with likening naloxone to an Epipen, Mr Ruhnau tells patients that if a child or another family member accidentally ingests their medicine, THN can be life-saving.
'Having been involved in a couple of overdose awareness events, it's awful to watch the regret on people's faces when they realise there's something around that might have saved somebody,' he said.
For further guidance on naloxone and opioid overdose, pharmacists can access the Australian Pharmaceutical Formulary Handbook's treatment guideline: Naloxone for opioid overdose.