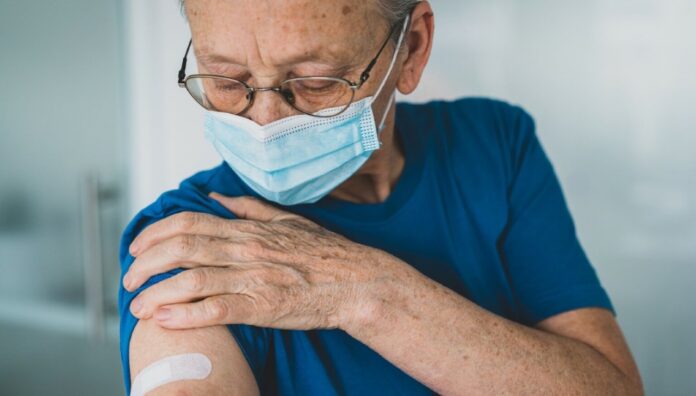 The Therapeutic Goods Administration (TGA) has provisionally approved Moderna's bivalent COVID-19 vaccine for use as a booster dose for adults.
The vaccine (Spikevax Bivalent Original/Omicron) can be used in patients aged 18 years and over. It is the first Omicron-specific booster dose to be approved in Australia.
After the United Kingdom and Switzerland, Australia is the third country to approve the Moderna's bivalent vaccine. 
The Federal Government has already ordered doses of the vaccine, expected to arrive in the country next month.
'We're proud that the TGA is leading the world in provisionally approving the Moderna bivalent COVID-19 vaccine, making Australia the third country in the world to do this,' said a PSA spokesperson.
'While this new vaccine provides another option as a booster dose for adults 18 years and over, pharmacists should continue to encourage people to receive their eligible booster dose as soon as possible.'
The PSA will be communicating with members once the Australian Technical Advisory Group on Immunisation (ATAGI) releases official advice on the Moderna bivalent COVID-19 vaccine.
Pharmacists on board with new vaccine
Sydney-based community pharmacist Curtis Ruhnau MPS, who also has asthma, said the approval of the new vaccine was 'very exciting'.
'The anxiety of being on the front line and knowing that we have cases coming through the doors is almost overwhelming at times,' he said.
'Feeling like there's something coming that might help to protect our staff a little bit better is very exciting.'
While Mr Ruhnau doesn't think it will necessarily convince patients to get vaccinated, he said the vaccine will provide an extra layer of protection for Australians.
'For those of us who want to make sure that we and our family are as well protected as possible, I'd like to think that we'll be ready to get it as soon as it becomes available,' he said. 
GP pharmacist and academic Kenneth Lee FPS told Australian Pharmacist that he hopes the availability of the vaccine will lead to less hospitalisations.
'[It] will free up more beds in the hospitals, because other health problems haven't gone away,' he said. 'So I think it's good for reducing strain on the health system.' 
However, Dr Lee thinks it's important to look beyond Omicron as well.
'COVID-19 evolves fairly rapidly. If you've got a vaccine that targets one thing, it's good now but I think moving forward, it's probably not going to be the best solution,' he said. 
'[It will help] in the immediate sense when Omicron is still rampant, but moving forward, there does need to be something that covers more strains.'
How it works
The bivalent vaccine triggers an immune response to both the original COVID-19 strain and the BA.1 Omicron variant. It was designed to combat Omicron's ability to evade vaccine-generated antibodies.
Although ATAGI is yet to provide advice on its use, official recommendations state that the booster should be administered at least 3 months after a COVID-19 vaccine primary course or previous booster dose.
A 50 microgram  bivalent vaccine dose contains 25 micrograms of imelasomeran that targets the Omicron variant BA.1, and 25 micrograms of elasomeran that targets the original strain of SARSCoV-2. 
Compared with the original Spikevax, the bivalent vaccine generated an improved neutralising antibody response against Omicron BA.1 strain and a similar response against the original strain, 28 days after use as a booster dose. 
The TGA reported that the vaccine also elicits a better immune response against the newer Omicron subvariants sweeping the nation, BA.4 and BA.5, according to initial analysis.
'People who have been exposed [to Omicron] got up to a 12-fold increase in antibody levels,' Moderna's Chief Medical Officer Dr Paul Burton told AP in June 2022.
'We can probably get a good extended period of time, maybe up to a year between boosters, and that will provide protection against infection, severe disease and death.
The bivalent vaccine has a similar safety profile to the Spikevax booster given as a second dose, with no new safety signals identified.
Bivalent vaccine to be produced onshore
Earlier this month, it was announced that Moderna's new mRNA production facility would open up at Monash University's Clayton Campus. Once operational, potentially in 2024, the facility will be able to produce up to 100 million vaccine doses a year against viruses such as COVID-19, respiratory syncytial virus, and other potential respiratory and latent viruses.
Melbourne is fast becoming a hub of pandemic research excellence, with CSL also developing a cell-based vaccine manufacturing centre in Victoria's capital.
The establishment of the Cumming Global Centre for Pandemic Therapeutics was also announced today by the Peter Doherty Institute for Infection and Immunity.
Facilitating the 'rapid design' and testing of new therapeutics, it is hoped the facility will create a  'second shield' of protection from future pandemics.