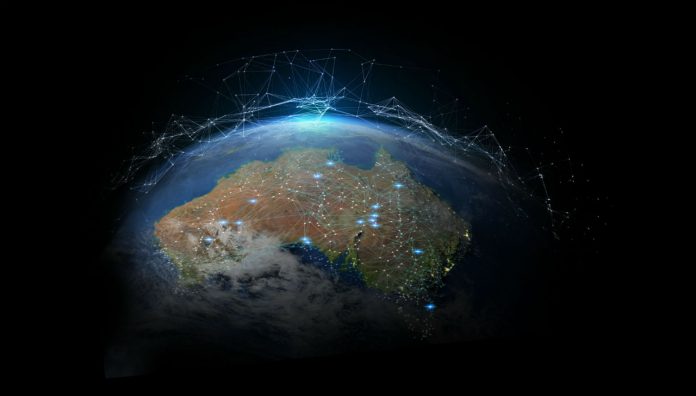 The tyranny of distance in Australia should make telepharmacy a potent force in healthcare. But a nationwide video conferencing service that's dedicated to preventing medication misadventure in our most isolated regions remains a fledgling prospect. Why the disconnect?
The North West Hospital and Health Service (NWHHS), in Mount Isa, Queensland, has an 80-bed capacity and covers an area of over 300,000km2. That's the size of Victoria and Tasmania combined.1
It's the main referral hospital for the region, with remote community hospitals at Doomadgee, Normanton, Mornington Island, Cloncurry and Julia Creek – which have about 30 beds between them. If you were to drive to each of the remote community hospitals (minus Mornington Island), and return back to home base in Mount Isa, you'd have spent 24 hours on the road.
Suffice to say it's not possible for a pharmacist to do a daily, let alone weekly, in-person round.
Fortunately, this is one area in regional Australia where a telepharmacy service operates each weekday. But not without its challenges, explains Aleena Williams MPS, the NWHHS's Director of Pharmacy.
For starters, many people in rural and regional areas don't even know what a pharmacist does, which can make it difficult to convince them to come in and sit down in front of a computer for a medication review.
'You're not just setting up a telepharmacy service, you're teaching everyone in the community what a pharmacist is,' Ms Williams says.
'And I think that's where telepharmacy falls down in many remote areas. You're not just going in as a new model of care, you're going in as a new health professional.'
Telepharmacy vs HMR
Telepharmacy services in Queensland are funded by the state government, which means the NWHHS isn't the only service or trial operating in the state. Another service operates around the Cape York region and was initiated by the Torres and Cape Hospital and Health Service.
Those who have been integral to the development, implementation and evaluation of the telepharmacy service include Michelle Rothwell, Chris Braithwaite and Fiona Hall, who provided a joint statement to Australian Pharmacist for this feature.
'The service model using telepharmacy has been trialled in ten primary health care clinics throughout Cape York,' the trio explain.
'The solution supported individualised, culturally appropriate medicine education/ counselling, via telehealth to outpatients who had complex or extensive medication regimes or were recently discharged from hospital. Resources were developed to support the service model.'
An analysis evaluated the outcomes of the state-funded telepharmacy service model compared to the federally funded Home Medicines Review (HMR) program using a cost analysis, clinical variables, patient safety factors and patient satisfaction. The analysis found three in every four patients (76%) attended their scheduled telepharmacy appointment, whereas 100% attended HMRs.2
However, telepharmacy was offered 42 times (32 patients attended), to just 13 for HMR.2
The big kicker? The net profit per service (excluding fixed costs) came in at $167.19 for telepharmacy, compared to $22.67 for HMRs.2
'The findings found telepharmacy delivery is a more cost-effective way to deliver medication management reviews to remote communities than the current HMR funding model, which is not financially viable for remote communities,' the trio concluded.
One pain-point Ms Williams shares with the Cape York trial is getting patients in front of the required technology at the right times. That's because a telepharmacy consult is only reimbursed by the Queensland Government if a video conference takes place, meaning if a patient is in a rush, there's an internet connection issue, or no nurse or doctor can be present or help organise it, then a phone call will not be enough for the pharmacy service to make a claim.
'The current system is there for a reason – they want you to conduct a video conference rather than calling people and claiming the money,' acknowledges Ms Williams. 'But it would help if there was a separate claim for telephone calls.'
However, a telepharmacy pilot in Atherton did come up with a solution for this issue during their 33 consults between December 2015 and March 2017.3
'(A rural community) nurse proposed that an iPad with external WiFi was utilised by the nurse on home visits. Thus, an idea for creating a new telepharmacy model of care was instigated,' Ms Rothwell, who was also the Senior Pharmacist of this pilot, wrote in her report.
TELEPHARMACY IN OPERATION
Jorgia Martin, Senior Telepharmacist at North West Hospital and Health Service in Mount Isa, explains what it's like to work as a telepharmacist in a regional area.
What does a typical day for you look like?
It can be a bit of a challenge because you never know what's going to happen.
At the start of the day I contact the five other hospitals in our region to get a grasp of who has patients so I can plan my day. Then we organise for the medication charts, notes and correspondence to be faxed or emailed through.
Then the telehealth videoconferences (VC) are performed later in the day once correspondence has been sent.
How many patients do you see each day?
During the wet season it's quieter. But when it's peak tourist season – from June to August – it can get quite busy. Usually I see between three and eight patients.
What happens after you see the patients?
The VC reflects the medication admission history that you usually do as a hospital pharmacist – gathering information about the patient's usual medication.
Once the VC is finished the actual chart review takes place. So I gather all the medication information, compile a medication management plan and review the inpatient medications.
What are some of the biggest challenges you face?
Not being on site is the largest challenge. It requires heavily relying on the recipient site to send medication charts and assist in the VC. This may not always be possible if it's a busy day in the rural hospital, or if there are any technical issues with the software.
Another challenge is it's quite hard to follow things up. If I have identified any medication-related concerns I will contact the doctor, but if the doctor is not on site – which is common with the little clinics – that can be quite hard to review.
Tell us about your proudest achievements.
Making clinical interventions on a daily basis is rewarding. It provides reassurance that there is a need for the telepharmacy service where it may not be possible to have a pharmacist on site every day.
Around the nation
So if telepharmacy is gaining traction in remote Queensland regions, why can't the same be said for elsewhere around the nation?
Arjun Poudel, Research Associate at the Queensland University of Technology's School of Clinical Sciences in the Faculty of Health, believes it's because there is no nationally consistent telehealth clinical standard.
'That has hindered the effective and widespread implementation of telehealth and telepharmacy,' explains Dr Poudel, who authored the research article Telepharmacy: a pharmacist's perspective on the clinical benefits and challenges.4
There's also a lack of uniformity across various jurisdictions, adds Dr Poudel.
'Whilst several key players and stakeholders are interested in providing this service, the issues around clinical safety, confidentiality and consent are still in a state of uncertainty,' says Dr Poudel. 'Except in certain circumstances, telehealth services are generally not reimbursed by Medicare, which again hinders its implementation.'
Ms Hall, Ms Rothwell and Mr Braithwaite also point out the set-up of infrastructure, or use of existing infrastructure, is not funded.
'If there were well-defined funding mechanisms for telepharmacy service delivery, this would be an enabler for the service to thrive,' say the trio.
Another roadblock, points out Northern Territory-based Sam Keitaanpaa, is the areas where telepharmacy is most needed only ever have 3G internet available.
'They're not on NBN and they don't have high-speed internet. So if you're talking about things like streaming Skype or Zoom in order to have face-to-face consultation, the IT infrastructure isn't there,' says Mr Keitaanpaa MPS, who is the Clinical Service Specialist for Country Wellness Group.
This is one reason telepharmacy has gained traction in Tasmania, points out Mark Kirschbaum, Rural Pharmacy Specialist at the University of Tasmania.
'In Tasmania we have reasonably fast broadband in a lot of areas because we were the first state to have that rolled out,' says Mr Kirschbaum, who is also Chair of the Rural Pharmacists Special Interest Group with PSA.
Worth the effort?
With all the challenges facing telepharmacy, do the pros outweigh the cons?
'Absolutely,' says Mr Keitaanpaa. 'With remote health in general, when a person comes into the clinic, you pretty much have to get everything done in one hit.
'You may not get a chance to see that patient again for six months, a year, or even three years.'
Another reason the service is much needed, explains Mr Kirschbaum, is rural and remote patients generally have significantly worse health outcomes than those who live on the eastern seaboard and in metropolitan areas.5
'We also know that they have less access to healthcare. These are people who really do require more support. And I think telehealth can be seen to address a lot of these issues,' says Mr Kirschbaum.
Adds Mr Keitaanpaa: 'We have to accept the reality that having a pharmacist at every site is not economically viable. But let's not let perfect be the enemy of good, because something is a lot better than nothing.'
Moving forward
To date, says Mr Kirschbaum, there have been a lot of small and targeted telepharmacy studies, but no study or meta-analysis of all the pilots to clearly demonstrate the patient benefits.
'That's what we need to do: move on from the small scale study and get someone to get funding so we can do a large interventional study,' Mr Kirschbaum says.
Mr Keitaanpaa adds it's time to start looking beyond small-scale pilots and trials.
'We know fundamentally this idea can work. Will more pilots or studies really add anything new? It's time to focus on how to facilitate this service actually being delivered. What reforms do we need? How do we map the existing relationships and integrate this service? ' Mr Keitaanpaa says. 'Because we have a really passionate community of pharmacists who will give it a go.'
So is there the potential for a federally funded telepharmacy service that complements the Australian government's Home Medicines Review (HMR) Program in harder to reach regions? Mr Kirschbaum thinks so. 'An initial funding model that should be considered is the utilisation of the Home Medication Review service, so that funding can be made via a telehealth consultation,' he says.
The trio who led the Cape York trial agree. They believe the HMR program doesn't give reasonable access to medication reviews in remote areas such as Cape York.
'If telepharmacy as a model of care for HMRs was recognised, endorsed and funded, it would result in equity for patients living in rural and remote communities.'
THE PSA CONNECTION
In a submission to the Federal Government's Department of Health in 2017 regarding a telehealth consultations initiative,6 PSA recommended that consideration be given by the Department to the possible future extension of its telehealth initiative to include telepharmacy.
The PSA cited a feasibility study7 that concluded telepharmacy 'may be an effective method of providing pharmaceutical reviews for patients in rural inpatient facilities, without an on-site pharmacist'.
The PSA endorsed the utilisation of pharmacies as sites for the provision of telehealth services.
The PSA also endorsed 'appropriate remuneration for a facility hosting the patient component of the consultation', and that 'facilities providing central hosting services could be provided with ongoing funding for the costs associated with this function.'
'PSA would be pleased to work with the Department in the identification of suitable pharmacies to be considered as sites for the provision of telehealth services and in the development of funding and remuneration models for pharmacies and other facilities hosting such services,' the position statement read.
'PSA can also assist the Department by leveraging its national presence, staff and services to deliver training and support for pharmacists participating in these arrangements.'
A framework for the provision of indirect pharmacy services, such as telepharmacy, is included in pharmacists' Professional Practice Standards.8
References