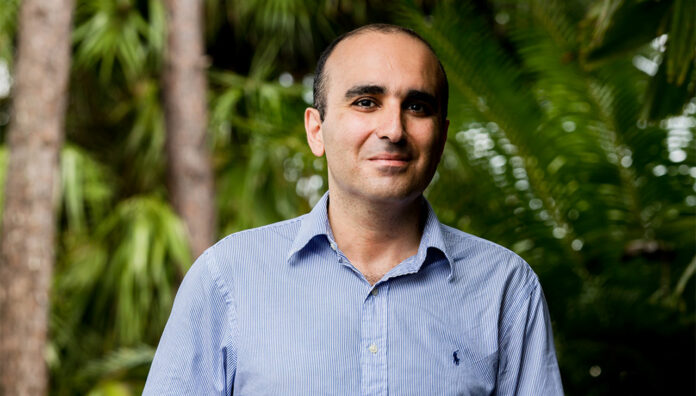 Sepehr Shafizadeh MPS lost his father to COVID-19 3 months ago, shortly before sitting a BCPS (Board Certified Pharmacotheraphy Specialist) exam. He is now a locum, briefly, in Mackay, Queensland.
What is your background in pharmacy?
After studying for a doctorate degree in pharmacy in Iran (the equivalent of a Bachelor of Pharmacy), I worked for 5 years in community pharmacy, as a pharmacy assistant tutor, and, rewardingly, in a drug and poison information centre in Tehran.
For the last 2 years before I passed the Pharmacy Council of Australia's KAPS exam and the English IELTS test and arrived in Australia in 2015, I also worked 12 hours a day, 6 days a week in two community pharmacies as well as in a rural health centre where I became familiar with how to provide medicines in rural areas and to educate nurses.
Why start again in Australia?
I wanted to join my twin brother, now an obstetrician gynaecologist registrar in Coffs Harbour, New South Wales, and my older brother, an orthopaedic surgeon who lives in Perth with his family.
'Locumming after registration increases your confidence and you do not panic working in any pharmacy.'

Sepehr Shafizadeh MPS
Since your arrival in Australia in 2015 where have you worked?
I did a year's internship in Benalla, Victoria, during which I did the PSA Intern Training Program. I had a great manager in Mr Ben Kang, who was so supportive and taught me many good values in pharmacy. Then I went to Perth to be with my brothers. After registration in 2018, I worked briefly in a Perth Priceline pharmacy, but I wanted more experience, not necessarily doing the same thing every day. So, I started doing locum jobs – in Bunbury and other rural areas like Eaton, Albany, Three Springs, and Esperance – to learn more and feel more confident in contributing to the betterment of the health of society.
You see some patients who come in, they really need some help and you can use your expertise to help. If you are patient and really listen and understand them, you can be a great help and support. It was a really rewarding part of my locum jobs and I really enjoyed it.
Why did you like immunising?
Since the COVID-19 vaccine rollout began I have administered many AstraZeneca and Moderna vaccines. It is a rewarding, exciting part of my job.
Practicing in WA until recently, on my last day in Perth, at the end of October, I administered 27 COVID-19 vaccines, two flu shots and one Boostrix.
Are vaccination techniques similar in Iran and Australia?
I was always interested to learn this skill, easily available for pharmacists in Australia, but not in Iran. I have done PSA's immunisation training twice – once in Melbourne (on registration in 2018) and another full-day course in Perth as I found it so unique and precise, and it expanded my knowledge. I leant how to improve my injection techniques and feel more confident. If you have questions – like how to prepare needles, or about aseptic techniques – you can go to the PSA website or use the member support service line.
Why have you gone to Queensland?
I came back to Perth on 6 September and dad passed away 3 days later. I really felt up in the air. It was a really terrible moment in my life. But I knew he would want me to be resilient, which is why I still did my exam in Adelaide. Then I started locum jobs to find a good pharmacy and found one that really appreciates and values customer service, which meant I listened to the customers and they noticed. Then, after learning to vaccinate with Moderna, I found that another pharmacist's manager in Mackay needed someone focused on clinical matters and vaccinations to work in Mackay and Brisbane for 2 months.
What advice do you have for other overseas-trained pharmacists?
Since the pathway for everyone is different as goals are varied, one thing is the same – our job has ups and downs, but consistency is more important than occasional success.
Locumming after registration increases your confidence and you do not panic working in any pharmacy. Support each other as well as all enthusiastic members of the pharmacy. Always keep up to date with your skills, like immunisation and anything related to our job. For me the BCPS exam expanded my knowledge a lot. I'm sure becoming an accredited pharmacist can expand your knowledge, too.
DAY IN THE LIFE of Sepehr Shafizadeh MPS, locum pharmacist at Terry White Chemmart Caneland Central, Mackay, QLD.
7.00 am – Travel to work
Rise at 6 am, enjoy half an hour swimming, then make breakfast listening to French music as I am learning French online. I have a lot of passion for my job, so I always arrive half to an hour early. In Mackay I just walk the 2 minutes to the pharmacy from my hotel.
8.30 am – Shift starts
If I am responsible for COVID-19 vaccines on a given day, I prepare the syringes. It's a fun part of my job as I use funny questions to distract patients who don't like needles. I provide enough information for the hesitant and, so far, have had no problem. Listening to people's concerns properly and providing them with reliable information encourages them to get the vaccine.
I enjoy talking to patients and attending to their needs, so try not to limit myself to dispensing, but approach patients on the floor and talk to them about medical conditions and provide them with enough information and always ask them to come back – for more help or to see if they were happy with my suggestions.
5.30 pm – End of shift
Return to hotel. Make a lovely vegetarian dinner. Soon to become vegan as I always loved animals. At university I refused to experiment on them, so teachers reduced my grades as I did not attend sessions which involved animal experiments.
8.00 pm – Keeping up to date
Choose a chapter on skin infections that I noticed in the pharmacy today I need to know more about. Study for 90 minutes listening to my favourite music.
9.00 pm – Talk with mother and twin
Mum still struggles with the loss of dad. Listen to her for half an hour to make grieving period easier, as I owe all that I achieved in my life to my lovely mother and my late, kind, caring father. I talk three times a day with my twin brother. We have our own language and laugh a lot, many times thinking about the same thing although far away from each other.
When we were both practicing in Bunbury, patients thought I worked in both the hospital and pharmacy! One consumer came to me and said: 'You delivered my baby 2 weeks ago. Can you give me some cream for his rash?' It was funny and nice. If I have questions about a medical condition, I ask my brother. If he has questions about medicines, he asks me for the best option.
Explore new paths at psa.org.au/careerpathways