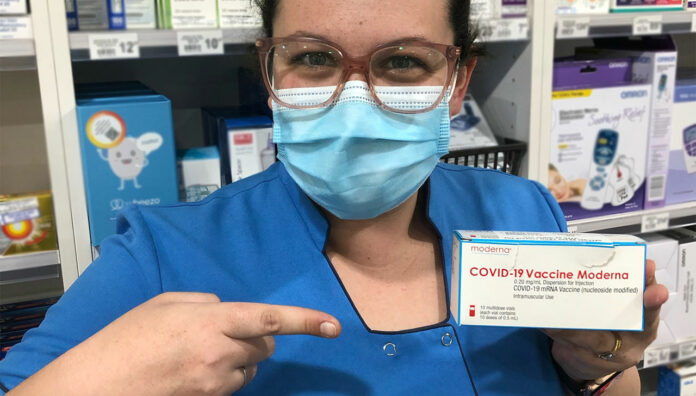 From COVID-19 vaccinations to medicinal cannabis, the Australian Pharmacist team has done the maths to bring you the most popular articles and CPD of the year.
Pharmacist vaccinations were the order of the day in 2021. Updates to the national vaccination strategy, peaks and troughs in demand throughout lockdowns and a major win via the Spikevax rollout were some of the most popular topics covered in Australian Pharmacist this year.
There were also several changes on the practice front, such as the downscheduling of medicines and the introduction of active ingredient prescribing.
And among all this, pharmacists tuned into Masterchef to watch one of their own fight for glory.
In case you missed them, here are the five most-read stories of the year.
Despite a strong start to the COVID-19 vaccine rollout in pharmacies, media reports in September caused some disruption.
Cabramatta-based pharmacist Quinn On MPS administered thousands of vaccines to patients in the first 3 weeks of the rollout. 
But when the government announced it had purchased 500,000 Pfizer doses from Poland, Mr On, along with many of his colleagues, noticed a significant dip in demand for the AstraZeneca vaccine.
Meanwhile, when Victorian Health Minister Martin Foley mistakenly said pharmacists in the state would start administering Pfizer in September, many were inundated with patient calls.
In a vote of confidence, the Federal Government entrusted community pharmacists with the nation-wide rollout of Moderna's Spikevax COVID-19 vaccine in September.
With 10 million Moderna doses available in community pharmacies this year, and more to come, pharmacists and the community enjoyed a new dimension of vaccine access.
Before the vaccine arrived in his pharmacy on the New South Wales Central Coast, Dale Richardson MPS was swamped with inquiries.
'Most of the [calls] are from parents asking when they can get their kids [vaccinated],' he said.
3. Triptans downscheduled to S3 medicines
In early February, the triptan medicines sumatriptan, rizatriptan, eletriptan and zolmitriptan were downscheduled to Pharmacist Only Medicines.
This was good news for people who suffer migraines, allowing them easy access to treatment. But pharmacists needed to upskill in screening for migraine and identifying any red flags that could signal misuse.
'Pharmacists will now have patients presenting who believe they have migraines, so they are going to need to be comfortable deciding who to refer and how to manage the condition, as well as be across the various available treatments options,' said Dr Jason Ray, Consultant Neurologist and Headache Fellow at the Alfred and Austin hospitals in Melbourne, who led a PSA webinar on the topic.
MasterChef contestant Depinder Chhibber MPS revealed in an exclusive Australian Pharmacist interview how her career in pharmacy prepared her for the rigorous competition.
'On MasterChef, we have pressure tests. If you miss one step, that's the end of it,' she said.
'Kind of like if you were dispensing a script and you forgot an important step.'
Before her reality TV days, Ms Chhibber started cooking as a way to blow off steam after a busy day in the pharmacy.
'It helps me to forget about work for a couple of hours, so when I go in again the next morning, I feel refreshed and good about myself because I've just done something I love,' she said.
As Australia prepared to roll out the COVID-19 vaccine, it was announced community pharmacists would deliver the AstraZeneca vaccine to patients from Phase 2a of the national strategy in May.
Federal Minister for Health Greg Hunt said pharmacies were 'an important partner in the rollout of COVID-19 vaccines'.
Pharmacists also found out the steps they would need to take to provide the vaccine to their communities. 
PSA National President Associate Professor Chris Freeman said he was 'confident' they would 'step up to join Australia's vaccination workforce, just as they have done throughout the coronavirus pandemic'.
Summer learning
Need something to keep your mind busy over the Christmas break?
When you're not busy vaccinating, test your knowledge by completing the top-ranked CPDs of 2021.
Medicinal Cannabis: Part 1
Part 1 of a 2-part series on medicinal cannabis discussed the increasingly important role of pharmacists in providing information on the therapeutic effectiveness, adverse effects and the possible role of medicinal cannabis in treating various conditions.
Find it here. 
The second half of the series gave a more detailed look at the evidence for specific indications and considerations for the use of medicinal cannabis.
Find it here.
Ulcerative colitis: The colon is just the tip of the iceberg
Pharmacists have an important role in managing patients with ulcerative colitis. But to fulfill this, they must know the pathophysiology, symptoms, and management recommendations.
Find it here. 
Liver function tests – what do they mean?
While the liver is an incredibly robust organ that plays a pivotal role in the metabolism of drugs, it can often mask mild liver disease. As continuous inflammation can cause irreversible damage, pharmacists must be able to explain how liver function is assessed.
Find it here.
2. Poisoning with common pharmaceuticals
Paracelsus said it best: 'All substances are poisons, there is none that is not a poison; the right dose differentiates a poison from a remedy'.
Pharmacists must know the pharmaceutical substances that are commonly associated with poisoning in Australia and the doses that cause adverse effects.
Find it here.
Crohn's disease: the unseen fire inside
Crohn's is one of the most common chronic inflammatory diseases affecting the gastrointestinal tract. Pharmacists play an important role in the maintenance and management of this disease.
Find it here.