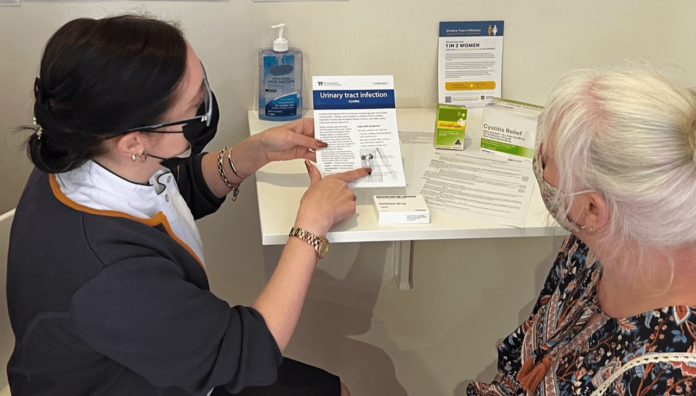 The more than 820 Queensland pharmacies that took part in the 2-year Urinary Tract Infection Pharmacy Pilot – Queensland (UTIPP–Q) can continue indefinitely. Will uptake spread nationally?
The Queensland Government last month announced an extension of indefinite length to the program after thousands of women received timely and successful treatment for uncomplicated UTIs from community pharmacists.
The pilot was led by Queensland University of Technology's Professor Lisa Nissen FPS – who will provide an overview session at PSA22 – and a consortium of partners including PSA.
QUT's final outcome report on the pilot, 'found that pharmacists have the appropriate skills, competencies, and training to manage the empiric treatment of uncomplicated UTIs in the community pharmacy', PSA National President Dr Fei Sim said, rejecting long-standing concerns raised by the Royal Australian College of General Practitioners.
With 50% of women experiencing a UTI in their lifetime, the success of the pilot demonstrated the key role community pharmacy can play in reducing pressure on public health assets.
Almost 9,000 women accessed the service during the pilot, with 87% reporting a resolution of symptoms following treatment prescribed by a pharmacist.
UTIPP-Q also prevented almost 1,000 emergency department presentations, with patients indicating they would have sought hospital care had the service not been available.
'The pilot results show that pharmacists have been able to effectively manage uncomplicated UTIs according to the symptoms presented by patients and the antibiotics recommended in the therapeutic guidelines,' Prof Nissen said.
'I wish I knew that. I was in pain last night and I had to wait over a day to get in to see a GP.'
'The majority received the first-line treatment trimethoprim, unless otherwise indicated. This shows pharmacists' understanding of the condition, the antibiotics and their indication.' 
Prof Nissen said pharmacists have always had a critical role in antimicrobial stewardship and the rational use of antibiotic therapy. 
'It's exciting to see their contribution including the active choice for treatment,' she added.
Looking forward, PSA General Manager Policy and Engagement Chris Campbell MPS said Queensland's positive outcomes should give other jurisdictions confidence to put the service in place. 
'It comes down to each of the state and territory governments looking at the success of the pilot in Queensland and provide the legislative approval to enable this to occur throughout the country,' he said.
Improving patient access
Brisbane-based pharmacist Karla Wright MPS, who participated in the pilot, said she was able to provide opportunistic treatment for patients who were unable to access a GP.
'We're on a major highway between Ipswich and Toowoomba, so we get a lot of people travelling through,' she said. 
'They would say "We're going out to the Wivenhoe Dam and [these symptoms] started to come up, what can you do for me?"'
While some patients who accessed the service called the pharmacy to confirm they supplied medicine for UTIs, the majority came in looking for urinary alkalisers sachets.
'[Sometimes] they had a script for a confirmed UTI, and I said, "Just to let you know, this is a service we provide next time it happens",' she said. 
Patients would then disclose their difficulty accessing care, with some saying 'I wish I knew that. I was in pain last night and I had to wait over a day to get in to see a GP'.
Screening patients
Once everything was up and running, pharmacists had to follow protocol and eligibility criteria for the service, Ms Wright said. 
'It had to be for women [without] a history of catheter use or kidney stones, and the protocol was designed to help highlight when referal was required such as possibility of a sexually transmitted infection or other conditions that could mimic [a UTI],' she said.
'There was [also] a flowchart we needed to go through in terms of: have they tried anything or seen a doctor previously, and [that] it's not a reoccurring thing, they haven't had more than two within 6 months, or they haven't had of course antibiotics.'
Pharmacists were also required to work through patient-screening questions about allergies, pregnancy and breastfeeding.
'Any woman who was pregnant had to be referred to a doctor, and those who had antibiotic treatment previously and still had symptoms needed to go back to the prescriber,' Ms Wright said. 
Medicine was then supplied based on the therapeutic guidelines, with trimethoprim as the first-line treatment option, followed by nitrofurantoin and then cefalexin. 
Patients were also required to pay a service fee, which was explained to them before the service was provided.
'We had to be upfront and say, "There is a service fee, plus you need to pay for the antibiotics. Are you willing to continue?"' she said.
A follow-up service was also provided.
'We'd explain that as part of this service, we want to make sure everything has gone okay, so we'll give you a call within 7 days,' Ms Wright said.
When dispensing the medicine, Ms Wright reinforced self-care tips to help patients manage symptoms, prevent flare ups, and know what to do if the symptoms didn't clear. Take-home information included PSA Self Care Fact Cards.
Now that the pilot has been made permanent, Ms Wright said she will always be on board with increasing pharmacists' scope of practice. 
'I remember being at uni going, "I can't wait until we can do immunisations and supply antibiotics", and now it's a reality,' she said.
'It's just about expanding what we already do and what we already know, and utilising pharmacists to the best of their ability and knowledge.'
To hear more about UTIPP–Q along with other clinical and practice insights, register to attend PSA22 in Sydney on 29-31 July.