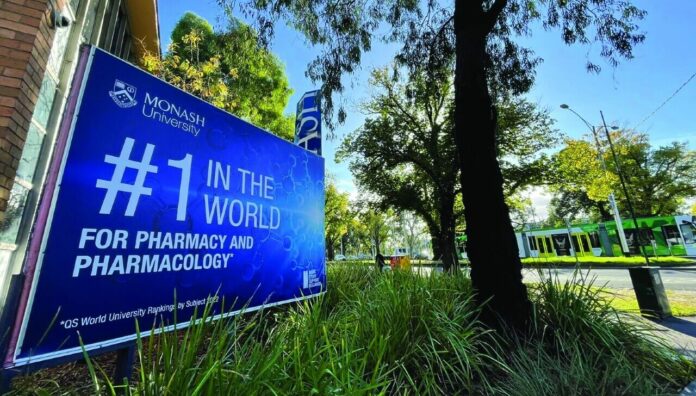 This year, Monash University was ranked global number one in the 2022 QS World University Rankings by Subject for Pharmacy and Pharmacology.
The rankings assess the performance of over 1,300 universities, and are compiled from an analysis of more than 13.9 million unique global papers, and employer and academic surveys.
Monash was able to clinch top spot by overhauling its pharmacy degree and working to address global health challenges through modern drug discovery, development and manufacturing.
This includes the development of Australia's first mRNA vaccine candidate for COVID-19 and the Neuromedicines Discovery Centre, which is in the process of developing 21st-century medicines to treat mental health disorders.
(This week, it was also announced that Moderna will build its mRNA production facility at Monash's Clayton campus; the first of its kind in the Southern Hemisphere. The Faculty of Pharmacy and Pharmaceutical Sciences played a significant role in assisting the university to build the case for this cutting-edge facility, which is expected to produce up to 100 million vaccine doses each year in Australia, including COVID-19, influenza and respiratory syncytial virus vaccines.)
Origins and transformation
Aeons ago, back in 1881, the PSA Victorian Branch established the Melbourne School of Pharmacy, with the first classes focused on chemistry, botany, materia medica and pharmacy.
'We ran it for decades and decades and then about 30 years ago, it was transferred to Monash,' said PSA Victorian Branch President John Jackson, who is also a Monash University Affiliate and PhD candidate at the Centre for Medicine Use and Safety.
'What happened over the period of Monash running this pharmacy school, now called the Faculty of Pharmacy and Pharmaceutical Sciences, is that it has changed dramatically.'
Key to Monash's approach is collaboration, said Dean of the Faculty of Pharmacy and Pharmaceutical Sciences, Professor Arthur Christopoulos MPS, himself a Monash graduate who originally had an academic appointment in the Faculty of Medicine's Pharmacology Department.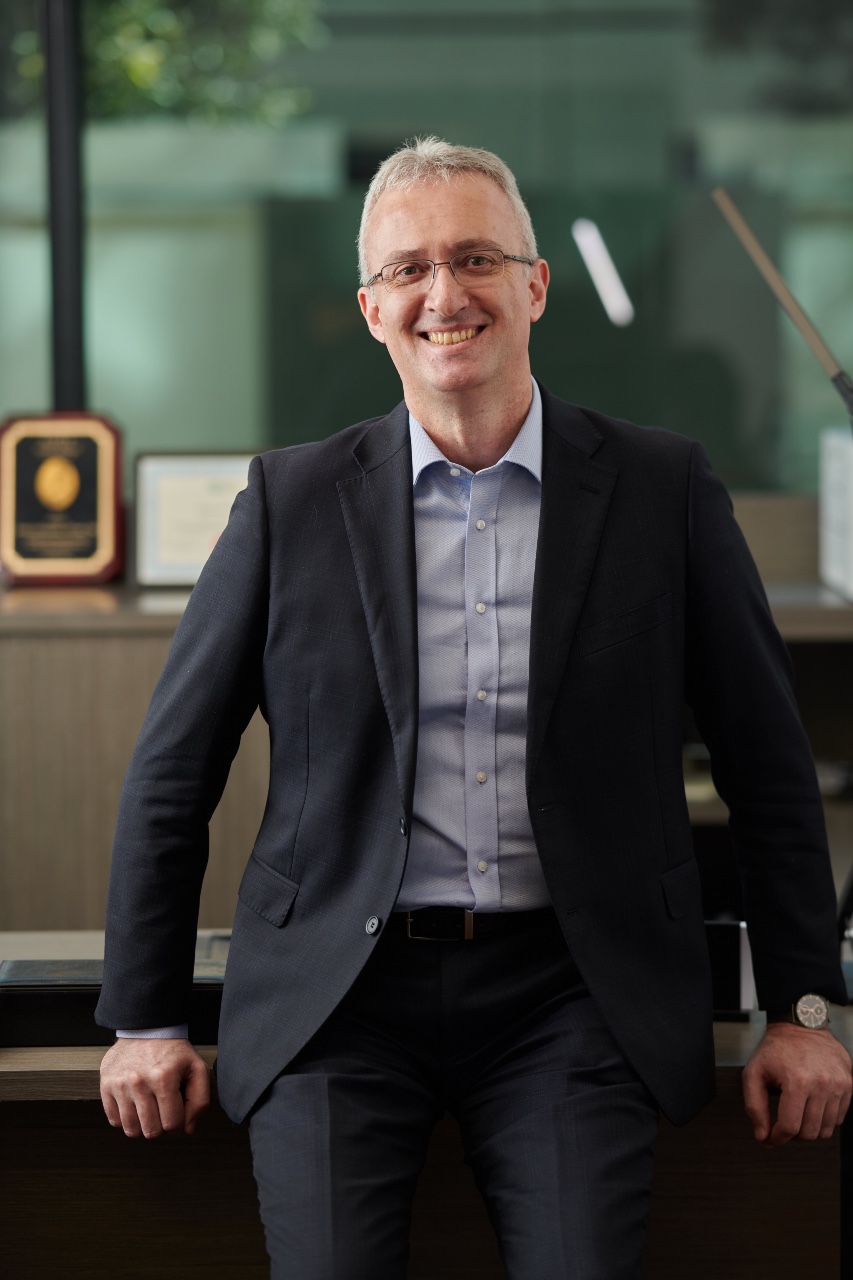 When his predecessor Prof Bill Charman became Dean in 2007, his first orders of business were to remove departmental silos, create the Monash Institute of Pharmaceutical Sciences (MIPS) and to convince Prof Christopoulos to join the team.
'We created a whole new theme called Drug Discovery Biology, but I still have a joint appointment in the Faculty of Medicine to this day,' Prof Christopoulos said.
At MIPS, teaching is managed at a whole-of-faculty level, rather than devolving to individual departments or units.
'The first thing we do is say, "What are the education needs of our pharmacy and pharmaceutical sciences workforces," and we determine that at the faculty level,' he said.
'After that, each person who is involved identifies which MIPS research stream best suits their skill set along the drug discovery, development and medicine use continuum. If they are education-focused, then they sit within our new Pharmacy and Pharmaceutical Sciences Education (PPS-Ed) Theme.'
Overhauling the pharmacy degree
While the Bachelor of Pharmacy degree at Monash once had a significant 'hard science' component, the degree was revamped to incorporate a stronger clinical focus.
'We were hearing a lot from our stakeholders that the students were very well grounded in the hard sciences, but they didn't have enough of the clinical and soft skills to be able to take that over the line,' Prof Christopoulos said.
To address this, the course was split in two, with the introduction of a Bachelor of Pharmaceutical Sciences focusing on the needs of industry. The pharmacy degree evolved towards a more clinical focus, using the multidisciplinary hospital model as a blueprint.
'Many of the "hard sciences" were moved into our pharmaceutical sciences degree,' the Dean explained. 'So if you look at the Pharmacy degree now, it's more clinical, applied and heavily focused on early experiential learning.'
Fourth-year pharmacy student Olivia de Voogd, a Monash graduate entry student who joined in third year, said the course is geared towards real-world pharmacy practice.
Students regularly participate in on-campus practical workshops, where patient scenarios are played out. 
'We go through case studies [in terms of] the background knowledge of the patient, the medicines they are on, and any medicine-related problems that occur,' she said.
'We run through it in a way that a pharmacist would in real life in terms of patient monitoring, the goals that you want to achieve with the patient, and what you can do to overcome any problems.'
While Ms de Voogd found it challenging as a graduate entry student, which entailed a summer intensive course and overloading units in her first semester at Monash, consolidating and applying that knowledge through the practical aspects of the course was helpful.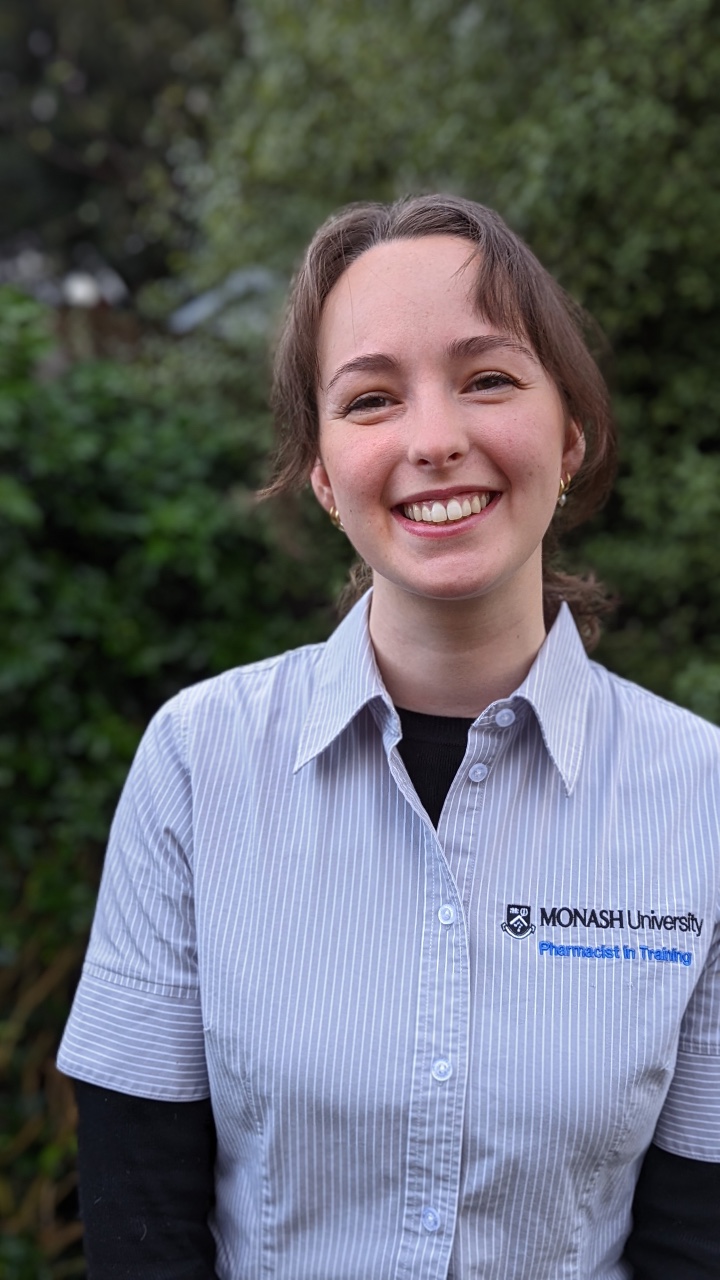 'That meant I wasn't too overwhelmed with everything I had to learn,' she added.
The pharmacy degree also develops students' employability skills, a key aspect of the rankings, which Ms de Voogd said has helped her prepare for her intern year.
'They ran multiple days throughout this semester where we did work resume preparation, cover letters, and interview prep to help us prepare for the application and interview process,' she said.
Experiential learning and further study
To further prepare students for pharmacy practice, experiential learning starts earlier in the course.
'Rather than waiting until the end of the graduate degree, second year pharmacy students are already out there [on] placements,' Prof Christopoulos said. 'By the time students get to their intern year, they have had quite a few hours of experience under their belt.'
Although to a lesser extent, pharmaceutical science students also get placements in industry settings.
'Early exposure is crucial to help students make an informed choice about their career path', Prof Christopoulos said. 
'It also allows potential employers to see the type of graduate we're trying to produce and [give] input earlier into how to sculpt this type of pharmacist or pharmaceutical scientist,' he said.
For those who wish to pursue further study, Monash's Vertical Integrated Masters degree, which entails extra units completed during the intern year, offers students the option to graduate with a Masters as well as a Bachelor of Pharmacy (with honours).
Students who come out with an MPharm develop applied research skills in a community or hospital setting. 
'This has had a huge impact on the quality of the graduates that are now coming out,' Prof Christopoulos said.
'This year, we also launched our new Master of Pharmaceutical Sciences, which is geared specifically towards developing employability in the biotech and the drug discovery sector.'
The next front Prof Christopoulos hopes to tackle is community pharmacy practice.
'If you look at the current multidisciplinary hospital model system as the gold standard, how can we do the same with the community pharmacy model, given that approximately 70% of our pharmacists are in that setting?' he asked.
We want to ensure the same level of quality control, multidisciplinarity and appropriate preceptor training.'
A renewed focus on community pharmacy practice is encouraged by PSA, Mr Jackson said.
'As president of PSA's Victorian branch, I endorse the intention to expand the faculty's engagement in pharmacy practice,' he said.
Addressing global challenges
A key focus for Monash in terms of education and workforce development is preparing students to address global challenges, Prof Christopoulos said.
'There are about 8 billion people on this planet, and the World Health Organization (WHO) estimates that only about 2 billion have access to the kind of health care that we do. That's totally inequitable and we can do better,' he said.
By 2030, the WHO also predicts that 40 million more healthcare workers will be needed to address this disparity.
'Healthcare workforce is a growth area. The only way we're going to address this going forward is by looking at global challenges across faculties and universities, stakeholders and countries,' he said. 
Monash's biomedical precinct is working to address some of these challenges, which includes maternal and infant health issues.
One recent development to come out of the faculty is the Inhaled Oxytocin Project. With postpartum haemorrhage one of the major causes of death in the developing world, the project aims to increase access to oxytocin which stops the bleeding when injected after delivery.
'Oxytocin requires cold chain storage. So how do you do that somewhere in Africa where they don't have cold chain storage?' he asked.
The answer is an inhaled form of oxytocin, now in the first round of clinical trials, which Prof Christopoulos estimates will save thousands of lives every year.
'That is real-world application of pharmaceutical technology,' he said. 'And our students are exposed to all of that.'