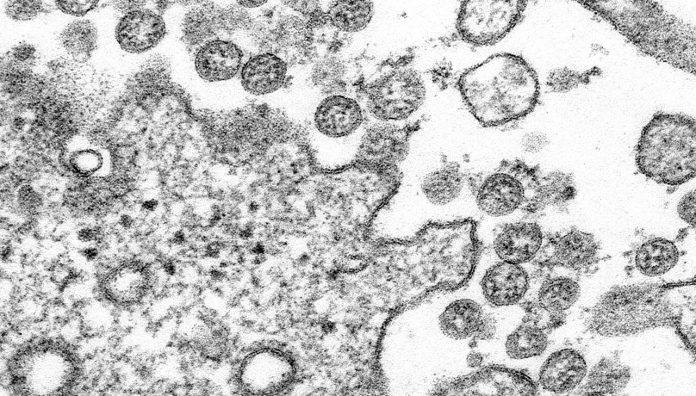 Pharmacists can play a key role in preventing the spread of the 2019 novel coronavirus, which was yesterday formally named COVID-19 by the World Health Organisation (WHO).
In a guidance document for pharmacists released last week, the International Pharmaceutical Federation (FIP) said pharmacists need to understand the nature of the virus, how it is transmitted and how to prevent it from spreading further. 
Key points
45,182

 confirmed cases worldwide (up from 25,000 in the

last

AP

newsletter

)

1,115 deaths

: 1,016 in Mainland China, 1 in Philippines, 1 in Hong Kong (more than double the tally a week ago)

Countries affected: China (including Hong Kong, Macau and Taiwan), Japan, Thailand, Singapore, South Korea, Australia, USA, Germany, Malaysia, Vietnam, France, United Arab Emirates, Canada, India, Italy, Russia, the UK, Philippines, Nepal, Sri Lanka, Spain, Sweden, Cambodia, Finland and Belgium. 

In

Australia

: 5 cases in Queensland, 4 in NSW, 4 in Victoria, and 2 in South Australia.
FIP also created a decision tree to help pharmacists provide advice to patients depending on their symptoms and travel history.
'Pharmacies may play an important public health role by raising awareness about the importance of frequent and appropriate hand washing and by stocking or preparing alcohol-based hand sanitiser,' the guidance document states.
FIP's Military and Emergency Pharmacy Section Secretary and Director of Health Policy for the New Zealand Defence Force, Jane Dawson, said the resources contain valuable information for pharmacists around the world.
'Since pharmacies are often the first point of contact with the health system, and given that cases have already been seen in a number of countries, it is important that the whole pharmacy workforce is well-informed and prepared,' she said.
'The pharmacy as an information centre is one of the most important roles we can perform.
'Information is key to controlling the outbreak and to prevent panic … Find out what's happening in your area and adapt your information appropriately.' 
Local situation
The number of deaths from COVID-19 has overtaken the 916 deaths during the SARS epidemic of 2002–2003. At the current rate of progression, the number of cases is likely to exceed 50,000 this week.
Of the 15 cases in Australia, five people have recovered and the remaining are in a stable condition. All Australian cases came from the epicentre Wuhan, except one person in NSW who had contact with a confirmed case in a different part of China.
So far 532 Australian citizens have been evacuated from China by the federal government. The evacuees are now in quarantine on Christmas Island and at the Howard Springs Accommodation Facility on the outskirts of Darwin.
They will return to their homes in Australia once they have been medically cleared following 14 days of quarantine.
Australians are also confined aboard three cruise ships: the Diamond Princess, which is docked in Yokohama, Japan; World Dream, quarantined in Hong Kong although those without the virus have disembarked this week; and Holland American Lines' Westerdam, which is expected to disembark all passengers in Bangkok tomorrow (Thursday 13 February).
Of these, only the Diamond Princess has confirmed cases on board, with the Australian Department of Health reporting 11 Australians have tested positive and have been transported to Japanese hospitals. They are among an estimated 175 cases on board the ship. The Australian Embassy in Tokyo is reportedly investigating a 12th case.
In Australia, state and territory health authorities are testing anyone who shows symptoms of the virus and monitoring close contacts of confirmed cases. The federal government is screening travellers who arrive in Australia and has applied travel restrictions to reduce the number of travellers from mainland China.
International developments
An advance team of WHO experts arrived in China on Monday. They will lay the groundwork for a larger team of about 10 to 15 people, who will help Chinese health authorities manage the virus.
This development came just days after whistleblower Li Wenliang, who tried to raise the alarm about the outbreak by warning fellow doctors in a group chat in December, died from the virus. The 34-year-old opthamologist, who died on Friday at a hospital in Wuhan, was among eight Wuhan residents who were reprimanded by local police in early January for spreading 'rumours' about the outbreak of the virus.
In Britain, the Chief Medical Officer for England Professor Chris Whitty has confirmed four more people have tested positive for COVID-19. They contracted the virus in France from a British man, who is thought to have infected at least 11 people while holidaying in a chalet in the French Alps. He is reported to have contracted the virus while at a conference in Singapore in late January.
Of those infected by the man, five have been hospitalised in France, five in Britain and another on the island of Majorca, Spain.
Investing in prevention
In addition to its team on the ground, the WHO also convened a global forum to accelerate research this week, in collaboration with the Global Research Collaboration for Infectious Disease Preparedness.
The forum brings together scientists, public health agencies, health ministries and research funders in pursuit of the development of vaccines, therapeutics and diagnostics for COVID-19. 
'The main outcome we expect from this meeting is not immediate answers to every question that we have,' WHO Director-General Dr Tedros Adhanom Ghebreyesus said yesterday.
'The main outcome is an agreed roadmap on what questions we need to ask, and how we will go about answering those questions.'
It could take 18 months to develop the first vaccine, Dr Ghebreyesus said, but there are 'basic public health interventions that are available to us now, and which can prevent infections now'.
He said it was important to take advantage of the 'window of opportunity' to stop the spread of COVID-19, by investing in 'rational and evidence-based interventions'.
'If we don't, we could have far more cases – and far higher costs – on our hands,' he said.
'I don't think anybody wants that. This is a common enemy.'
WHO Chief Scientist Dr Soumya Swaminathan said the group of 400 experts would build on existing SARS and MERS coronavirus research, and that the meeting would help determine which projects are undertaken first. 
'Understanding the disease, its reservoirs, transmission and clinical severity and then developing effective countermeasures is critical for the control of the outbreak, to reduce deaths and minimise the economic impact,' she said. 
Meanwhile, Australia's Therapeutic Goods Administration (TGA) has released a warning about products claiming to treat or prevent the virus.
'The TGA has identified certain therapeutic goods such as complementary medicines or disinfectants being inappropriately promoted for the prevention or treatment of novel coronavirus infections in Australia,' the organisation said.
'Claims such as preventing the spread of coronavirus (for example, through the use of face masks or disinfectants), or increasing immunity to coronavirus (for example, by taking supplements), are considered to be therapeutic use claims.'