PSA22 continued on Saturday with a wide-ranging line-up of award presentations, therapeutic updates and industry engagement opportunities.
On Day 2 of PSA22, PSA members breakfasted with MasterChef pharmacist contestant Depinder Chhibber MPS, learned about the resilience of guest speaker Olympic athlete Dr Jana Pittman and witnessed the launch of new guidelines for medicine management for Aboriginal and Torres Strait Islander peoples.
Delegates also attended enlightening practice-centric sessions on everything from cardiovascular disease to mRNA science.
Here are the day's highlights.
'Nothing about us without us'
At the opening plenary, Associate Professor Faye McMillan, the PSA Symbion Pharmacist of the Year, launched a new set of PSA guidelines for pharmacists supporting Aboriginal and Torres Strait Islander people with medicines management.
The guidelines mark a refreshed focus on Aboriginal and Torres Strait Islander health and wellbeing, offering pharmacists a practical guide to engagement with those communities, alongside an opportunity for personal and professional development.
Excellent to have updated guidelines for pharmacists supporting Aboriginal & Torres Strait Islander peoples with medicines management! #PSA22SYD pic.twitter.com/AizWbtvAnk

— Dr Jacinta Johnson (@JacintaAdelaide) July 29, 2022
They also provide broader guidance for how enhancing medicines management can improve health outcomes for Aboriginal and Torres Strait Islander peoples.
'As pharmacists, we have an integral role to play in working alongside Aboriginal and Torres Strait Islander peoples and organisations to ensure that we use our skills and the knowledge to understand what it is they are seeking,' A/Prof McMillan said.
She also pointed to the symbolism of the printed report.
'We use circles [within the report] to represent the neverending connections between the different spaces in which we as pharmacists occupy, and so that we are able to see ourselves in those relationships,' she said.
Faye McMillan launching the new guidelines for pharmacists supporting medicines management in Aboriginal and Torres Strait Islander peoples. Developed with @NACCHOAustralia and @PSA_National
"Nothing about us without us". #PSA22SYD pic.twitter.com/LJpCMXtD64

— Bronwyn Clark (she/her) (@Bronslemans) July 29, 2022
'We've really been deliberate in the way the guidelines set things out [so] they are agnostic and applicable to every person who works in the pharmacy space.'
A/Prof McMillan ended her presentation with a call for a more empowering model that places Aboriginal and Torres Strait Islander people at the centre of the care affecting them.
'Culturally safe and responsive care … is determined by the individuals who experience that,' she said. 'Nothing about us without us.'
Success through failure
The opening plenary also featured the annual Alan Russell Oration, given by keynote speaker and former Olympic athlete Dr Jana Pittman.
Dr Pittman, Australia's only Summer and Winter Olympian, a two-time World Champion, and a four-time Commonwealth Games gold medallist, outlined how the triumphs and failures of her sporting career shaped who she is today.
Her many successes (her career as a doctor, her six children, including recent twins and a seventh child from an egg donation to her best friends) were possible, she explained, in spite of a divorce, multiple miscarriages and failing to win an Olympic gold medal.
'It's the one thing that I'll never have on my resume,' Dr Pittman.
In the mid-2000s, the athlete was beset by injuries – the 'Achilles heel of my Olympic career' – that led to mental health struggles.
In the aftermath, she decided to pursue her childhood dream of becoming a healthcare professional and began a Bachelor of Medicine and Surgery at the University of Western Sydney.
Now practising, Dr Pittman also calls herself a 'fast-talking weirdo' and uses her emotion, quickness and drama as her 'secret weapon' to be an empathetic healthcare professional and 'advocate for women's health'.
She encouraged PSA22 audience members to draw on perceived 'failures' to spur oneself onto eventual success.
Is this recorded? So much advice, so many truth bombs. So much honesty. Bloody love it. #PSA22SYD @PSA_National https://t.co/TCDaFgDCKR

— Deanna Mill (@deanna_mill) July 30, 2022
'It can be really hard … to find motivation,' she said. 'In hindsight, the incredible career right now I absolutely love is a blessing because of the fact I wasn't successful in the first goals that I had.'
And the fear that stemmed from anticipating that failure was not far away.
'The most successful people you will meet are the most afraid,' she said.
A day of pharmaceutical delights
Before the day's main sessions kicked off, PSA members gathered for a special ticketed breakfast with pharmacist and MasterChef Australia contestant Depinder Chhibber MPS.
The session explored the 11 secret ingredients required to make a good pharmacist, such as self-motivation, professional purpose and an innovative mindset.
Hosted by PSA General Manager Policy and Program Delivery Chris Campbell MPS, (wearing the 2-decade old HMR-embroidered apron of Accredited Pharmacist Debbie Rigby FPS) the session was an amusing skip through Ms Chhibber's MasterChef stressors and experiences and how they related to pharmacy practice.
Also explored were issues including the future of the profession, the evolving role of pharmacists and dealing with stress at work while PSA members and guests constructed a delightful chia pudding using whisks to speed-soak the chia seeds and oats and gradually add in 11 ingredients including nut butter, raspberries, cinnamon, coconut flakes and dates to adorn their tasty creations.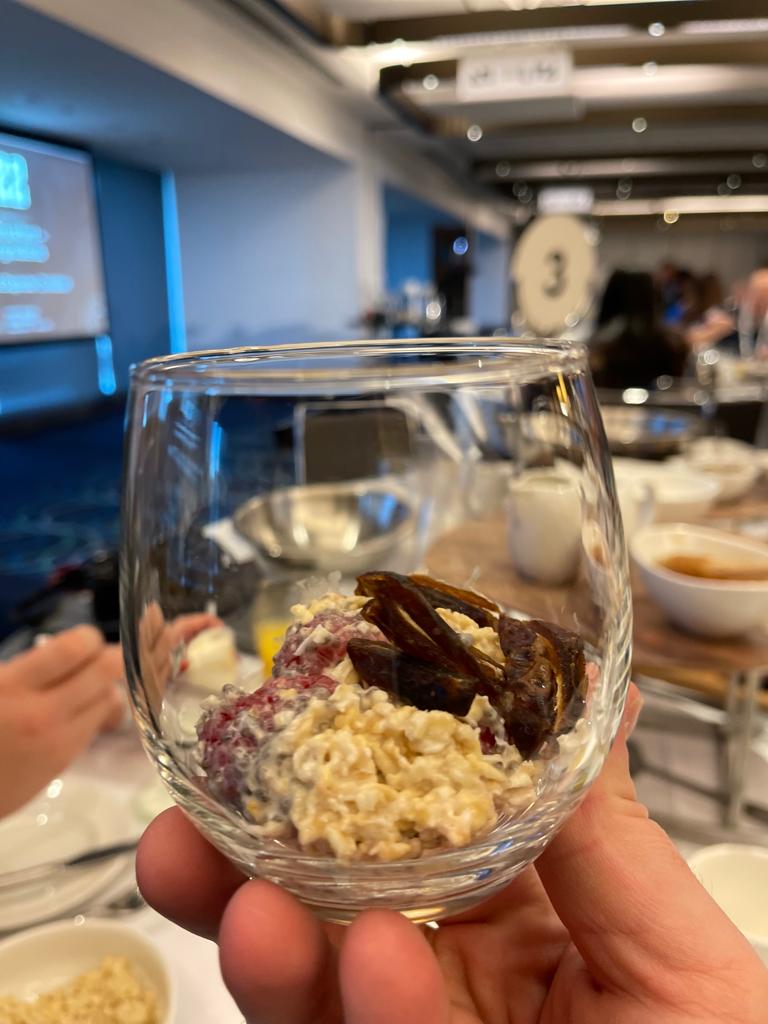 In the afternoon, delegates heard about emerging treatments in obesity management, learnt how to respond to allergy and anaphylaxis in infants, explored priorities in the future of pharmacy with the Australasian Pharmaceutical Science Association, and attended 'silent disco' headsetted poster sessions with academic and other pharmacy researchers.
@they__call_me_V on her research into Mapping the implementation of professional services in Australian #CommunityPharmacies #ProfessionalServices #PSA22SYD @PSA_National pic.twitter.com/5KY4JV0jba

— Jess Hsiao (@Jess__Hsiao) July 30, 2022
To cap off an enriching day of learning, join us at the fabulous Gala Dinner, gathering delegates and special guests together for an evening of "Dancing with the Pharmacists".
Sound like a lot of content? There's still an entire day of sessions on Sunday. Check out the schedule for the final day of PSA22.