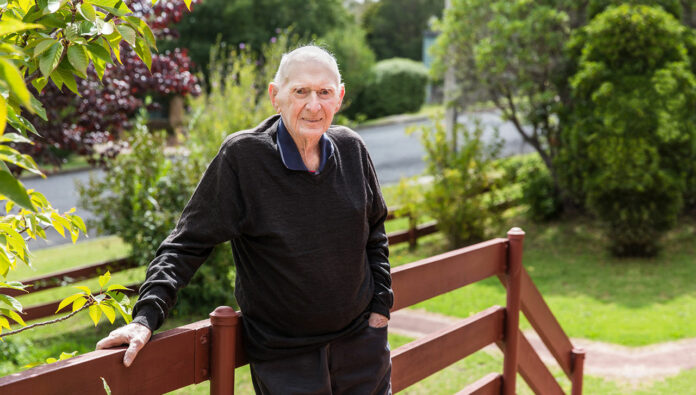 For 93-year-old Patrick Timbs MPS, pharmacy provided a lifelong vocation and the chance to be a passionate community advocate in his hometown of Glen Innes, in rural New South Wales.

Mr Timbs passed away shortly after this article was published in the April 2021 edition of Australian Pharmacist. The PSA would like to extend its sympathies to his family.
How did you get your start in pharmacy?
When I first started out, you had to do a 4-year apprenticeship in order to qualify. I began my apprenticeship at a pharmacy in Newcastle, New South Wales, in 1946, before moving to Sydney in 1947 to attend the University of Sydney and finish up my apprenticeship at a pharmacy in Guildford. After graduating, I moved back to Newcastle until my uncle, who was based in Kyogle, northern NSW, told me that the local pharmacist wanted me to come and work up there.
After 3 years in Kyogle, where I met my wife, who was a nurse at the hospital, we were making our way back down to Newcastle when we passed through Glen Innes to visit my grandfather. He lived next door to a pharmacist, who asked me if I wanted a job.
I worked with him until 1955, when I asked for a raise, which he said he'd think about. When I asked him again a few months later, he said he was still thinking about it, so I went to work for another pharmacy up the road.
The pharmacist in change, Mr Grover, was a remarkable man and mentor who paid me above the award and let me buy the pharmacy at half the goodwill price in 1962. I owned Timbs Pharmacy until I retired about 12 years ago at the age of 80.
You also worked in the hospital?
When I first moved to Glen Innes, the local hospital needed a pharmacist. For 50 years, I would do the morning shift 3 days a week from 7:30– 9:00 am before heading back to the community pharmacy for the day.
I particularly enjoyed the last few years I worked as a hospital pharmacist. I collaborated with the doctors to reduce the number of medicines that patients were taking. I would do a drug profile on a patient and then discuss with the doctors which medicines should be discontinued.
Some of the older patients were on up to 25 medicines before we intervened. As a pharmacist, I think pharmacovigilance is really important, and we don't always see enough of it.
'The biggest change I've seen in my lifetime is the number of new medicines that have been developed to treat specific diseases.'
What are your retirement activities?
Aside from playing golf three times a week, I continued to visit Glen Innes Prison up until recently to provide guidance to some of the young men there. I was a volunteer at the prison for almost 33 years.
What has changed in pharmacy practice since you started your career?
The biggest change I've seen in my lifetime is the number of new medicines that have been developed to treat specific diseases.
In the first 20–25 years of my career, we used to have to compound our own medicines – suppositories, pills, ointments and creams were all made up for each patient.
What's the best thing about working in rural and remote pharmacy?
The service. As accessible healthcare practitioners, the pharmacists in rural and remote areas are required to give patients a lot of medical advice. The practices are all locally owned and operated, and the pharmacists know their patients individually and are concerned about the medicines they take.
What advice would you give to young pharmacists just starting out?
I recommend doing drug profiles on all your patients and establishing a great working relationship with the local GPs. That way, you can easily communicate with them should a patient need to change or add a medicine to their treatment plan.