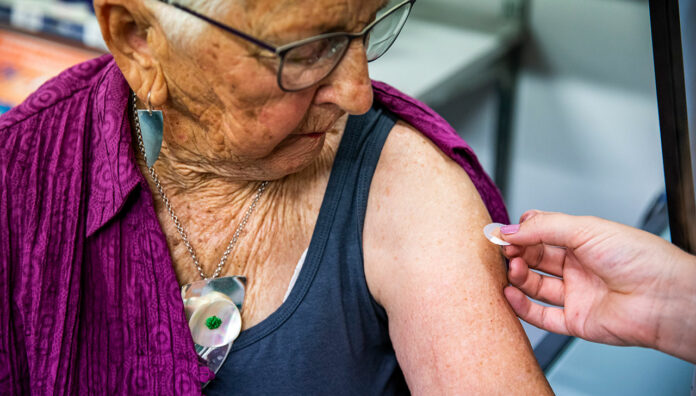 Each week, pharmacists across the country ring PSA's Pharmacist to Pharmacist advice line looking for guidance on everything from practice-related queries to ethical dilemmas. In a new monthly series, Australian Pharmacist will speak to the experts and answer some of the most frequently asked questions.
This month, we're focusing on COVID-19 vaccinations. Have a question of your own? PSA members can call 1300 369 772 to receive professional advice and support.
Q: I have completed the COVID-19 training and am still not confident with handling multi-dose vials. Where can I go for further training
? 
A: Multi-dose vials are the most efficient way to distribute the COVID-19 vaccine, but they come with an increased risk of infection control breaches. In Australia, all COVID-19 vaccines are available in multi-dose vials, while all other vaccines administered by pharmacists are single-use preparations. The PSA immunisation practical refresher workshop now includes training on the use of multi-dose vials to ensure pharmacists are competent to safely prepare vaccines from multi-dose vials.
Amanda Fairjones, Professional Support Advisor, PSA
Q: Can I give a COVID-19 vaccine outside of the pharmacy premises?
A: This is dependent on the state or territory in which you practice. There are different legislative requirements for each jurisdiction, and pharmacists must comply with the relevant state and territory legislation. 
There are certain requirements that all pharmacists should consider if providing an immunisation service outside of the pharmacy setting, including:
ensuring the cold chain management of vaccines is in accordance with the national 'Strive for 5' guidelines

ensuring the immunisation service area is compliant with relevant legislation, current practice standards and guidelines 

adhering to requirements for equipment. For example, maintaining an up-to-date anaphylaxis response kit as well as emergency response protocol that is specific to the practice setting

safe disposal of sharps and clinical waste

staffing the service adequately

access to clinical references and the AIR. 
Amanda Fairjones, Professional Support Advisor, PSA
A: Before administering COVID-19 vaccines, I recommend you check your policy to ensure you have suitable levels of cover, including sub-limits. A sub-limit in an insurance policy means a limitation on the amount of coverage available to cover a specific type of loss. 
For example, the PSA Member Professional Indemnity Insurance policy covers members administering COVID-19 vaccinations* for up to $20 million as per the Policy Wording, with no sub-limits. This means that if you do make a claim, you can receive up to $20 million in cover and not be restricted to a smaller amount of cover for that activity as expressed in the sub-limit.
*Cover is for pharmacists who meet the state and territory legal and regulatory requirements for pharmacist immunisers – i.e. where it's within your scope of practice.
Shamus Breen, Managing Director, Affinity BMS Risk Solutions Pty Ltd
Q: How will the updated ATAGI advice affect community pharmacists' involvement in the COVID-19 roll-out from Phase 2a from a clinical perspective?
A: It is as yet unclear how the ATAGI advice to preferentially offer the Pfizer vaccine to people aged less than 50 years will affect the role of community pharmacists in Australia's COVID-19 vaccine roll-out. 
The government is currently 'recalibrating' its roll-out plans and more information is expected in coming weeks as this process is worked through. People under the age of 50 years are primarily within the Phase 2b priority group, and it is likely this is where the strongest impact will be.
We note the majority of people in Phase 2a are over the age of 50 years, and that the government has reflected that Phase 2a is expected to continue relatively unaltered. The PPA has continued to assess expressions of interest applications from community pharmacies, with additional information requested from some pharmacies last week. 
Australia's COVID-19 vaccine roll-out is expected to continue to adapt to new advice, global supply chains, community outbreaks of COVID-19 and regulatory approval of other vaccines, such as Novovax. 
Peter Guthrey, Senior Pharmacist – Strategic Policy, PSA 
Q: How is PSA responding to the changes in ATAGI's advice on AstraZeneca vaccines?
A: Last week I met with representatives from the Federal Minister for Health Greg Hunt's office and the Department of Health, and the plan for pharmacists delivering COVID-19 vaccinations is still in full swing. 
Some pharmacies, potentially those in more rural and remote areas without large general practices, are likely to commence vaccinations in May 2021. 
This was further supported by Minister Hunt's comments after announcing an order for an additional 20 million Pfizer doses that 'the basic settings, as we progress through 1a and 1b and even Phase 2a are largely unchanged', recognising the majority of people in these groups are over 50 years of age and should continue to receive the AstraZeneca COVID-19 vaccine.
We have been working with PPA and the Department of Health on the EOI messaging going out to community pharmacy. It's clear that major barriers in supply of vaccines, and now the revised ATAGI position, mean that the government's vaccination strategy has hit a few bumps – but we know from international experience that pharmacy has been vital in vaccine delivery to the community. 
The PSA is not taking its eyes off this, and continues to be at the table for the critical conversations that are making this happen. 
Mark Kinsela, CEO, PSA 
Q: As a pharmacist, how do I respond to patient concerns regarding blood clots with the AstraZeneca COVID 19 vaccine?
A: Many people in the community have concerns regarding reports of blood clots and adverse effects from the AstraZeneca COVID-19 vaccine, which have been heightened following the updated ATAGI advice and moves by overseas regulatory agencies in response to local and global post-market pharmacovigilance data. 
While understandable, these concerns are likely to lead to a rise in vaccine hesitancy. Pharmacists have a key role to play in empowering patients with clear, factual and informed advice regarding COVID-19 vaccination.
One of the strongest influences on vaccine acceptance by a person is a strong recommendation from their health professionals. In responding to patient concerns, it is important that you listen fully and solicit all concerns they may have, regardless of how likely they are to occur and then provide clear and unambiguous advice.
Consistent with the advice provided by ATAGI and the Department of Health, some key points pharmacists may wish to discuss with patients include:
There is evidence of a likely link between the AstraZeneca vaccine and an extremely rare blood clotting syndrome (thrombosis with thrombocytopenia). This event is extremely rare and seems to occur more frequently – although not exclusively – in younger people.

The recommendation from the Australian Technical Advisory Group on Immunisation (ATAGI) is that, at the current time, use of Comirnaty COVID-19 vaccine (Pfizer) is preferred over AstraZeneca COVID-19 vaccine in adults under 50 years old who have not already had a first dose of the AstraZeneca vaccine.

This recommendation is based both on the increased risk of complications from COVID-19 with increasing age (and thus increased benefit of vaccination), and the potentially lower, but not zero, risk of thrombosis with thrombocytopenia syndrome with increasing age.

ATAGI is made up of vaccine experts. Their independent advice is informed through real-time monitoring of vaccine safety in Australia and overseas. 

Looking out for and responding to extremely rare adverse effects is important and normal. The updated advice is a demonstration of our safety systems working well.

The AstraZeneca COVID-19 vaccine remains highly effective at preventing death and severe illness among people who have contracted COVID-19, while the incidence of the blood-clotting syndrome is very rare.
Peter Guthrey, Senior Pharmacist – Strategic Policy, PSA