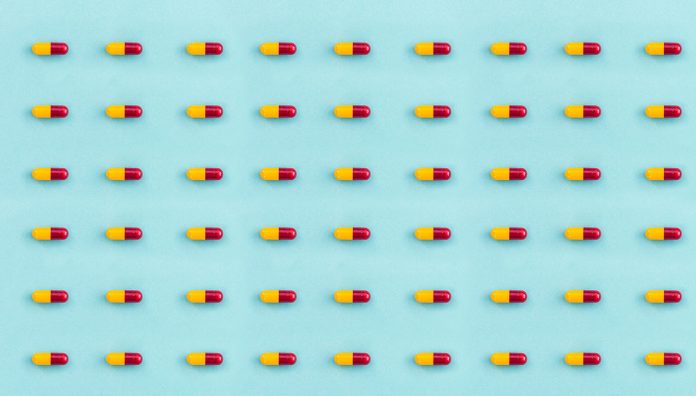 Antimicrobial medicines use declined in Australia from 2013 to 2018, but the country's rate remains high by OECD standards, according to new research.
The Antimicrobial Medicines Dispensing from 2013–14 to 2017–18 report also revealed a sustained pattern of high use in 22 hot spots in some of the most disadvantaged areas of major cities, including outer areas of Sydney, Brisbane and Melbourne. 
This contrasts with what the report described as 'encouraging' results showing a fall of 13.3% nationally.
Key points:
Antimicrobial prescribing rates have fallen by 13.3% nationally over 5 years.
Areas with consistently high antimicrobial dispensing rates include: Mount Druitt, St Marys and Fairfield in New South Wales; Ipswich Inner, Beenleigh and Browns Plains in Queensland; and Sunbury and Tullamarine-Broadmeadows in Victoria.
Pharmacists can assist patients to reduce antimicrobial overuse.
In 2017–18, 28.2 million prescriptions for antimicrobials were dispensed in the community, compared with 30.3 million prescriptions in 2013–14, the report from the Australian Commission on Safety and Quality in Health Care found.
It is the first study to analyse antimicrobial prescribing at every level: national, state and territory, Primary Health Network (PHN) and local area.
The commission's Senior Medical Advisor Professor John Turnidge said being able to compare data would enable the healthcare sector to develop more targeted strategies to tackle the threat of antimicrobial resistance.
'It is significant that we are witnessing the first evidence of a consistent decline in antimicrobial consumption in Australia since the last decline in 2003,' he said.
'We are moving in the right direction but have more work to do, as the volume of antimicrobial use is still more than double that of comparable OECD countries.'
The issue of antimicrobial resistance was addressed in the Federal Budget, delivered by Treasurer Josh Frydenberg yesterday, with a $22.5 million investment in antimicrobial usage and antimicrobial resistance surveillance, to monitor and address the threat.
Pharmacists and antimicrobial stewardship
Community pharmacist Bernard Borg MPS, from Olsen Place Pharmacy in Broadmeadows, Melbourne, told Australian Pharmacist that during the COVID-19 crisis he had some patients who received a faxed prescription for a common antibiotic every second week.
'Patients calling the doctor with a respiratory or urinary tract infection are most likely to be given antibiotics as a first resort, especially if they have a chronic condition such as asthma, or diabetes, that makes them more prone to a secondary bacterial infection,' he said.
As the first port of call, there is an opportunity for pharmacists to educate patients, said Mr Borg, who has been a pharmacist for 33 years.
'We do ask about symptoms, such as whether they have a fever, and are able to guide patients about the need for antibiotics.'
'It is then up to the doctor to decide if what they have is viral or bacterial,' he added.
Locum pharmacist Nelson Young MPS, who works mainly across Brisbane metro pharmacies, told AP that it was also possible to ask patients about what treatments they had tried so far.
He said anxiety, especially during the pandemic, could sometimes be behind a patient's belief they needed an antibiotic.
Recommending over-the-counter products to patients, then referring them to a GP if necessary, could be a successful way to reduce overuse of antimicrobials, said Andrew Hanna MPS, a community pharmacist in south-western Sydney.
These actions are in line with government recommendations for pharmacists to help patients understand when and when not to use antibiotics.
University of Tasmania researcher and PSA Tasmania branch committee member Jackson Crawn MPS suggests pharmacists also question consumers about long-term antimicrobial therapy, asking if they have had the appropriate microbiology testing and are having regular follow-ups with their doctor.
More research needed
Australia's antimicrobial prescription rate remains high by international standards, with 22.7 defined daily doses per 1,000 people in 2017–18, more than double the equivalent figure in the Netherlands and Sweden, at 8.9 and 10.8, respectively.
Antimicrobial use in Australia has also previously been found to be of concern in aged care facilities and in hospitals.
Mr Hanna believed attitudes about the need for antibiotics had changed slightly, more so in younger families than in older Australians with chronic health conditions.
'More people understand that antibiotic resistance is going to cause us a problem in the future,' he said.
Factors influencing consistently high rates of antimicrobial use in the most disadvantaged areas need further exploration, according to the commission's Prof Turnidge.
'They may include higher rates of infectious diseases and socioeconomic characteristics, such as lower education levels, which may lead to increased likelihood to self-medicate with leftover or shared antimicrobials,' he said.
Pharmacists can remain informed about the appropriate uses for antimicrobials via the Therapeutic Guidelines and UpToDate.
Read the full report here.