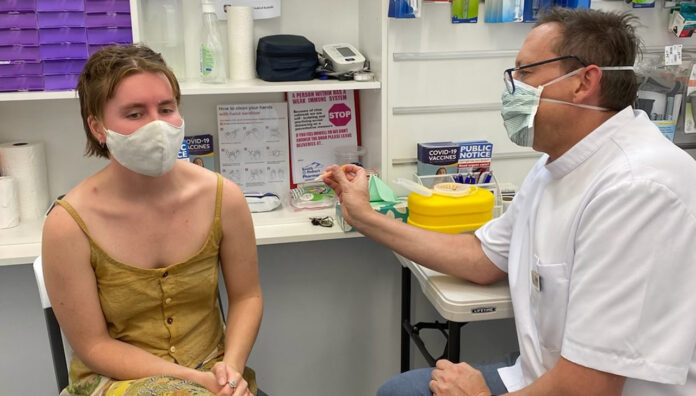 In the lead up to the federal election, Australian Pharmacist asks pharmacists across the country what they would like to see changed when it comes to remuneration.
Caleb Stuetz MPS discusses the extraordinary lengths pharmacists go to in order to ensure equitable vaccine access.
Tasmanian-based pharmacist Caleb Stuetz MPS has put the small but mighty South Hobart Pharmacy on the map.
Well-liked and appreciated around town, Mr Stuetz is known for delivering extended service with a smile.
'People get fast service, easy access to the pharmacist, and a lot of attention, care and time,' he added. 
Providing easy access to vaccinations
When one of South Hobart's local GP clinics pulled out of the COVID-19 rollout due to funding restraints, Mr Stuetz and his team stepped in to fill the gap.
'Our patients didn't want to go to the state-run clinic,' he said. 'They wanted to come to us. We have tried hard to build relationships with our patients and it shows with the ongoing community support.'
After completing a course on vaccine hesitancy through the University of Queensland, Mr Stuetz learned that one of the biggest determinants of good vaccination uptake is access.
'Pharmacy is the most visited health destination with 66% of rural patients and 97% of metropolitan patients living within 2.5 km of a pharmacy,' he said. 
'If you can open up access to all those pharmacies through better funding arrangements, then you'll have this wonderful, accessible service that the government can rely on to provide vaccinations and other services as the scope of practice opens up.'
Without adequate funding, however, it is difficult to maintain that easy access to vaccination services that pharmacies provide – particularly when considering the comparatively low fee pharmacists receive for administering COVID-19 booster doses.
'I've only got one pharmacist and I can [vaccinate] one person every 15 minutes in our tiny store,' he said. 
'I couldn't even pay for the other pharmacist to be there while providing [booster doses], so it's just not economically viable. I had to personally offset this lack of funding.' 
Administering COVID-19 vaccines isn't the only way pharmacists can make a difference, Mr Stuetz explained. A Medicare Benefits Schedule (MBS) service payment for all National Immunisation Program (NIP) vaccines would extend the community's access much further.
'Wouldn't it be awesome if a pharmacist could perform a Home Medicine Review, check [a patient's] vaccination status and arrange for a vaccine?' he said. 
'If they haven't had a whooping cough vaccine, for example, you could come back because you know it's going to be funded, [which would] help the community and protect the patient.'
CASE STUDY: Making a difference through specialised services
Jim*, a man in his early 20s who lives with autism, wanted to be vaccinated against COVID-19 to protect himself and the community. However, his fear of needles was making the process difficult. 
Before committing to receiving the vaccine, Jim made three trips to South Hobart Pharmacy. He wanted to see how far the pharmacy was from his house and to see how comfortable he felt with the team.
'We approached and chatted to him, as we do, and that's why he decided to get his vaccine with us,' Mr Stuetz said.
When Jim came into the pharmacy to get vaccinated with his father, the process took 40 minutes.
'We had to relax him, put him in a comfortable position, lay him down, and try [different techniques] to take his mind off of it, including talking about the latest books he's read and which computer games he likes,' Mr Stuetz said. 
'It took about five or six tries, but eventually we were able to vaccinate him – much to his and his dad's delight. At the end, he jumped up and gave me a high five.' 
With better funding, Mr Stuetz would have more time to spend with patients like Jim.
'That would mean people could come in any time and get a vaccination and it could offset the weight of another pharmacist,' he said.
'You don't have the time constraint when you've got another fully-funded person there to dispense and do all the other things that need to be done.'
Not all vaccinations are equal
With paediatric COVID-19 vaccines only recently introduced in Tasmanian pharmacies, Mr Stuetz thinks the lack of access to the vaccine in pharmacies has a lot to do with the relatively poor uptake.
'We've got 98.61% uptake of the COVID-19 vaccine in the adult population, and the children's dose has just hit 62%,' he said.
While Mr Stuetz has been asked by the community to deliver the paediatric vaccine, he is still considering how viable it will be at South Hobart Pharmacy.
'We're talking about time,' he said. 'Not every patient is the same.'
An MBS payment, however, would enable pharmacists to provide extended service to children and other patients who require more care.
One patient, for example, who has a sensory condition that causes migraine after exposure to light and noise, required a highly-specialised service for all three vaccine doses.
'Her husband phoned us before coming in and we shut the [pharmacy] door for 15 minutes while she was being vaccinated,' he said. 
'We turned off all the lights, and I vaccinated her under the dim iPhone light.
'As a community pharmacy, we were able to meet these needs and get her vaccinated.'
With graduate pharmacists now undertaking vaccination training in university, Mr Stuetz said it is the perfect time for a formal funding arrangement to be introduced for administering NIP vaccines.
'Let these smart grads come through and put their energy into other areas,' he said. '[Vaccination] should be made part of service provision.'