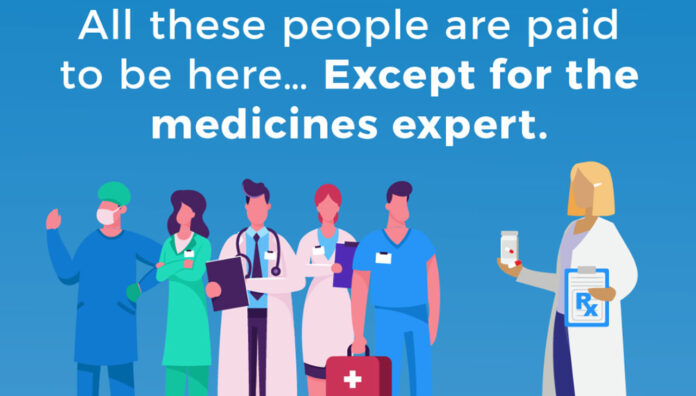 A crisis looms for the pharmacy industry, which has weathered the challenges of the COVID-19 pandemic, catastrophic fires and lately floods, but may not withstand an industry exodus unless long-standing pay inequity is addressed.
Pharmacists around Australia stayed on the frontline during waves of the COVID-19 pandemic, catastrophic bushfires and floods, but the pressures of the past 2 years have only served to highlight long-standing frustrations at pay inequities in the profession. 
In the lead-up to next month's federal election, PSA is pushing to improve pharmacists' remuneration to recognise their work in caring for the community – and ensuring that pharmacists receive the same pay for the same work as other healthcare practitioners, including for the administration of vaccines.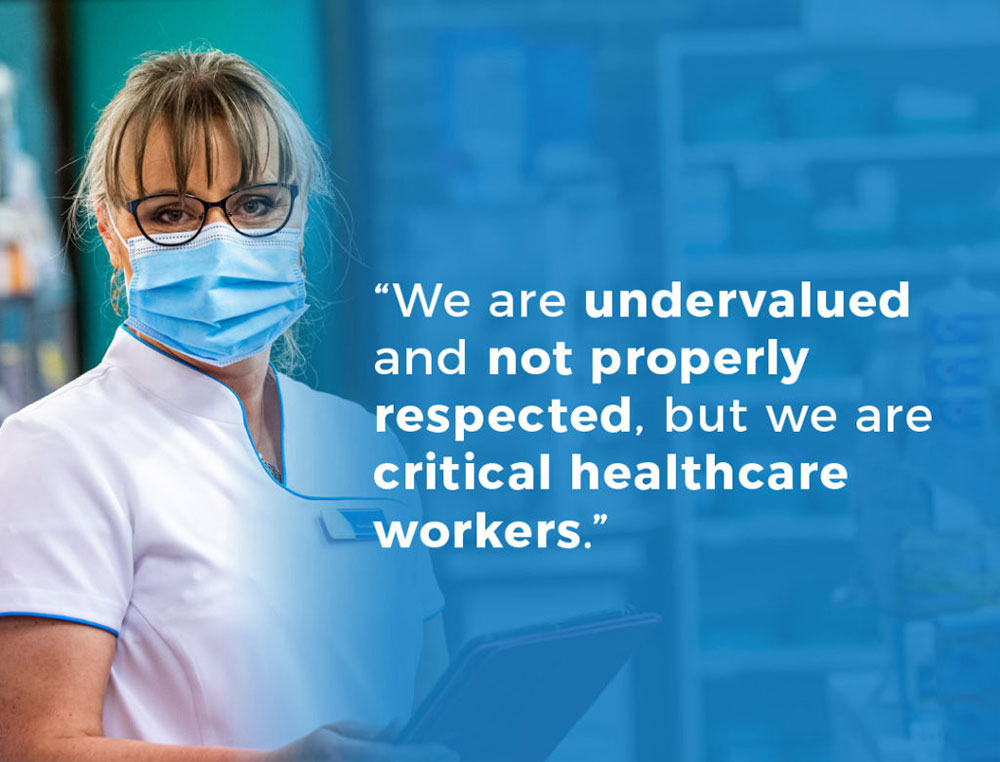 Renae Beardmore, a PSA National Vice-President and adviser to the health sector, says the campaign highlighting pay and working conditions was fundamentally about fairness and recognition of the value of the profession. 
'We're seeing the impact at the individual pharmacist level. Having done a highly technical degree, four years of study, and one year of being an intern, they are coming out and finding the terms and conditions, including remuneration, don't meet their expectations, and then we have people leaving the profession,' she says.
'Unfortunately, we have a workforce that went into the pandemic already upset with their terms and conditions of employment, and underpaid, and COVID has just added additional work and stress.' 
Mark Kinsela, PSA CEO, says the remuneration campaign is tackling community misconceptions to highlight the life-saving role of pharmacists as custodians of medicine safety. 
'The biggest misconception is that your pharmacist is being paid well – when in fact they are the lowest paid university-qualified health provider in Australia,' he says. 
'For two decades our health system has made incremental improvements to the wages and workloads of professions across the health system, yet pharmacists have been forgotten.' 
The campaign includes political lobbying and a grassroots members' strategy to draw attention to pay parity and highlight pharmacists' real-life experiences, using mainstream and social media and direct approaches to politicians.
The PSA is calling for a binding agreement with the federal government to improve pharmacists' salaries and working conditions in recognition of their critical responsibilities, advanced training and skills. The agreement would improve consumer health outcomes through the provision of safe and effective medication use, and underpin future Community Pharmacy Agreements to ensure sustainability of the pharmacy workforce. 
Other key demands are for the introduction of MBS service payments for pharmacists administering National Immunisation Program (NIP) vaccinations and for pharmacists participating in multidisciplinary case conferencing, and a GP-Pharmacist Collaborative Prescribing Pilot to address urgent GP workforce shortages in regional, rural and remote Australia.
PSA National President Associate Professor Chris Freeman has warned the federal government that failure to fairly remunerate pharmacists will have 'dire consequences' on Australia's healthcare system.
'Our pharmacist workforce is reaching crisis point, with any who entered pharmacy with admirable intentions to help and care for our community now questioning their future career prospects,' he wrote in PSA's submission to the recent federal Budget.1
Recent pressures
The pandemic has significantly increased pressures on pharmacists and staff. Restrictions, lockdowns, changing government regulations – including on emergency prescription supply – the recent east coast flooding events, and the swift shift to telehealth by general practitioners put a strain on pharmacists. But most kept their doors open when other health services closed, ensuring consumers had continued access to essential medicines and services. 
Pharmacists have helped Australia's national vaccination targets, administering more than 6.5 million vaccines and booster jabs by late March despite being paid almost half that of GPs for the same service.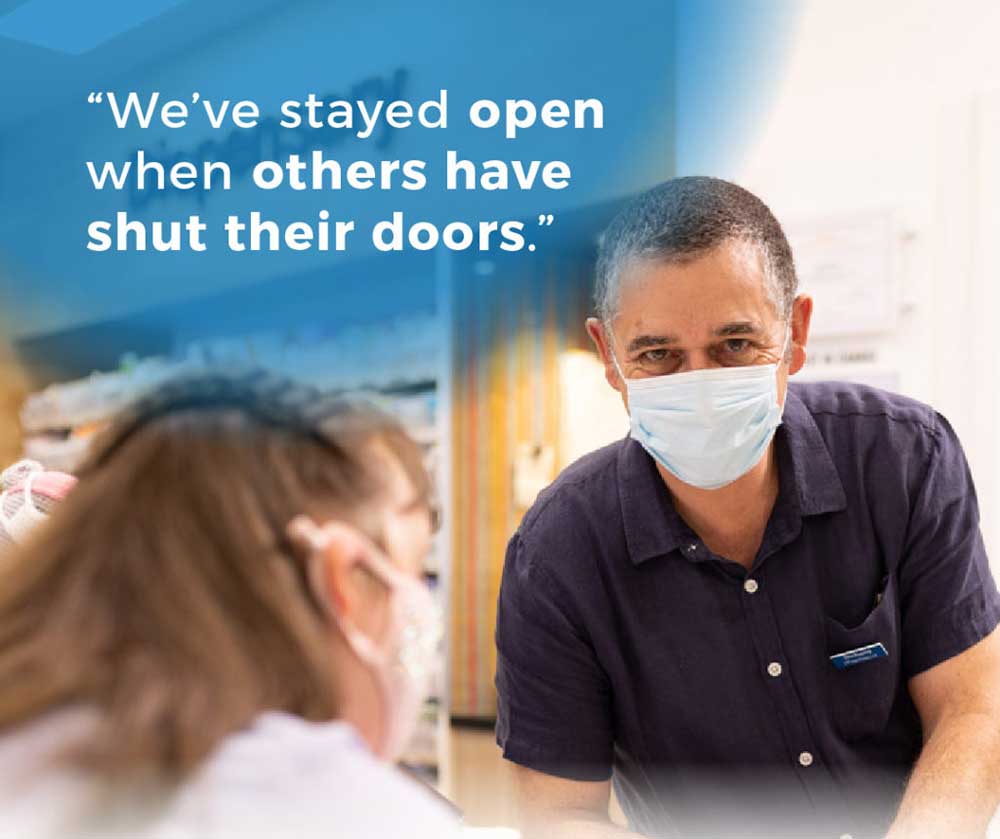 Rural pharmacist Taren Gill FPS tells AP community pharmacy owners are working more than 45 hours a week to provide clinical support to consumers in a constantly changing environment, and trying to prevent staff burnout. 
'All pharmacists working the frontline are tired. Each time the government changes a rule or announces something new, our teams get smashed with phone calls, queries and demands from an anxious community,' says Ms Gill, who owns Priceline Pharmacy Maryborough in Victoria. 'We have seen this over the last 2 years with changes in density rules, masks, vaccinations (type and timing) and rapid antigen tests (RATs).'
And with more people using pharmacy as the 'go-to for everything' – vaccination, RATs, for advice – more so in rural areas where there is no access to a GP.
'What they are not aware of is that we get paid very little to do it or nothing at all,' says Ms Gill. 'I can spend 10 minutes triaging, asking questions, and then doing my best to decide whether I can help them in-store or refer them on, and I'm not being paid for that part of my interaction.'
And the health system saving from that interaction, if a patient goes to a GP instead of hospital can be immense, says Ms Gill.
Constant stressors
Adelaide accredited pharmacist Fabian Bucco MPS works across healthcare settings, including community pharmacy, GP clinics and residential aged care facilities. He says the healthcare sector now has 'many staff stressed out and staff shortages across the board, often caused by poor pay'.
'In aged care, it can be difficult for supply pharmacies to get drivers, dispensing technicians and pharmacists.'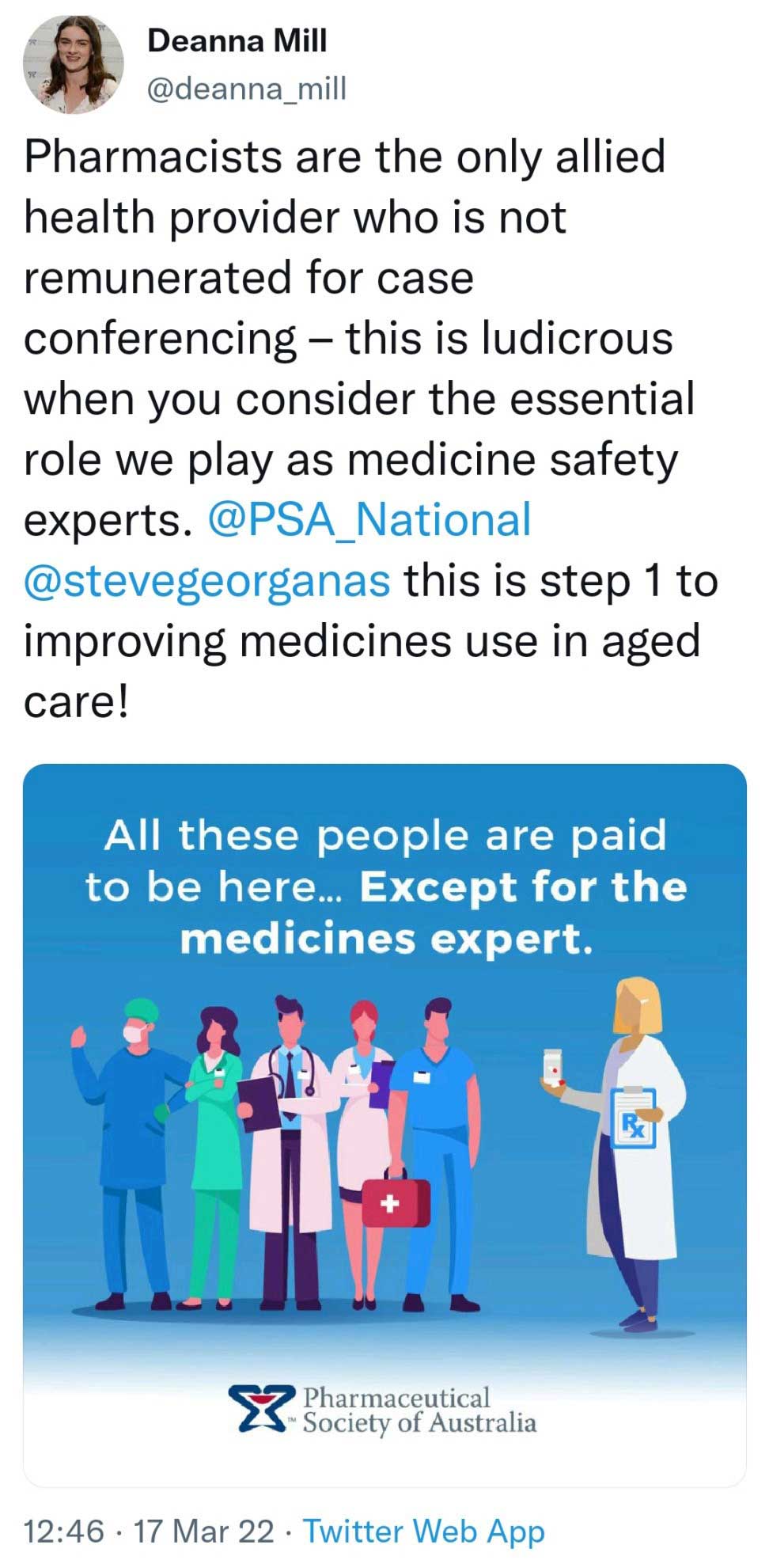 So many pharmacists and their staff were thrown into chaos during the pandemic. Mr Bucco was a locum at a community pharmacy around Christmas 2021 when all but one staff member had to isolate after a colleague tested positive to COVID-19. Mr Bucco ran the pharmacy with the sole staff member who wasn't a close contact, while other staff provided remote support. 'It was difficult to locum in an unfamiliar store without enough regular staff, and the usual service levels were affected,' he recalls. 
Ms Gill has witnessed the cumulative effects of recent pressures and poor pay on early-career pharmacists. The 2014 PSA ECP Pharmacist of the Year and former ECP National Board director, knows attracting and retaining staff in country pharmacies – who are on average paid more than in city pharmacies – is already difficult in rural and regional areas. Due to travel restrictions in the past 2 years, 'ECPs are now less likely to leave their comfort zone, even for a few months', she says.
With exhaustion rife across the profession, some believe owners are kings.
'I'm an owner and I can tell you now I'm not gobbling it all up. Where possible, it's been spread across loans, rent, wages, stock, you name it.' 
One of the solutions, she believes, needs to come from the government because it keeps 'thrusting things onto us, which we are happy to uptake because it's community minded, but we need to be remunerated. If the Government is going to continue to put the burden on community pharmacy, then pay us accordingly', so it finds its way to ECPs. 
And just like 'conversations' with lawyers and accountants have 'value' as advice – even without a piece of paper at the end – so, too, does advice from a 5-year trained pharmacist who has 'always been underpaid', Ms Gill says.
Money talks
Pay rates for interns and registered pharmacists are low when compared with other professions, and there is no real career path for mid- or late-career pharmacists, says Ms Beardmore, a former ACT Chief Pharmacist who has also owned community pharmacies. 
A recent salary comparison from employment website Indeed (see Table 1)shows the disparity between salaries in healthcare professions. The average annual salary for a pharmacist in January 2022 was $80,943, compared with $111,048 for optometrists, $125,238 for nurse practitioners and $224,134 for GPs. 
The pay inequity starts right after university, with pharmacists among some of the poorest paid graduates in Australia. Almost 60% of university students who participated in the National Pharmacy Students' Survey 20203 say pharmacy pay rates were inadequate, and for 28.5% poor pay is the biggest issue in a future career. 
Table 1 – Salary comparison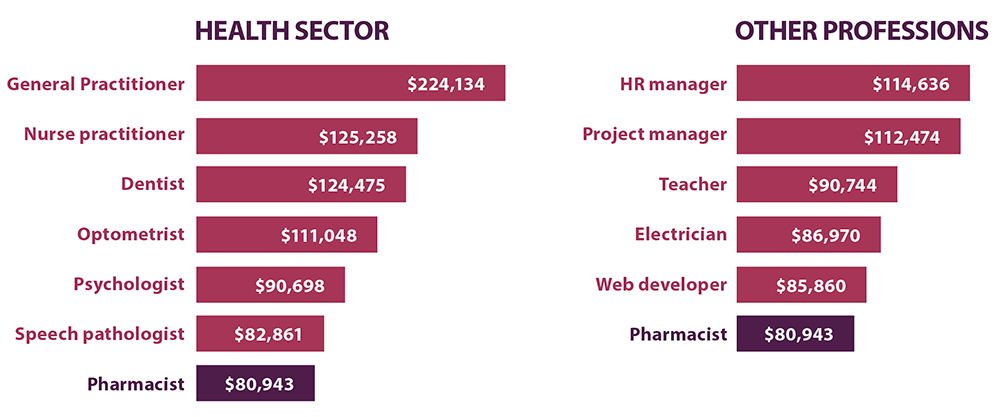 Pharmacist graduates in 2019 received an average starting salary of $48,000 a year, compared with the average for all graduates of $62,600, according to the 2019–20 Professional Pharmacists Australia Community and Hospital Pharmacists Employment and Remuneration Report4 – an improvement on previous years but still lagging most sectors. Only 28% of community pharmacists surveyed were willing to recommend pharmacy as a career, with more positive morale among hospital pharmacists at 44%.
Pharmacy interns were paid $24.73 an hour, pharmacists $35 an hour and experienced pharmacists $40 an hour. There is also a gender gap, with women community pharmacists paid, on average, less than men.
Ms Beardmore says pharmacy risks becoming commoditised if it continues to talk about remuneration as an hourly rate, instead of an annual salary.
'The profession will never advance the conversation unless it stops talking about itself in hourly rates. What do other health professions say, "I'll pay you $35 an hour"? It should be a salary for the skills and experience you deliver,' she maintains. 
Overseas pharmacists are paid more
Due to different and unique health systems, professional environments, and education and training in overseas countries – even if practice is broadly similar – there are difficulties in directly comparing wages. 
Individual countries have their own systems, but it remains a reality that Australian pharmacist salaries remain lower than in the United Kingdom, United States, Canada and New Zealand (see Table 2).
Table 2 – What pharmacists are paid overseas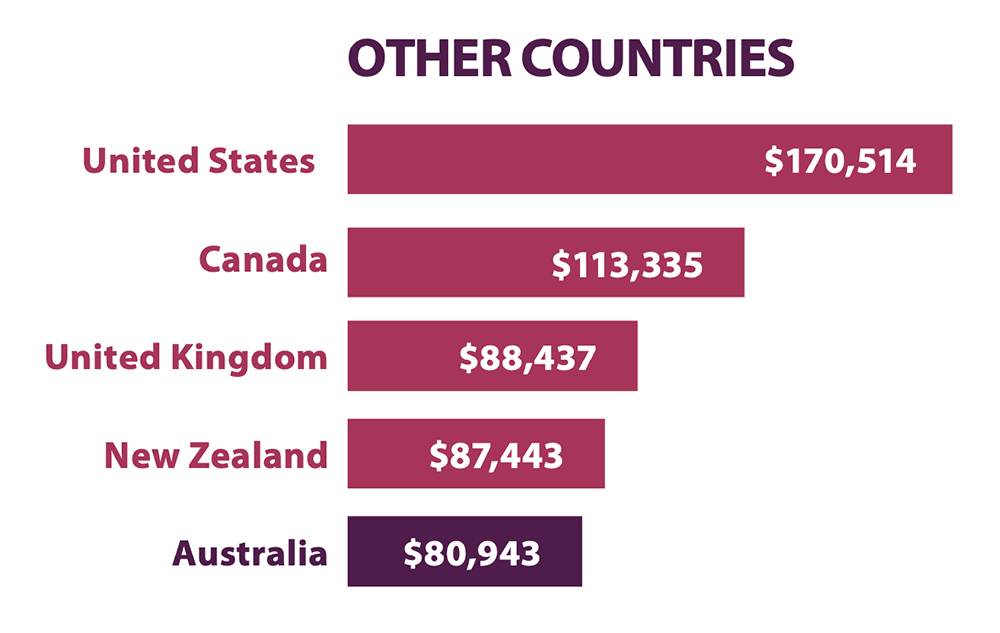 To support meaningful improvements in remuneration over time for Australian pharmacists, it may help to look overseas to characteristics of other national systems which support better remuneration.
The vision outlined in Pharmacists in 20235 includes unlocking more opportunities for pharmacists to demonstrate their clinical value in roles which recognise professional contribution.5
The case for collaboration
In another anomaly in healthcare funding, pharmacists are the only allied health providers not paid for their participation in multidisciplinary case conferences coordinated by GPs to ensure patients' healthcare needs are met through a planned and coordinated approach. 
Audiologists, occupational therapists, optometrists, orthoptists, physiotherapists, psychologists and speech pathologists all receive an MBS rebate for participating in case conferencing, but not pharmacists, despite playing a key role in medicine safety and medication management, particularly for patients with complex health needs.
The MBS Review Taskforce recommended in December 2020 that pharmacists be able to access MBS items for medication management services for patients with complex care requirements. The PSA is again calling for this recommendation to be enacted so that accredited pharmacists are eligible for an MBS rebate for case conferencing to increase participation by pharmacists, identify and resolve medicine safety issues, and ultimately benefit consumers through collaborative teamwork in primary care.
'Insulting' vaccination payments
The lightning rod for pharmacists' frustrations on pay equity is the large gap in payments for administering COVID-19 vaccines and boosters for adults and children when compared to those to healthcare providers such as GPs.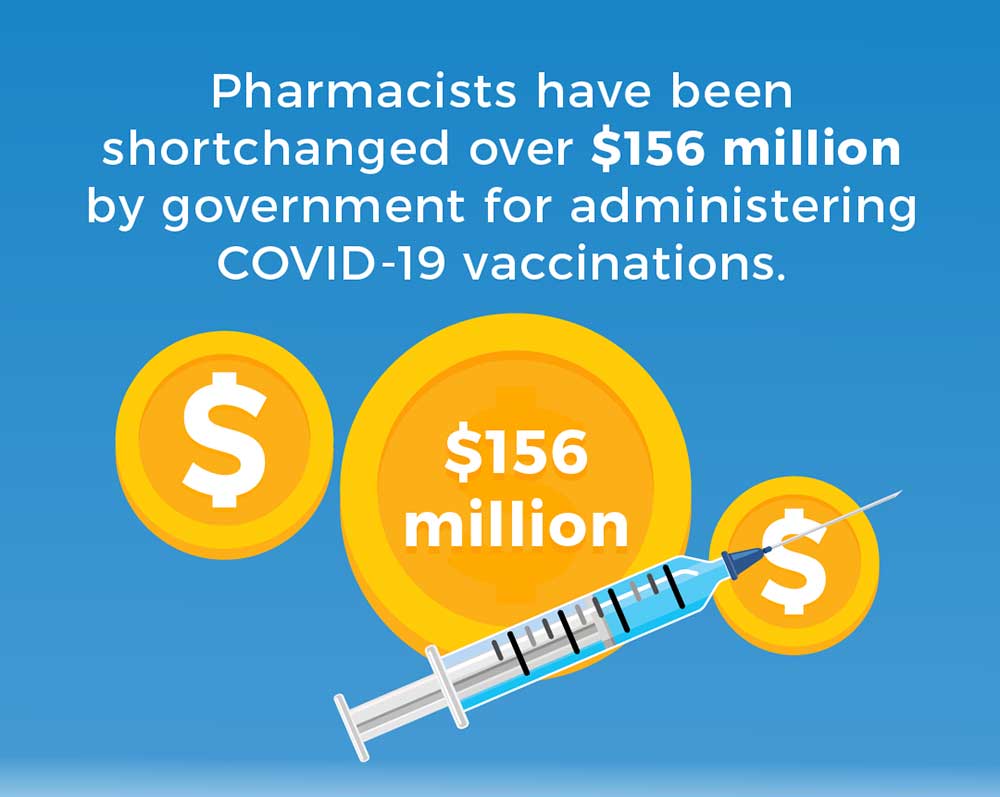 This frustration comes on top of pharmacist workforce shortages, stress and burnout during the pandemic and the 2019–20 bushfires, medicine supply problems, staff harassment by consumers, and trying to source personal protective equipment and RATs, with some pharmacies receiving up to four phone calls a minute in January from customers seeking RATs. 
Pharmacists receive $16 for first doses of COVID-19 vaccines, with other health providers receiving almost double this at $31.05 per dose. Pharmacists do not receive payments for suitability assessments or after-hours work, for which GPs are eligible (see Table 3).
The PSA is calling for the introduction of an MBS service payment for pharmacists administering NIP vaccinations, including COVID-19 vaccines, recommending a $39.10 payment for pharmacists to assess the suitability and administer vaccines funded through the NIP. 
Ms Gill says community pharmacy is poorly remunerated for 'the above and beyond' work performed by pharmacists.
'Being paid less to provide vaccination than our GP friends for the same service is a perfect example of how we are not valued by government,' she points out.
'Every minor ailment I triage and treat or escalate is a saving to the state government in unnecessary presentations to urgent care and emergency departments, but I am not remunerated a cent for that interaction.' 
GPs may also be able to claim a suitability assessment fee ($39.10) for a total of $73.55. If all three doses are provided by the same practitioner in a major city, a pharmacist would receive $68, while a GP would receive $139.05.2
Lower comparative payments, particularly for the more time-consuming paediatric vaccinations, has resulted in only 50% of community pharmacies opting to administer vaccines to children because the service is not considered financially viable. 
In late February, when the federal government announced that a second vaccine, Moderna's Spikevax, had been approved for children aged over 6 – but did not increase payments to pharmacists – A/Prof Freeman said the government had 'run out of excuses' on why it was still denying pharmacists equal pay for vaccination services.
'Despite providing exactly the same service to an equally high standard, a discrepancy of $8.45 to that of other health providers still remains for pharmacists administering childhood doses. It is simply insulting,' he said. 
'Introducing a single MBS service payment to pharmacists for assessing suitability and administering vaccinations funded through the NIP will ensure that vaccines such as COVID-19 and influenza remain viable throughout community pharmacy.'
The federal government announced a $10 increase for booster vaccine payments for pharmacists and GPs on 23 December 2021, which was followed by three record weeks of vaccinations administered by pharmacists in January, indicating that pharmacists could increase capacity with adequate funding to cover more booking slots and longer vaccination hours. 
More pay for more complex care
'The profession will never advance the conversation unless it stops talking about itself in hourly rates. What do other health professions say, "I'll pay you $35 an hour"? It should be a salary for the skills and experience you deliver.'

Renae Beardmore MPS
Patients now have access to more medicines than ever before. As well, patient care has become vastly more complex with the introduction of new tools such as telehealth, electronic prescriptions, real-time prescription monitoring and access to My Health Record. 
In addition, there are also far more drug interactions and medicine safety issues to be informed about and to advise caution to patients and healthcare providers. Pharmacists argue that the value of the care they provide is increasing because of those issues.
'I love having these tools at my fingertips,' says Taren Gill. 'They make a huge difference to help me help my patients. But our remuneration doesn't recognise the value of this increasingly complex critical reasoning.
'If the value of your patient care increases, but the remuneration doesn't increase with it, it doesn't just make you frustrated – it becomes unsustainable amid all the demands on your time.' 
Have your say
The PSA's remuneration campaign is targeting political parties and independent candidates to address unfair and unequitable pay discrepancies for Australian pharmacists.
Grassroots advocacy kicked off with PSA's National Advocacy Day of Action and Thank Your Pharmacist Day on 17 March, which provided Australian pharmacists with the opportunity to their voices heard by directly connecting them with their local Members of Parliament. 
A new advocacy platform and toolkit (see below) was launched to help pharmacists make phone, email and social media representations to politicians.
Mark Kinsela says pharmacists were encouraged to tell their personal stories and experiences to politicians and the media. 'We are confident that with the help of our members we can influence policymakers from either side of government, encouraging them to implement actionable change to the benefit of the pharmacy profession.

The PSA's remuneration campaign Advocacy and Media Team can be contacted at advocacy@psa.org.au or visit the remuneration platform at www.psa.org.au/remuneration/ 
References