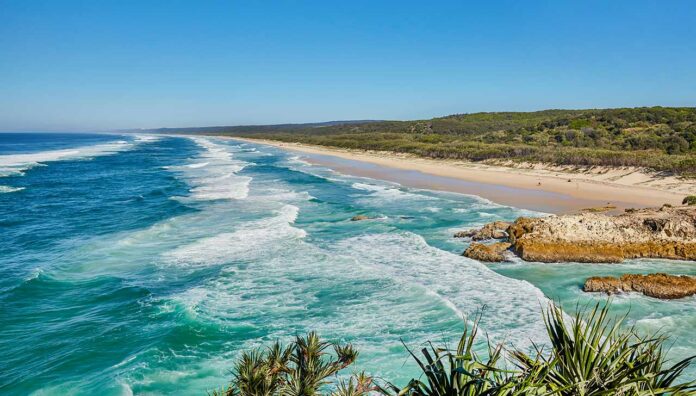 North Stradbroke Island is a picturesque escape just 30 kilometres from Brisbane, famous for its headlands, surf and white sandy beaches. But working in paradise comes with its own set of challenges. 
Maxine McCullough has owned Stradbroke Pharmacy, one of two pharmacies on 'Straddie', as it's known to the 2,000 locals, for almost 9 years. It is her third foray into ownership, after owning pharmacies on the Gold Coast and Tasmania's King Island with a business partner.
'My vision, and it's not quite there yet, is to create a community hub,' Ms McCullough told Australian Pharmacist. 'Not just a place for traditional pharmacy resources, but somewhere people can come for advice and a chat, as well as a shared space with other health services.'

'It's great that pharmacies are offering more services, but for single-pharmacist businesses it puts a lot of pressure on the one pharmacist there.'

Maxine McCullough
Along with offering vaccinations, dose administration aids and MedsChecks, the pharmacy offers a telehealth service in partnership with a medical centre on the mainland. A practice nurse from the centre works from the pharmacy 2 days a week facilitating video consultations, while a GP comes to the pharmacy once a month for in-person consultations.
'We found we were directing a lot of patients to the local hospital and filling up the emergency room,' Ms McCullough said. 
'This partnership means that if someone comes in asking for treatment, and it's something beyond our skills, we can direct them straight to the GP.'
Operating as a single-pharmacist pharmacy restricts the variety of services she can offer.
'It's great that pharmacies are offering more services, but for single-pharmacist businesses it puts a lot of pressure on the one pharmacist there,' Ms McCullough said.
'If we were to offer more services, we would have to bring on more staff. It would be great to have some funding [from the government] for different services, because then we could expand.'
A major challenge in implementing professional services in a small pharmacy is the inconsistency in demand.
'With COVID-19 vaccinations we worked around this by having a set day for the service,' she said. 'I haven't explored this fully with other professional services yet, but I might in the future.'
Vaccinations as a public service 
While Ms McCullough said she was happy to offer COVID-19 vaccinations as a community service, she said the remuneration did not match the effort involved.
'With what we're getting paid [in funding from the government], we're basically just breaking even,' she said. 'We wanted to do the vaccinations because the community needs them, but it's certainly not been beneficial business-wise.'
Pharmacies are paid for administering the vaccine, but not for the pharmacist's consultation time, which can be substantial. 
'Our vaccinator pharmacist spends a lot of time with the COVID-19 vaccination patients and they're not getting paid for that, the pharmacy is just getting paid to do the vaccination,' Ms McCullough said.
'We've also had a lot of people come to us looking for advice before they've been vaccinated. We're effectively doing consults with people that GPs would get paid for.'
Location, location, location
The hardest part about working on an island, albeit one just a 25-minute water taxi ride from the mainland? Logistics. 
'Our biggest logistical nightmare is not having daily deliveries,' Ms McCullough said. 'Often, our S8 deliveries will get missed and might take a few more days.'
Visitors to the island don't always understand the challenges of getting things across, but for those who have forgotten their medicines, Ms McCullough said electronic prescriptions and the Active Script List were 'fantastic'.
'Being able to access that when people are travelling is great,' she said. 'We've educated lots of tourists on that.'
Want to hear what other pharmacists think about remuneration? Don't miss a special episode of PSA's podcast Pharmacy & Me, out now.