When a rural town in north-west Victoria was left vulnerable to COVID-19 due to reduced local vaccination services, one pharmacist stepped up to the plate by creating his own clinic.
Alexander Look has lived in Ouyen, 441 kilometres northwest of Melbourne, for about a year, moving from nearby Mildura to purchase the only pharmacy in town with his business partner Nicholas Wong. 
At the end of 2021, Mr Look, who lives in a 'tiny house on wheels' behind the pharmacy, found himself functioning as the sole vaccine provider in town, which has a population of 1,100 people, as well as other towns within a 100 kilometre radius.
'We don't actually have a [regular] doctor, it's a locum service, and we didn't have a doctor [visit] for half of December,' Mr Look told Australian Pharmacist.
Reduced nursing capacity at the local hospital throughout January meant there were no COVID-19 vaccinations given or PCRs done.
While Mr Look said this period was a 'tough time', he noticed that others were doing it tougher, including many patients making a 220 kilometre round trip to Ouyen from Murrayville to receive a COVID-19 booster dose.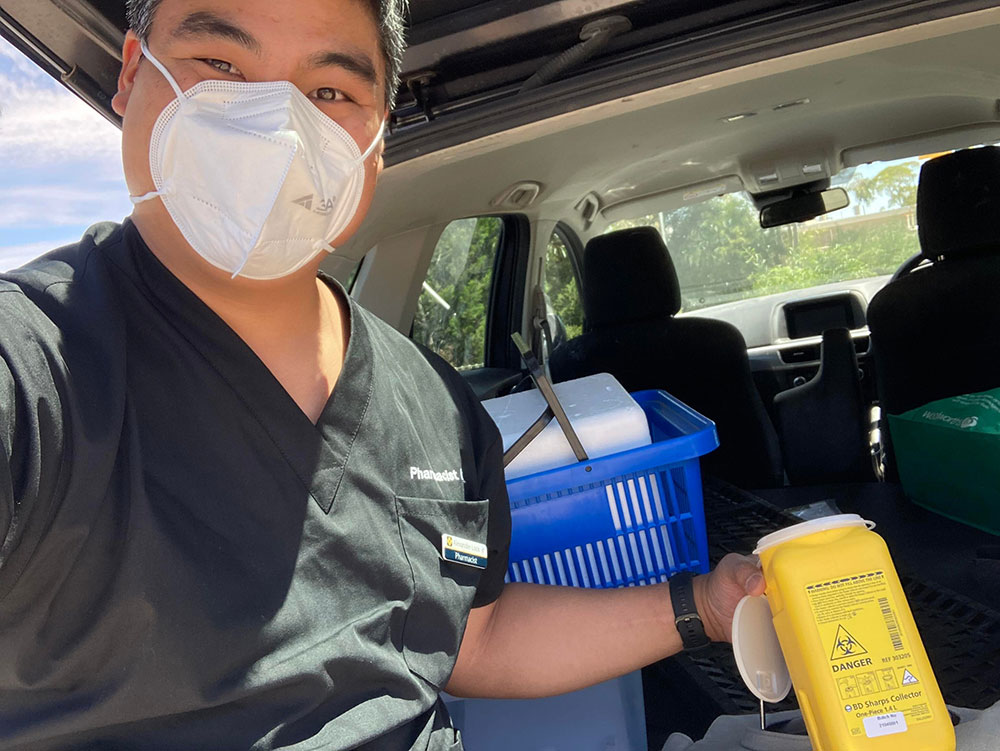 This included teachers at the local school in Murrayville, who are required to have a COVID-19 vaccine booster dose by 25 February if they are eligible. 
There is no vaccinating medical clinic within 100 kilometres, and the nearest vaccinating pharmacy is 135 kilometres away in Loxton, South Australia.
With Bendigo Health unable to arrange a team to make the 5-hour drive to Murrayville, Mr Look decided to set up his own clinic, ensuring he was within Victorian legislation to provide an outside of pharmacy vaccination service. 
Next, he applied for an exemption with the Pharmacy Programs Administrator to organise payment for the service.
'Ordinarily, the limit is 100 kilometres, but this site was 110 kilometres away from our pharmacy,' Mr Look said. 'We had to explain that there were no other providers within [that radius], and they were okay with that in the end.'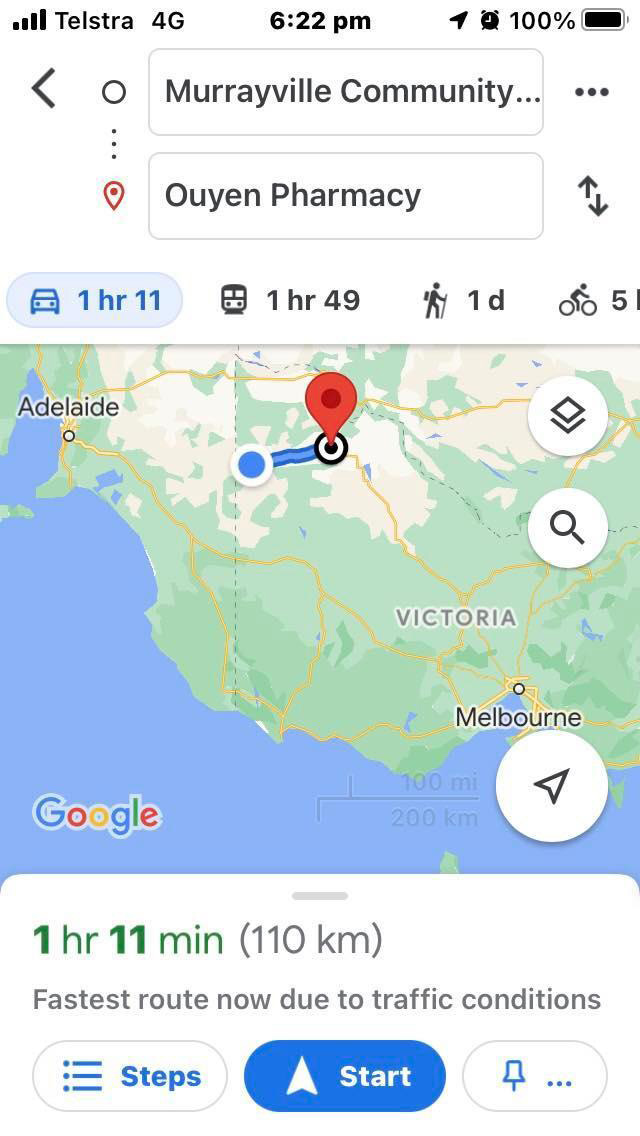 While Mr Wong presided over the pharmacy, Mr Look travelled to Murrayville on 14 February to run the vaccination clinic at Murrayville Community College.
'We did the vaccine preparation here in the pharmacy, and then transported it via cold chain in the car,' he said. 'They had a waiting area set up for me in the library, so I was able to [administer the vaccine] there.'
After vaccinating eight staff members, Mr Look suggested opening up the clinic to the public.
'We had such a great response from the patients,' he said. 'I vaccinated 30 patients that day, which is about 10% of the town.'
Mr Look said the community was very grateful for the service.
One teacher, for example, who has two young children, said she would have found it extremely difficult to find transport to another town to get vaccinated as well as organise hours-long childcare.
Because the school is in such a remote area, the teacher would have needed to take time off work to make the trip, meaning classes would have to be cancelled as there was no substitute teacher available.
'They just didn't have time, and with the mandate coming in they wouldn't have been able to meet that deadline,' he added.
The role of pharmacists
Mr Look never expected to live in such a rural area, but said it is incredibly rewarding.
'I didn't think it was something I'd be interested in, because it's a bit further away than I was expecting,' he said. 'But when I came and did locum work here, it was really great, and the owner wanted to sell so it worked out.' 
He said it's important for pharmacists to 'fill the gaps' and 'help out where we can', particularly outside of metropolitan areas. 
'I think that's our role, to help people access better healthcare,' he said. 'Everyone deserves to have access, regardless of where they live.'
Looking forward, Mr Look and Mr Wong plan to provide COVID-19 vaccinations via home visits for those who have mobility issues.
'Because we've got the approval to do outside of pharmacy vaccinations, we will be looking at [providing them] on a case-by-case basis to help people who want a vaccine but can't get out of the home,' he added.