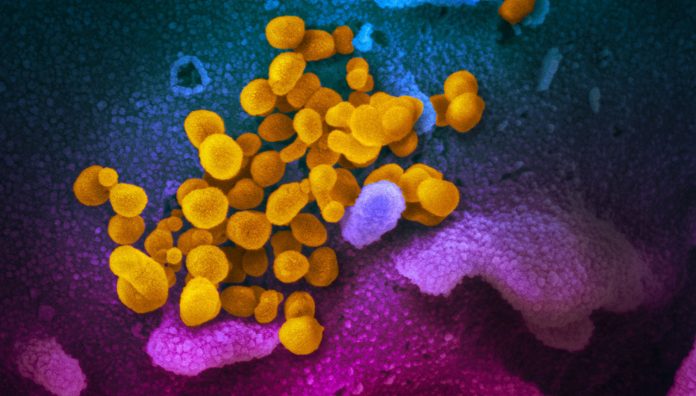 The federal government will provide $2 million to help develop a vaccine for COVID-19, as the death toll from the novel coronavirus continues to climb.
There are now 75,200 confirmed cases worldwide – the majority in Hubei province, China, where the virus was first identified – and 2,012 deaths. This includes the first fatality in Europe, with the French Health Ministry reporting the death of an 80-year-old Chinese tourist on Saturday.
All other deaths outside mainland China have been in Asia: one each in Japan, the Philippines, Hong Kong and Taiwan.
The biggest cluster of infections outside China is aboard the Carnival cruise liner Diamond Princess, which has been quarantined in Yokohama Harbour with at least 542 infected passengers, about 200 of whom are Australian.
As of this afternoon at least 36 Australians have been confirmed with COVID-19 in Japan, according to the federal Department of Health.
A Qantas charter flight will today transfer Australian and New Zealand passengers aboard the liner from Japan to Darwin, where they will be placed in quarantine.
Key points
75,200

 confirmed cases worldwide (up from 43,146 in the

last

AP

newsletter

)

2,012

deaths: 2,007 in mainland China; 1 each in France, Taiwan, Japan, Philippines and Hong Kong.

14,626

 recovered

Countries affected: China (including Hong Kong, Macau and Taiwan), Singapore, Japan, Thailand, South Korea, USA, Malaysia, Germany, Vietnam, Australia, France, United Arab Emirates, UK, Canada, Italy, Philippines, India, Russia, Spain, Nepal, Cambodia, Belgium, Finland, Sweden, Egypt and Sri Lanka. 

In

Australia

: 5 cases in Queensland, 4 in NSW, 4 in Victoria, and 2 in South Australia.
It is important Australian researchers play their part in combating the virus, Prime Minister Scott Morrison said announcing the funding yesterday.
The money will be provided from the Medical Research Future Fund to complement the work already being done by the Doherty Institute, which was the first outside China to grow COVID-19 in a laboratory, as well as the CSIRO and the University of Queensland. 
'This is a task that's not only important for Australia, it's very important more broadly for our region as well, which is very exposed and very vulnerable at this time,' the prime minister said. 
'[We're] looking to the future and using the best minds we have available in this area,  and they're the best in the world, to ensure that we can put our best foot forward in keeping Australians safe.'
Health Minister Greg Hunt added: 'We're hoping [the funding] will encourage even further work in line with the call from CEPI [the Coalition for Epidemic Preparedness Innovations] … to encourage this vaccine development and work across the world.'
While $2 million is a small sum compared to the hundreds of millions of dollars large pharmaceutical companies invest in developing vaccines, Executive Director of the Westmead Institute for Medical Research, Professor Tony Cunningham, said it could still make a difference.
'You're dealing with small research groups, who may be living on grants of, say, half a million dollars per year,' he told the ABC.
'Because of the size of this epidemic, 70,000 people versus 8,000 for SARS coronavirus, I think it's very appropriate for Australia to join that international effort.'
Australian situation
In Australia, the number of cases remains steady at 15. Of these, eight people have recovered and the remaining 7 are in a stable condition. All of the cases in Australia had a direct or indirect link to Wuhan.
The federal government has evacuated 546 people from Wuhan. This includes 242 Australians who have returned to their homes following 14 days in quarantine on Christmas Island.
The government is also providing support to Australian passengers and crew on the Westerdam cruise ship in Cambodia. There were 79 Australians and one permanent resident onboard, of which 32 have already returned to Australia. 
Of the remaining passengers, 32 are in Phnom Penh making arrangements to return home and 10 remain on board. There are also 4 Australian crew members who remain on the ship.
Masks for health workers
The Department of Health informed PSA last week that more than 550,000 surgical masks from the National Medical Stockpile have been provided to Primary Health Networks (PHNs) for distribution to GPs and health care workers.
'As of 12 February, 2020 PHNs are being authorised to provide masks upon request to pharmacists for use by staff when in contact with potentially at-risk customers,' the statement said.
'The surgical masks are strictly for staff of pharmacies and are not to be on-sold.'
Pharmacies can contact their local PHN to request masks.
Meanwhile, face mask supplier Livingstone Pty Ltd has been referred to the Australian Competition and Consumer Commission after increasing its wholesale price of P2 face masks from $2.50 to $38.50 per unit.
A statement on the Livingstone website said the business had been 'targeted by professional scalpers' who had bought large quantities of its masks.
'We have depleted around 90% of our stock due to this … We can no longer afford to have this situation and have adjusted the prices and set [a] daily quantity limit to deter scalpers,' the statement said.
'As a socially responsible and Australian-owned company, our goal is to serve the community and we understand that there is a shortage of quality face masks. Therefore, we are running our community supply program to provide our masks for free or at heavily subsidised prices to those who need them.'
Resources