Health literacy is key to every conversation pharmacists have with their patients, says Dr Rosie Nash MPS, a pharmacist who is channelling her 18 years of experience into community education.
Dr Nash, Lecturer in Public Health at the University of Tasmania, is the co-founder of HealthLit4Kids, a program that works with children, their schools, families and communities to develop new approaches to learning and health. This is particularly important given Tasmania has the lowest average rates of health literacy in the country. 
Each school participating in the program develops an action plan, which provides a framework for responding to the school's health literacy needs. Over the course of a term, teachers develop and deliver health literacy activities, ranging from 'Eating a Rainbow', encouraging children to identify and eat different coloured fruits and vegetables, to discussing the harms of smoking.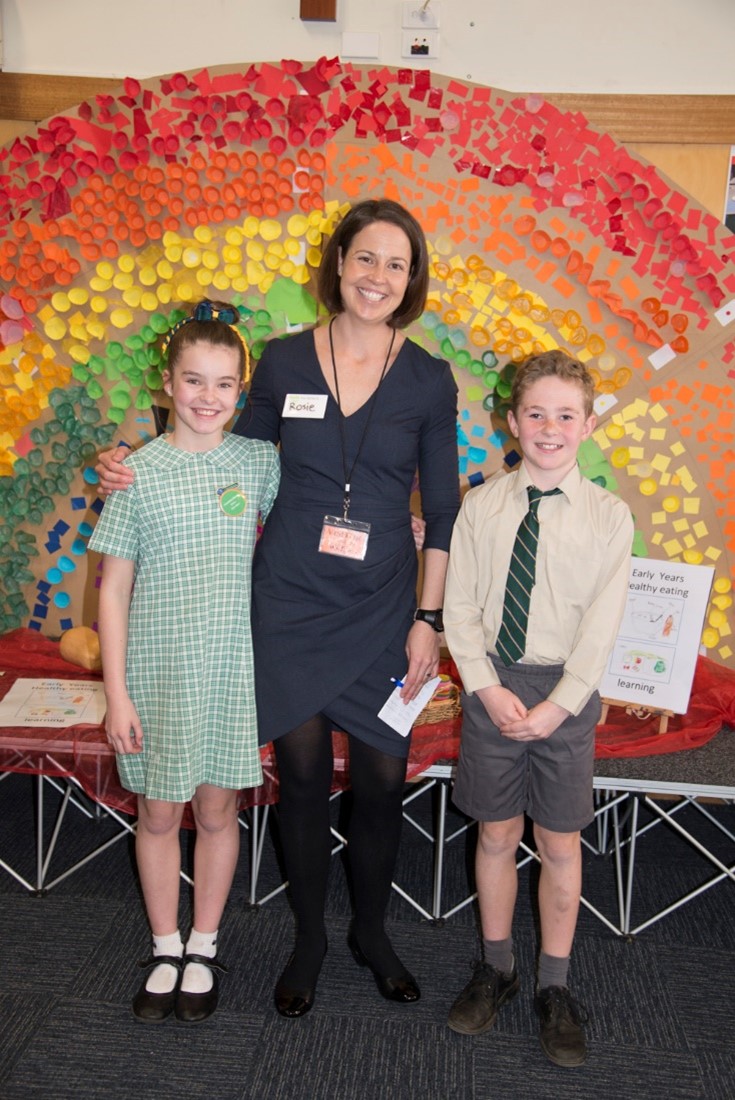 At the completion of the program, participants are invited to showcase the outcomes of their learning activities at a whole school 'expo'.
The program has been recognised as a National Health Literacy Demonstration project by the World Health Organization (WHO) and included in a number of WHO reports focusing on the importance of preventing conditions such as diabetes, cardiovascular disease and stroke.
Dr Nash's work in health literacy was recently recognised with a 2020 Churchill Fellowship. 
'All of our data confirms our program has led to changes in teaching practices and in the health behaviour of the children and their parents,' Dr Nash said.
'A focus on health literacy will be key to reducing the burden of non-communicable diseases, the stretched health system and our nation.'
Making health changes
It was while working as a pharmacist on cardiothoracic wards in hospitals in London, Melbourne and Hobart that Dr Nash began to think about how she could help people to be healthier. 
'I often reflected at discharge on patients' capacity to make sense of what I was telling them about their medicines and their lifestyle choices moving forward,' she said. 
'I also wondered what could have been done earlier to prevent their health condition. 
'I asked these questions in every community pharmacy I worked in, too. As health professionals, we take for granted knowledge of how our bodies function, how medicines work and even how the health system works.'
A mother of two, Dr Nash said she was also aware that her children, Maddie and Thomas, benefited from having parents fluent in health vocabulary, while others were not. Dr Nash's husband, Michael, is also a pharmacist and works at Amcal Pharmacy West Hobart.
HealthLit4Kids was eventually born in five Tasmanian primary schools in 2016, in collaboration with other researchers from the University of Tasmania and with support from the Tasmanian Department of Health and Department of Education.
'One of the most powerful resources to come out of the programs have been the creative pieces that children have made on their learning journey,' Dr Nash said. 
'These have included cartons of calm, mindfulness mandalas, snack attack posters, board games, healthy choice ebooks, movie trailers, pick and learn gardens and more.
'Some of the children have told me creating these didn't feel like normal schoolwork and was fun. I was overcome with tears at a school expo when I could see how much the children had engaged and learnt in creating them, and how this was impacting not just them but their families and wider school community.'
What pharmacists can do
Dr Nash's passion for health literacy expands to the role of pharmacists in caring for their patients and community. 
'Health literacy is composed of three elements: the individual, their community and the services they are trying to access,' she explained. 
'For adults, pharmacists can consider using the Conceptualisation and development of the Conversational Health Literacy Assessment (CHAT) tool.'
To ensure their services are 'health literacy responsive', the Organisational Health Literacy Responsiveness (OrgHLR) tool allows organisations to self-assess their service. 
'Pharmacists can also advocate for a greater focus on health and health literacy development in schools in their local area and work with their local schools to raise awareness,' Dr Nash said.
'Retired pharmacists may even consider supporting the implementation of HealthLit4Kids in their local community.'
Dr Nash will use the Churchill Fellowship to visit Finland, Germany, Denmark, Ireland, Manchester and the World Health Organisation headquarters in Geneva to collaborate with international health literacy peers.
'Eventually, I would love to see our program adopted by schools in other states in Australia, and internationally,' she said. 
'I believe improved health literacy will improve health outcomes, educational attainment and redress social inequities.'