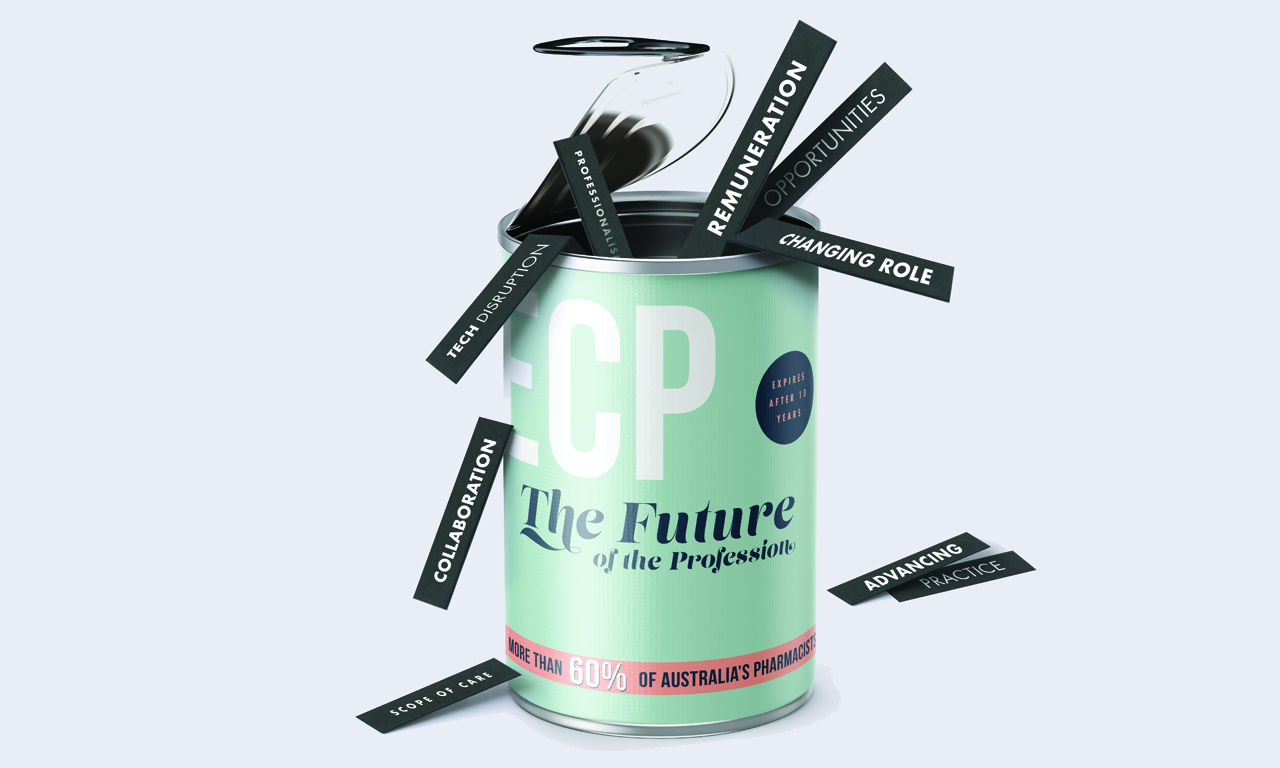 Early career pharmacists now make up the majority of the sector's workforce, so how do they see the future panning out?
Young, smart but underutilised and increasingly disillusioned. Unfortunately, that's how many Early Career Pharmacists (ECPs) can be described, according to a recent PSA study.
But there are plenty of people looking to turn that around, including PSA Early Career Pharmacist Board Director Taren Gill.
'We have the most to gain or lose from what happens to pharmacy going into the future,' said Ms Gill, an owner of a Priceline pharmacy in Maryborough, Victoria.
The youth of today
Up to 60% of Australian pharmacists are categorised as ECPs1 – that is, registered pharmacists with less than 10 years of experience post-graduation.
To help ensure this cohort have satisfying, productive and enduring careers, PSA surveyed hundreds of ECPs and summarised the findings in a 2017 White Paper.
'It became apparent that many ECPs in Australia are dissatisfied with their careers, and are becoming disillusioned with the sector more broadly,' the document stated.
'Indeed, only half of all respondents to the ECP Survey indicated that they were satisfied with their current position.'
Some 80% of those ECPs work primarily in community pharmacy and 60% indicated they wished to continue doing so.
Remuneration
The single greatest issue for ECPs is inadequate remuneration, the White Paper concluded. It recommended the profession should negotiate to raise the Pharmacy Industry Awards.
'The award wage is just embarrassing for a health professional who has huge accountability and is making good decisions for people's health,' Ms Gill said.
The sector is awaiting announcements off the back of the independent Review of Pharmacy Remuneration and Regulation, which the Federal Government commissioned in 2015.
Federal Health Minister Greg Hunt told Australian Pharmacist the sector was 'highly respected for its professionalism and deep expertise in medicines'.
'In acting on any recommendation from this independent review the Government will continue to work collaboratively with … the pharmacy profession and other key stakeholders to maintain a viable community pharmacy sector that continues to meet the needs of Australians into the future,' he said.
In the meantime, a woe-is-me attitude was not a solution, suggested ECP Working Group and White Paper Advisory Group member Jennifer Culverson.
'Differentiating oneself from the crowd through postgraduate studies or qualifications, and possibly even stepping outside your comfort zone and moving to a regional and/or rural area may [help] to achieve a higher hourly rate,' said the Clinical Pharmacist for the Western NSW Local Health District.
She said a mentor once told her some discontent was an important part of one's working life, 'as long as that feeling is constructive in nature and drives you on a personal level to innovate and make the necessary changes to turn the situation around'.
To that end, PSA and many ECPs are advocating for more collaborative models of care and for pharmacists' scope of care to be expanded.
PSA Manager, Policy Bob Buckham said: 'There's incredible skill, knowledge and value that pharmacists bring. Having consumers, other health professionals, funders and policy makers recognise and utilise that would help give pharmacists value as well'.
Expanded scope of care
The White Paper found that 88% of ECPs were keen to see the profession exploring the development and recognition of specialities, similar to the United States' Board of Pharmacy Specialties model.
'If ECPs are just stuck in a dispensary with a counting and pouring function that's not what they got into the profession for,' Mr Buckham said.
PSA's Career Pathways initiative was a prime example of forward movement within this space, Ms Culverson said.
'It aims to provide ECPs with support in the form of directed education and resources to enhance professional development within a particular niche area of the pharmacy industry, whether this be as a pharmacist diabetes educator or general practice pharmacist, for example,' she said.
Existing opportunities for expanded scope of care in community pharmacy include becoming a medication management review pharmacist, a Home Medicine Review provider or a pharmacist immuniser.
PSA is promoting pharmacists' expanded roles via Primary Health Networks and consumer groups, PSA's Mr Buckham said.
'We're trying to expand and develop those opportunities for pharmacists to be practising in different ways – having funding for different programs where pharmacists can be caring for a particular patient group and having meaningful interventions to help improve health outcomes,' he said.
The Roaming Pharmacist's Luke Vrankovich said expanding pharmacists' scope of care could not only improve public health outcomes, but boost pharmacists' career satisfaction and remuneration opportunities too.
'We're really capable health professionals. With a little bit of extra training we can do just about anything with regards to healthcare,' said Mr Vrankovich.
'Something like a nurse practitioner type role, especially in places where there are no GPs or access to healthcare clinics, is definitely something pharmacists could consider working towards.
'In New Zealand, they've got training for pharmacist prescribing. We could be doing that to take some pressure off the GP clinics too.'
Ms Gill agreed there was significant scope for pharmacists to be working in preventative medicine.
'By the time someone's in the GP surgery or the hospital, particularly rurally, they're quite sick,' she said.
'You can access pharmacists better than any other healthcare professional so the more things we have in our tool belt – whether it be mental health first aid, wound care or smoking cessation – the more benefits for everyone.'
ECPs keen to advance their practice should take part in the PSA mentor program and consider completing Pharmacy Development Australia's Advancing Practice credentialing program, Ms Gill suggested.
Collaboration
Another strong theme to emerge from the White Paper was around collaboration, said Mr Buckham – both within the profession, but also across the wider healthcare team.
Co-locating pharmacies and general practices was a good example of this, said Mr Vrankovich.
'It's a fresh new model and ECPs will be able to show their capability and prove their worth,' he said.
'Being placed in a GP clinic would be excellent to tackle one of the biggest things we worry about as pharmacists – medication adherence and compliance.'
Ms Culverson, who works primarily within the hospital setting, said she would like to see the inclusion of a pharmacist within as many GP clinics as possible.
'Too many times I have witnessed readmission to hospital due to medication misadventure post-discharge,' she said.
'It is my belief that a strategically placed pharmacist within a GP clinic has the potential to negate many issues which arise within the high risk hospital to home transition of care stage.'
Funding, however, remained a stumbling block, Ms Gill observed.
'At the moment it's funded through private arrangements between the surgery and that pharmacist. The pharmacist doesn't have a Medicare Benefits Schedule provider number,' she said.
'If the expectation is that we've got a whizzbang pharmacist, it's only fair there's whizzbang remuneration that goes with that.'
Within the profession, collaboration was also needed to ensure that new funding arrangements and expanded scope of care became a reality for the ECPs of today and the leaders of tomorrow.
'There are sectors of pharmacy where the standard does need to be lifted. That inconsistency across the network means that we're vulnerable to put our best foot forward for things like this,' Ms Gill said.
Her call to action to all pharmacists was: 'just be the best pharmacist you can be. And be brave, roll your sleeves up, get in there and try to come up with solutions yourself'.
The UK experience
Pharmacists aren't exactly doing GPs out of a job in England, but they're certainly helping lighten their workloads and improve patient outcomes.
In some cases, having clinical pharmacists in general practice has achieved a 30% reduction in the need for patient GP appointments.4
Karen Acott is a clinical pharmacist at one such GP clinic in England's southwest. She said she was now recognised as an important part of the primary care team.
'No GP would set up a practice without a nurse or a practice manager. In my view the same should now apply for a pharmacist,' she said.
Pilot programs over the past two years have shown that having clinical pharmacists in general practice improved screening and diagnosis of chronic and common ailments, reduced accident and emergency admissions, and reduced medicines wastage and overuse.5
On the back of this success, in January more than £100 million was committed to having pharmacists in over 40% of England's general practices by 2020/21.
The move comes at a critical time for the National Health Service (NHS). Late last year the British Medical Association warned: 'patient care is at risk due to a chronic shortage of doctors across most areas of medicine'.6
Paving the way for this latest expansion of pharmacists' scope of care was 2006 legislation which allowed appropriately trained pharmacists to prescribe independently in England.
Initially, they had the power to prescribe non-controlled drugs within their area of expertise, but that has now expanded to include all licensed and unlicensed medicines and controlled drugs.
The US experience
'Anaemic reimbursements and industry consolidation are forcing retail pharmacy companies to look for new sources of revenue.'
Sound familiar? That's what PwC's 2016 Health Research Institute concluded about pharmacies in the US.
But there are some big differences and, perhaps, some big lessons.
For starters, since the 1990s, there has been talk of US pharmacists' roles expanding quite significantly into direct patient care, or ambulatory care.
The vision was that these pharmacists would work in hospital and community settings and be involved in direct patient care, medication management, coordination of care, patient advocacy, triage and referral.
However, uptake of this approach outside of acute care facilities has been slow to develop, said pharmacy workforce thought leader Professor Daniel Brown.
'It was relatively easy to justify the cost of pharmacist activities on the inpatient side … reimbursement for outpatient clinical pharmacy services is an entirely different matter,'  the Director of Faculty Development at Palm Beach Atlantic University told Medscape Pharmacists.7
'Even as pharmacists gain provider status and prescribing authority, the rate-limiting step to job growth is going to be reimbursement for services rendered and the ability to readily assimilate new patient care functions into existing pharmacy operations.'
This comes at a time of increasing competition within the sector.
The nation's two biggest pharmacy store chains – Walgreens and CVS Health – are locked in a market-share battle, and e-commerce giant Amazon may soon join the fray.
REFERENCES:
1. Pharmacy Board of Australia. Registration Data – March 2016. At: www.pharmacyboard.gov.au/About/Statistics.aspx
2. Pharmaceutical Society of Australia. Early Career Pharmacist White Paper 2017. At: www.psa.org.au/wp-content/uploads/PSA-ECP-White-Paper-Final-Web-Version.pdf
3. Professional Pharmacists Australia. Community pharmacists employment and remuneration report 2016/17. At: www.professionalsaustralia.org.au/professionalpharmacists/wp-content/uploads/sites/73/2017/08/Community-Pharmacists¹-Employment-and-Remuneration-Report.pdf
4. National Health Service. Clinical Pharmacists in Wallingbrook Health Group, Devon. At: www.england.nhs.uk/gp/casestudies/wallingbrook-health-group/
5. British Medical Association. Working with clinical pharmacists. 2018. At: www.bma.org.uk/advice/employment/gp-practices/quality-first/working-at-scale/clinical-pharmacists
6. British Medical Association. Staffing crisis in NHS laid bare. 2017. At: www.bma.org.uk/news/media-centre/press-releases/2017/september/staffing-crisis-in-nhs-laid-bare
7. Baqir W, Crehan Om, Murray R, et al. Pharmacist prescribing within a UK NHS hospital trust: nature and extent of prescribing, and prevalence of errors. European Journal of Hospital Pharmacy. 2015;22(2):79-82. At: http://ejhp.bmj.com/content/22/2/79?sid=514b1669-97f3-4c80-8de0-b23eafba92bc