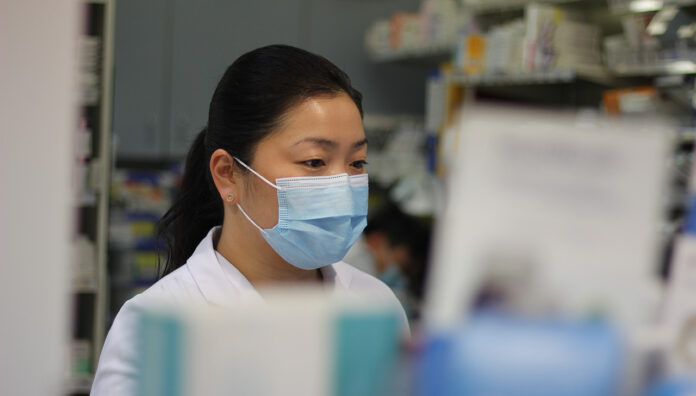 A new Pharmaceutical Benefits Scheme listing last week for dry eye product Cationorm ties into a quirky review of a new area of literature from United States researchers. 
They found that face mask-associated ocular irritation and dryness is evident, based on a review of studies linking the two. Their findings were published in Ophthalmology Therapy. 
Dry eye disease is a common condition and the most frequent reason for a visit to an ophthalmologist. It can lead to significant morbidity and affects quality of life for the millions of people living with it worldwide. There are numerous causes, treatment changes frequently and it is mostly incurable. In Australia and New Zealand dry eye affects one adult in 10, according to the Royal Australian and New Zealand College of Ophthalmologists.
Ocular researchers from the University of Utah School of Medicines, the Hoopes Vision Research Centre, the Utah Lions Eye Bank and the Department of Ophthalmology and Visual Sciences in Salt Lake City, Utah, found that while the world has taken to mask wearing to prevent the spread of COVID-19, a 'corresponding increase in ocular irritation and dryness among regular mask users' has become apparent.
'This finding has not been previously described in the literature but has important implications on eye health and infection prevention, as mask use is likely to continue for the foreseeable future,' they wrote.
The authors found a marked increase in dry eye symptoms in their community and patient population of elderly, immunocompromised and clinical staff who wear masks 'almost full-time'. The majority were aware of air blowing upward from the mask into their eyes, which likely accelerated the evaporation of the tear film which could become irritated and inflamed after continuous use for hours or days.
The authors found a marked increase in dry eye symptoms in their community and patient population of elderly, immunocompromised and clinical staff who wear masks 'almost full-time'.
While there are studies that discuss the effects on the eye from lagophthalmos (incomplete or defective closure of the eyelids), ectropion or mechanical ventilation, from powered air-purifying respirators, chemical protection hoods and even CPAP masks, which all cause increased air convection, none were described in relation to the use of face masks.
In their review of studies published in the first 6 months of the pandemic that discussed face masks and ocular symptoms including dryness, the authors suggest that while some found dry eye symptoms in COVID-19 positive patients and suggest dry eye as a complication of the disease itself, the findings may be partially associated with mandatory, long-term mask use in these patients, 'rather than the sole sequelae of COVID-19'. 
For this reason, the authors suggest all mask wearers, patients and healthcare professionals need to be aware that above any mask 'the unprotected eye remains a vulnerable path of infection'. Irritation from mask use can lead to pathogenic invasion, fomite transmission via rubbing and face touching and a compromised tear film.
The researchers suggest mask wearers should:
Wear masks with a pliable nose wire that can be fitted to prevent air being directed toward the eyes.

Tape masks at the top to impede upward airflow (without inhibiting lower lid excursion).

Apply emollient eye drops, which may be most effective in preserving tear film.

Take breaks from mask wearing every few hours (if able) to allow eyes to recover and reapply drops

Undertake blinking exercises. 
Cationic ophthalmic emulsion, Cationorm, for severe dry eye syndrome was TGA-registered in 2019 and is the latest option to be PBS-listed (1 August) for patients sensitive to preservatives in multi-dose eye drops. 
Pharmacists should be aware of local state and territory requirements to wear face masks and personal protective equipment – the latest information can be found on the PSA COVID-19 microsite (www.psa.org.au/coronavirus/#face-masks-and-ppe).
Where pharmacists and pharmacy staff wear face masks, they should be medical grade masks, such as type 1 surgical masks. Cloth masks and reusable masks should not be used. Face shields are not an equivalent substitute for surgical masks.