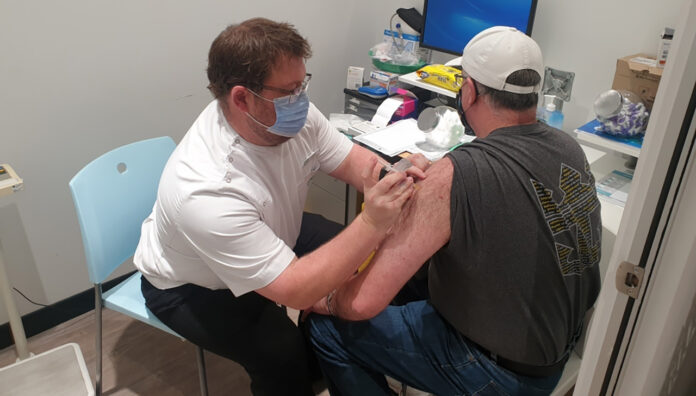 Six Australian jurisdictions enacted a free influenza vaccine program for patients 6 months and over this month, to stave off rising rates of the virus.
But the state-by-state rollout in GP clinics and pharmacies has caused confusion among patients, with some demanding refunds for previous vaccinations, and others presenting for immunisations outside their state's eligible age bracket for pharmacist vaccinations.
When the Queensland government announced a fortnight ago that it would fund free influenza vaccines, Brisbane-based Ramsay Healthcare professional services pharmacist Rayana Alawie MPS said the phones were 'ringing off the hook'.
'Our first week of vaccine clinics was booked out,' she said. 'The demand now, however, has slowed down.' 
To accommodate the influx of patients, Ramsay reduced the interval between appointments to 5 minutes.
'Some of our stores stretched their vaccine clinic hours to accommodate children ages 5–10 during after-school drop-offs,' she added.
Ms Alawie, who has administered more than 600 free influenza vaccines since the rollout began, said there had been some patient confusion.
'We had patients aged under 5 and over 65 booking in for a free flu vaccine at a pharmacy when they weren't eligible,' she said. 
'A handful rang up for a refund. We offered to print a tax invoice for the vaccine and directed them to phone 13HEALTH [Queensland health advice line] for further guidance.' 
The rollout of the booking system also could have been better.
'Our GuildCare booking link did not work until 1 week after the rollout was announced,' Ms Alawie said. 
'By then, hundreds of vaccines were administered and uploaded on AIR [Australian Immunisation Register] but were not being claimed for.'
While this didn't stop Ramsay providing the service, Ramsay pharmacies are still waiting for a resolution about claiming for the earlier vaccines.
'When the GuildCare system did go live in our stores, AIR wasn't integrated for another 3 business days, so we had to endure double bookings while both GuildCare and MedAdvisor were running,' she said. 
'The most tedious part of this lag was the double-entry of patient vaccine details on MedAdvisor to upload on AIR, and entering details on GuildCare for claiming.'
Pharmacists should also be remunerated more for the service, she believes.
'At the very least, remuneration should be the same for all health professionals performing the same role,' she said. 
'We should get the MBS [Medicare Benefits Schedule] fee that GPs claim for providing flu vaccinations.'
This is something PSA has called for in order to resolve issues around eligibility and claims.
Demand surges in metropolitan Sydney
Cabramatta-based pharmacist Quinn On MPS was at a pharmacy conference on the Gold Coast with four staff members when he found out that influenza vaccines would be provided free of charge in New South Wales.
'I had to do everything remotely,' Mr On told Australian Pharmacist. 'Another pharmacist helped me organise by ordering stock and preparing our software so we could claim for the service.'
'At the very least, remuneration should be the same for all health professionals performing the same role.'

Rayana Alawie MPS
Mr On, who owns several pharmacies in the area, said demand had sky-rocketed since the announcement was made last week.
'We were doing 5–10 [vaccinations] a day, now we're doing 50–100 a day,' he said.
The biggest challenge for Mr On so far has been managing stock, with some pharmacies exhausting their supply within 2 days.
'The concern at the moment is how much stock we [should] hold,' he said. 'It's hard to estimate.' 
'We don't want to over-order, because people could become vaccine fatigued. Last year we threw out $10,000 worth of flu vaccines.'
While Mr On said pharmacists are well-placed to drive the influenza campaign, given their accessibility, longer hours of service and volume of vaccines they can administer, he believes there is an imbalance between healthcare professionals.
'Pharmacists carry all the risk, we have to order stock at our own cost. Doctors get paid more for doing exactly the same job and they carry no risk,' he said. 
'We [also] can't access the MBS, we have to set up software, which [takes] a lot of time and involvement, and we have to pay for the service as well, to claim the money.' 
Free flu vax allows for opportunities in Victoria
Victorian-based Sarah Venn MPS, from Camperdown Pharmacy, said demand for influenza vaccines had been steady throughout the flu season, with an uptick in patients following the Victorian government's announcement of free influenza vaccines last week. 
While most patients are aware that the charge has been lifted, some are pleasantly surprised.
'When I say there's no charge, they think it's Christmas Day,' Ms Venn said.
Camperdown runs influenza clinics most days of the week, with Ms Venn estimating 300 free vaccines have been administered so far.
Like many other pharmacies, Camperdown is short-staffed, meaning they had to carefully plan their workflow to accommodate more vaccine patients.
'We have got either a pharmacist or a nurse in our pharmacy with designated [vaccinating] times,' Ms Venn said. 
'When we run a clinic, we might do 9.00 am–2.00 pm, choc-a-block.'
When Ms Venn heard about the funded influenza vaccines campaign last week, she instantly placed an order for more National Immunisation Program stock.
Luckily, the pharmacy had opted to order the usual amount of private vaccine stock, despite having to throw much of it away last year due to low demand.
'[Our] rep said some people have only ordered 10% of what they [usually] would,' she added.
Ms Venn said offering free influenza vaccines has also allowed for opportunistic COVID-19 vaccination – whether winter or first booster dose.
It has also alleviated confusion in these patients about the fee.
'It takes away that complexity of explaining why the flu vaccine has a service charge and the COVID-19 one doesn't,' Ms Venn said.
Camperdown recently applied for the Victorian government grant to support increased resources for small business, which Ms Venn said will be a helpful boost in light of staff shortages.
'Yes, we get a remuneration for each vaccine given, but it's the extra time on the phone to take and field phone calls, [with] a lot of people still [booking] over the phone,' she said. 'It [should] give us a bit of a buffer for the other chores that are involved.'
Reports of mixed demand in Western Australia
Perth-based pharmacist Ron Stuurstraat MPS first found out about the funded influenza vaccine campaign the weekend before it began, when he sat down to scan the news on his lunch break.   
'It all seemed to be done quite quickly, and then everyone was scrambling to figure out how to make it work.'

Ron Stuurstraat MPS
'We didn't know what to expect,' he said. 'It all seemed to be done quite quickly, and then everyone was scrambling to figure out how to make it work.'
The morning after the announcement, Mr Stuurstraat did a stock check and decided they had enough to keep going without ordering any more.
That decision turned out to be the right one, with Mr Stuurstraat citing low community awareness of the free vaccines.
'In the city, [demand] is not great,' he said. 'Most people don't even know it's happening. We're just getting the same number of people coming through.
'When you [mention] it's free, they say "Oh really, how come?"'
Other pharmacists, however, have had a different experience.
Keegan Wong MPS, PSA WA Branch President and pharmacy owner, said demand for influenza vaccines has been 'unprecedentedly high' since state-subsidized flu vaccines were announced.
'Our systems in place since COVID-19 have prepared us for a strong uptake in vaccination delivery. However, the issue has been around supply shortage, much like what we have seen in Queensland and NSW,' he said. 
With many PSA WA members finding out about the program in the same way as Mr Stuurstraat, Mr Wong said improved communication about vaccination initiatives was vital.
'More emphasis needs to be placed on delivering such a message to our community pharmacists first, ahead of the public, to ensure a smoother transition in healthcare delivery,' he said.
'Patients expect that after an announcement from WA Health, healthcare professionals will be advised and prepared from Day 1. 
'We are still working through our supply channels to receive more substantial stock, but we believe that we are able to get all our communities vaccinated on time for the peak of the winter flu season.'
Meanwhile, Mr Wong said he encountered some disgruntled patients requesting a refund after paying for their influenza vaccine pre-announcement.
'[We explain] that the funding can't be backtracked and most private health [insurers] provide full funding for the flu vaccine, so [we advise patients] to check with their health fund to see if they are able to claim the cost of the funding,' he said.
While PSA congratulates the WA government for remunerating community pharmacists more than the other states for administering influenza vaccines, Mr Wong believes funding should stretch further.
'More work needs to be done [through] funding for pharmacists to enable us to administer more vaccines and provide more injectables such as Vitamin B12 for our patients,' he said.