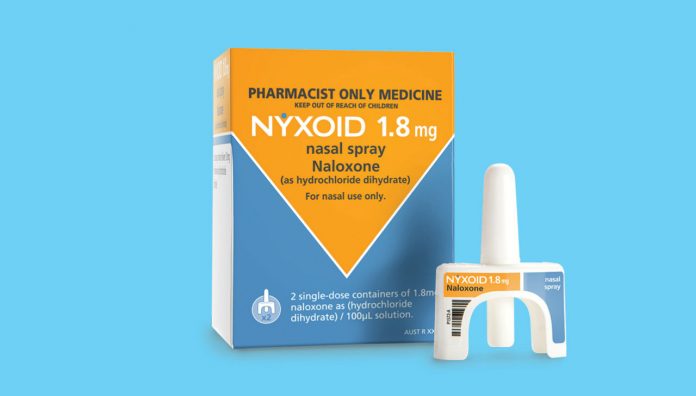 Naloxone has long been used by emergency responders in cases of known or suspected opioid overdose. It has been accessible over-the-counter (OTC) in an injectable form since 2016, however, high costs, confidence in administration of injections, lack of awareness amongst at-risk groups, and stock unavailability from pharmacies have been significant barriers to uptake. Now, a new naloxone product in an intranasal form, Nyxoid, is available as an OTC medicine.
Federal Minister for Health Greg Hunt announced last year that intranasal naloxone would be made available OTC in pharmacies across Australia.1
Naloxone reverses opioid effects and is used as an emergency rescue treatment for overdoses that manifest as respiratory and/or central nervous system depression.1
The intranasal spray (Nyxoid) contains 1.8 mg naloxone (as 2.2 mg naloxone hydrochloride dihydrate), and presents as a ready-to-use product according to a statement from the manufacturer Mundipharma. Thus, bystanders and first responders can administer the medicine immediately to prevent morbidities and mortalities associated with opioid overdoses.1
'In an overdosed patient, respiration is reduced. So the nasal spray squirts out a pre-metered dose, which attaches to the nasal mucosa. No 'breathing in' is required, and it's easy to administer for people unfamiliar with needles or subcutaneous devices,' Dr Marianne Jauncey, Medical Director at the Sydney Medically Supervised Injecting Centre for UnitingCare NSW/ACT, told Australian Pharmacist.
'People who are already drug users are generally fine with administering traditional opioid overdose kits. It's the family members, staff members at facilities, non-medical emergency responders who find syringes threatening and will welcome the nasal spray,' she said.
Administration of intranasal naloxone is not a substitute for emergency medical treatment. A pharmacist supplying the medicine should advise that an emergency medical service should be contacted in conjunction to administering naloxone.1
The OTC availability of the medicine promises to be similarly beneficial. A 2018 report from Penington Institute identified lack of awareness, cost and accessibility of naloxone are still barriers to at-risk people despite rescheduling of the naloxone injections in 2016. It noted that while the medicine is accessible on prescription via the Pharmaceutical Benefits Scheme (PBS) and available OTC at pharmacies, it is often not prescribed to at-risk people. In addition, the significant cost of the OTC medicine and onerous process of accessing it via prescription remain as barriers for those most likely to benefit.2  
Lack of awareness and education of the need for naloxone in opioid overdose by at-risk people and those close to them were also identified as significant barriers. Pharmacists have an important role in the promotion of preventable health and harm minimisation, and can facilitate discussions and promote awareness about these programs to at-risk people and other health providers. In addition, they have a role in the education of at-risk people and those close to them on how and when to safely administer naloxone.
While the new product increases the availability and usability of the medicine, as identified by the Penington Institute report, cost remains as a barrier to accessing the life-saving medicine. The Penington Institute identified that take-home naloxone is available in other countries at a reduced cost, and is often free.2
It has been reported that in Australia a twin-pack of naloxone (Nyxoid) may retail for approximately $70–85 depending on mark-up. On the other hand injectable naloxone costs between $50–80 OTC, a cost that is reduced to $40.30 with a prescription subsidised by the PBS, and still further for those that hold a health concession card.
A proposal has been made by the Penington Institute for 'kits' to be made freely available to people at risk of experiencing, or witnessing an overdose, to increase access to this life-saving medicine.2
For further information, education, and practice support tools for pharmacists on the use of naloxone see What Drug-Naloxone.  
References
1. Mundipharma. Munidpharma welcomes registration of Nyxoid nasal spray for opioid overdose antidote. 2018 At: www.mundipharma.com.au/mundipharma-welcomes-registration-of-nasal-spray-for-opioid-overdose-antidote/
2. Penington Institute. Saving Lives: Australian naloxone access model. Melbourne: Penington Institute; 2018. At: www.penington.org.au/wp-content/uploads/2018/10/Saving-Lives-Australian-naloxone-access-model.pdf