Flight Lieutenant (FLTLT) Allison Jones MPS is a Pharmacy Officer in the Royal Australian Air Force (RAAF) at Base Tindal in the Northern Territory. She joined the Defence Force while still a student at the University of Queensland in 2014 – a career she had envisioned since high school.
'I have a lot of family who were in the military,' FLTLT Jones told Australian Pharmacist.
'When Defence Force recruiters visited my high school and I realised you could serve in the military as a healthcare professional, it was all I wanted to do.'
A posting to No. 1 Expeditionary Health Squadron at RAAF Base Amberley in Queensland saw her essentially set up and manage the field hospital right from the start.
'Not only did we build the pharmacy capability for the deployed field hospital, but we also oversaw the maintenance of all the equipment and managed a lot of the schedules,' she said.
In her current role, FLTLT Jones is the sole pharmacist at Tindal Health Centre.
'Not only did we build the pharmacy capability for the field hospital, but we also oversaw the maintenance of all the equipment.'

FLTLT Allison Jones MPS
'It's a bit of a mix of community pharmacy, low-level hospital pharmacy and pharmacy management,' she said.
'We have 600 people on the base, and I pretty much manage all the prescriptions and primary health care medications for every patient.'
Unlike Ms Jones, PSA's 2019 Lifetime Achievement Award recipient Col. (Rtd) Bill Kelly AM wasn't planning on a military career. But after being conscripted in 1967 while in his final year of university, he stayed on.
'My 2 years extended to 22 years regular service and another 12 in the Army Reserve, so they got 34 years out of me,' he said.
'I think it's probably fair to say I enjoyed my career.'
His first 5 years in the Army were all hospital pharmacy postings, a role Col. Kelly described as both clinical and as the 'medical quartermaster'.
'I looked after all the drugs, the instruments, and a lot of other medical equipment as well,' he said.
Memorable postings
Col. Kelly left the military with a rank of full colonel after serving as Army Chief Pharmacist, Consultant Pharmacist to the Surgeon General for the Australian Defence Force, and commanding the unit responsible for supplying medical and dental stores for Australia's overseas armed forces.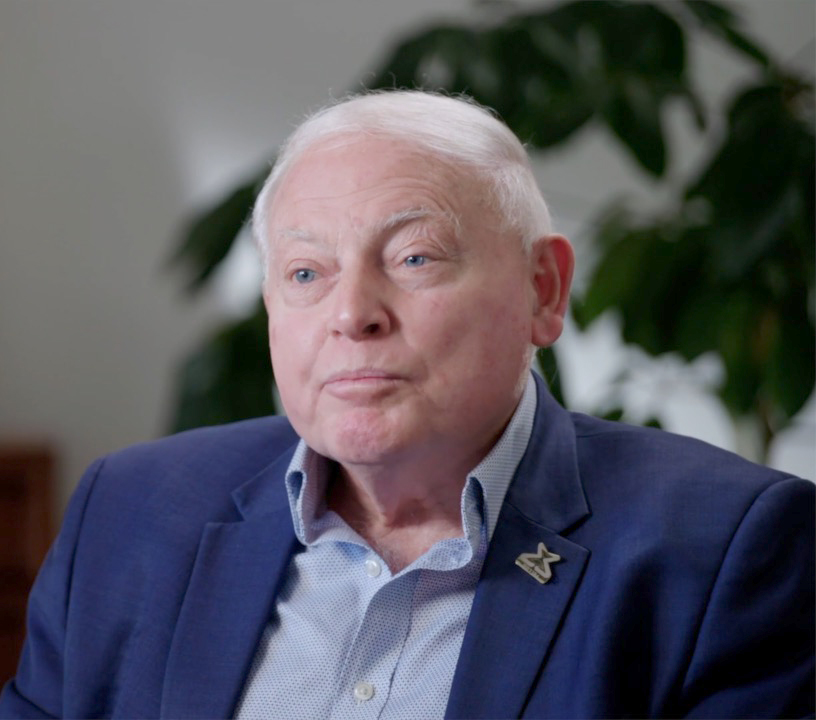 Three roles stand out for Col. Kelly during his distinguished career. His first overseas posting to the ANZUK Military Hospital in Changi, Singapore, was Col. Kelly's introductory service to working with other nations through military pharmacy.
'That was a 150-bed dependent care hospital catering to the Australian, New Zealand and UK services, as well as emergency support for local civilians,' he said.
'I was there over 2 years, and it was a wonderful experience both work-wise and life-wise.'
Another stand-out role was his time spent in the medical logistics hub while serving as the chief pharmacist.
'We did some Defence Cooperation projects in the Philippines, which included delivering a range of medical equipment to the Philippine army and service medical units,' he said.
'They were really interesting projects.'
While posted as Army's Chief Pharmacist, Col. Kelly served as the chair of the international Quadripartite Working Group on Health Service Support, focused on interoperability of different nation's medical services in operational settings.
'That role took me overseas for a period of time every year,' he said.
'We were working to ensure that all the nations involved – Australia, Britain, Canada, New Zealand, and the US – had the same or similar medicines and equipment at, for example, a field hospital level, and were able to work efficiently together.'
Lifelong skills
In FLTLT Jones' first posting to RAAF Base Amberley, she had the opportunity to travel to Papua New Guinea (PNG) in 2019 as part of a United States Air Force health outreach program.
'We provided health care to a remote community in PNG,' FLTLT Jones said.
'There were Australian, US, Fijian and PNG Defence Force members, with me being the sole pharmacist on that mission.'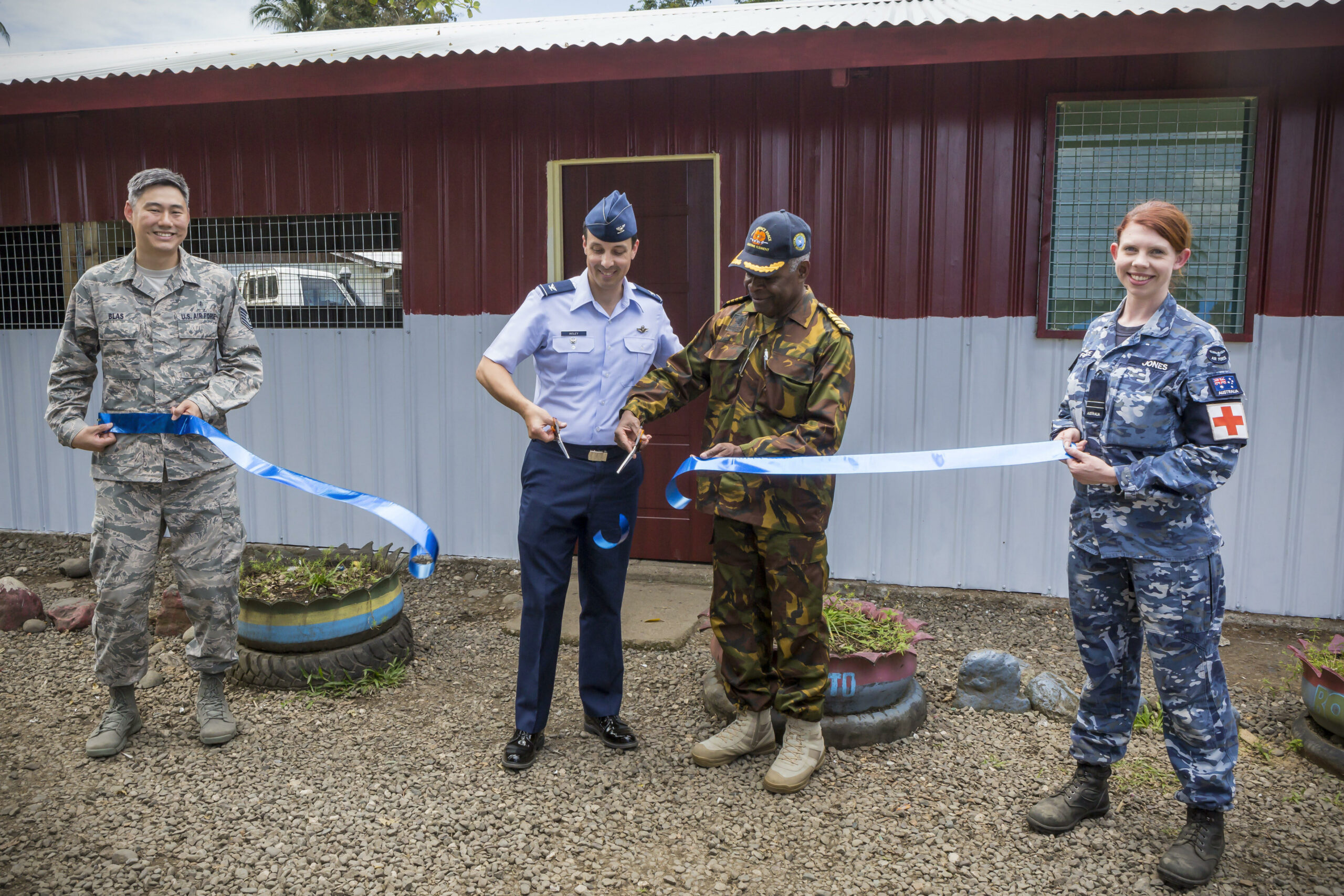 Building a field pharmacy as a junior pharmacist is the career achievement FLTLT Jones is most proud of thus far.
'We created the schedule and the majority of the processes,' she said.
'On deployment you can only bring a certain amount of supplies with you, so we had to ensure we had all potential conditions covered with an appropriate amount of medicine.'
This role helped FLTLT Jones hone her logistics and problem-solving skills as a young pharmacist.
'When you go away, logistics is one of the key things you have to be aware of,' she said.
'Resupply is not an option, so you have to be really conscious of what you're bringing, and the space it takes up.'
'You get some very practical life skills out of the military, and they are absolutely transferable to civilian pharmacy.'

Col. (Rtd) Bill Kelly AM
Ms Jones was also responsible for managing pharmacy security for Schedule 8 medicines.
In field hospitals, pharmacists are relied on for their medicines expertise.
'When a specialist reservist doctor prescribes a medicine we don't have due to the limited medication schedule, for example, we will recommend alternatives and appropriate dosing schedules,' she said.
Now at Tindal Health Centre, FLTLT Jones works as part of a multidisciplinary team.
'I work really closely with the nurses, doctors and even the dentist, and I'm often involved in consults,' she said.
Col. Kelly described his Defence Force skillset as well-rounded, comprising a general mix of clinical, administration, management and logistics expertise.
'You develop leadership skills and learn how to get on with people,' he said.
'You get some very practical life skills out of the military, and the important thing is that they are absolutely transferable to civilian pharmacy.'
Commemorating Anzac Day
For Col. Kelly, Anzac Day is about remembering and honouring the contribution and sacrifices that Australian servicemen and women have made and continue to make – in times of war and peace.
'Wherever I was in the world – whether it was overseas in Singapore or the Philippines – the local Australian contingent would organise something,' he said.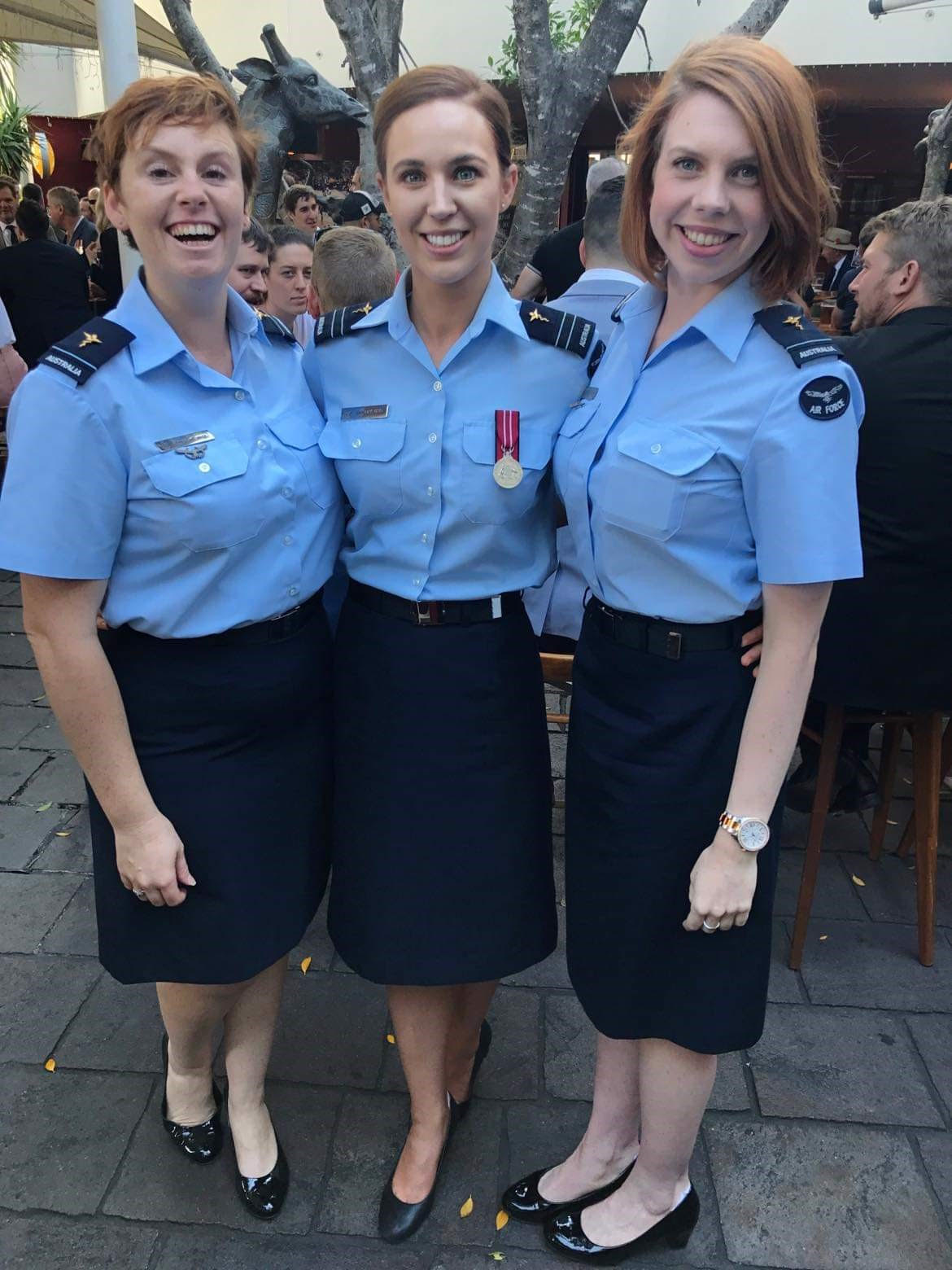 'It was always a day of remembrance with a service, and then a few beers and a barbecue.'
Back home in Canberra, the day is always a special one for Col. Kelly.
'It was always nice to take part in the occasion and march up Anzac Parade to the Australian War Memorial,' he said.
'This year is a bit more poignant for me, however. My wife, an ex-servicewoman in the Royal Australian Army Nursing Corps and one of the 43 army nurses to serve in Vietnam, passed away last year.'
FLTLT Jones also feels a close personal connection with Anzac Day.
'It's an opportunity to reflect on and commemorate the service of the thousands of Australians who previously defended our way of life,' she said.
'But for me it also runs deeper. My grandfather and all of his brothers served in World War II, and my great grandfather died when the Australian Hospital Ship Centaur was hit by a torpedo and sunk.
'I'm just really appreciative of what everyone before us has done.'
These days, marking Anzac Day means attending a dawn service and a march in the local region.
'Usually afterwards, you go to the RSL, which is a great opportunity to talk to veterans and hear their stories,' FLTLT Jones said.
'It's actually one of my favourite days. It makes you really proud to be a serving member.'