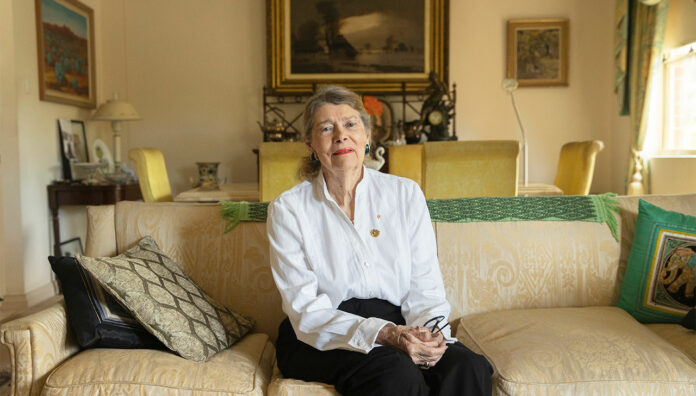 Margaret Sneddon Bickle AO, FPS, PhC, MPharm(Hon.Univ.Syd) has been a role model for women in pharmacy since she joined PSA 70 years ago. Now 90, she remains a registered, non-practising pharmacist, because 'it's still important'.
What

drew you to pharmacy?

There weren't a lot of opportunities for women in 1947. I contemplated going to university and becoming a teacher. But I was influenced by a friend who was a pharmacist. She told me how good a career it was. She proved to be correct. 

Pharmacy was very different then. We made many of our own products, such as mixtures, eyedrops, powders, creams and ointments. You were trained to be exact and meticulous, and while there was always oversight, you learned quickly that your judgement was important. Much of that remains true for pharmacists today.
Were you one of the first women to own her own pharmacy?
In 1950 when I graduated, there was a massive influx of men returning from the war. There were 300 of us in the class and just 30 were women! A woman owning any sort of business in those days was also rare. But I'd served my apprenticeship and learned a lot from the pharmacist about how to run a business. I saw an opportunity at Engadine. I had the support of friends and family, which was important. Starting the business in 1951 was tough, and I learned along the way. They say a successful pharmacy owner is always a successful businessperson, which is true. 
How did you fit family in?
Very well. My late husband, Kenneth Bickle AM, FPS, a former President of the Pharmacy Board of New South Wales, was a strong supporter of me through my life. We met in about 1948 while studying pharmacy at the University of Sydney. Pharmacy was ideal for bringing up a family because, after I bought and later sold the first of my pharmacies, I ended up with three when I retired, in Merrylands, Epping and Putney. I could employ people so I could spend time at home with my children when they were growing up. Pharmacy did give me that opportunity, even though it was long hours and very demanding.
Our children did not become pharmacists, although they worked in our pharmacies in their school holidays. Our daughter is a designer and our son is an engineer, and I have three grandchildren. My husband and I travelled a lot, going to Federation Internationale Pharmaceutique (FIP) conferences. He was a traveller, wine buff and a gourmet. 
'Take every opportunity that comes your way.
I have loved pharmacy.
It has been my life.'
Why was being a strong advocate for women important to you?
I have always believed women should have the opportunity to fulfil roles in whichever area of pharmacy they pursue. 
When I started, only a few women had the opportunity to own a business. Now changes in laws about ownership have helped more women achieve these goals.
A group of us would hold meetings at the university to encourage women to get involved in pharmacy leadership. You can't always do it on your own. You need people to encourage and believe in you.
How did you been keep busy during the Sydney lockdown?
Like most people, I have been exercising and trying to keep fit. I am a member of a book club. I read Australian Pharmacist, an excellent publication, and the trade press. I like to keep up to date with politics, history, art and music. I'm always busy and enjoying my retirement.
What is your advice to ECPs, especially females in the profession?
Take every opportunity that comes your way. I have loved pharmacy. It has been my life. It has opened many doors and led to many international friendships. 
Margaret's achievements
1970

First woman elected to the Pharmacy Guild Committee of New South Wales; also became Guild representative to the Pharmacy Practice Foundation 

at the University of Sydney. 

1976

Inaugural Member of the Joint Pharmaceutical Services Group of the Guild and PSA promoting the professional role of the pharmacist. 

1978

Represented Australia at the Federation lnternationale Pharmaceutique (FIP) on the Community Practice Division, eventually becoming the first woman and the first Australian on the Executive Committee of eight people.

1984

Elected to the Council of the Pharmacy Practice Foundation. 

1991

Elected first woman President of FIP's Community Practice Section. 

1994

Granted Honorary Life Membership of the Pharmacy Guild of Australia. 

1996

Awarded the André Bédat Medal for contribution to international pharmacy. 

2005

Received an Order of Australia for service to the pharmaceutical profession as an advocate and mentor for women in the profession, and to the community.

2018

Awarded Life Fellowship of PSA.