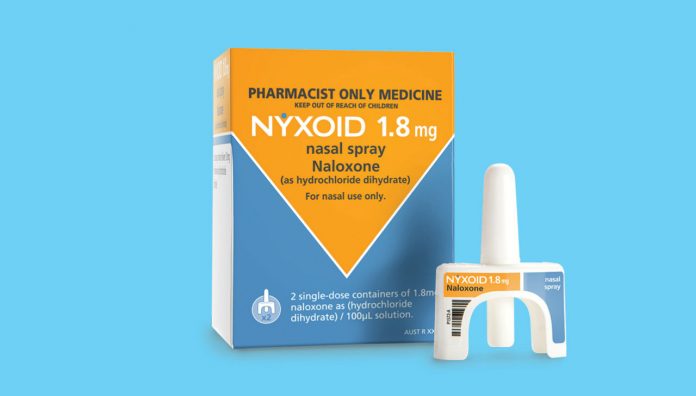 With increasing overdose deaths from both prescription opioids and heroin, naloxone nasal spray – now listed on the Pharmaceutical Benefits Scheme – is a life-saving and easy-to-use opioid reversal agent to stock in your pharmacy.
And pharmacists this week have been urged to re-think social attitudes to reduce the stigma of drug use, addiction and overdose to ensure easy access to naloxone nasal spray.
Guidance for provision of naloxone is now available in the PSA document Guidance for provision of a Pharmacist Only medicine – Naloxone for the treatment of opioid overdose.1
As John Jackson, Chair of PSA's Harm Minimisation Committee told Australian Pharmacist: 'Naloxone is not a new drug. It has been used extensively in a parenteral form, especially in hospitals where pharmacists have a sound knowledge of its use as a narcotic antagonist.' 
But there is growing recognition of its potential benefit for suspected opioid overdose in the community.
Deaths due to illicit drug overdose (e.g. heroin or diverted fentanyl) commonly occur in the presence of another person. There may be a reticence to call an ambulance because of possible police involvement. Broader availability of naloxone among users, their family and friends can save lives.
The potential for overdose also exists with opioids prescribed for chronic pain (e.g. oxycodone), particularly when used with other central nervous system depressants such as alcohol and benzodiazepines. Australian research has found that most chronic pain patients prescribed opioids either expect to be offered naloxone or would appreciate it.2
Human stories
The director of the Australian Research Centre in Sex, Health and Society at LaTrobe University, Professor Suzanne Frazer, led a recent research project into why naloxone was not accessed more widely. Researchers interviewed 37 health professionals and also 46 people in New South Wales and Victoria who take opioids and found that many were either unaware of how to obtain the reversal agent or were too embarrassed. 
Yesterday (Tuesday) the experiences and stories collected through that research were shared on Overdoselifesavers.org, a website launched at the Australasian Professional Society on Alcohol and Other Drugs conference in Hobart.
'Many people we interviewed were keen to know about naloxone, and access it, but were concerned about confidentiality when speaking to pharmacists, or didn't want to bring it up with their GP in case it affected their relationship in the future,' Professor Frazer said.
'We need to rethink our social attitudes to opioid consumption and overdose if naloxone programs are to fully achieve their life-saving potential,' she said yesterday.
Role of the pharmacist
Experience with naloxone may be limited in the community, but pharmacists are uniquely placed to identify people at risk of opioid toxicity and provide them with a reversal agent. Being alert for the signs of opioid overdose, and then facilitating access to naloxone and training for family and friends, presents a good opportunity for pharmacists to undertake early intervention. 
And naloxone is safe with no abuse potential. Australian and international studies have demonstrated that supplying naloxone for a layperson to administer is safe, feasible and cost-effective.2 
'In the nasal formulation, a simpler, more convenient preparation is able to be readily administered without extensive training,' Mr Jackson said.  
Naloxone is a competitive antagonist at opioid receptors with a fast onset of action and a short half-life. When administered in the presence of an opioid, it displaces the opioid at the receptor and reverses its effects – importantly respiratory depression which can be fatal. 
It works for all opioids, e.g. heroin, morphine and oxycodone as well as opioid substitution therapies such as methadone. It is also safe in nonusers. When given to healthy volunteers with no recent exposure to opioids, naloxone showed no adverse effects.2
In 2016, naloxone injection 400 microgram/mL became available as a Schedule 3 medicine, available over-the-counter (OTC) and on prescription. It is approved for intramuscular, intravenous and subcutaneous use in Australia, and has been used by ambulance and paramedical staff to treat overdose for over 40 years.2 Naloxone nasal spray, 1.8 mg/actuation, became available OTC and on prescription (PBS subsidised on 1 November), earlier this year. 
Mr Jackson said that 'pharmacists need to develop the capability to identify and assess high-risk individuals in a non-stigmatising manner'. 
From the PSA guidance document, pharmacists can identify high-risk factors (e.g. high opioid dose (>100 mg morphine equivalents/day)), long-acting form (e.g. methadone) or extended-release preparation). The person may have a respiratory condition, or smoke or take other central nervous system depressants, or may be part of a methadone or detoxification program.
Pharmacists should discuss with patients/carers the risks associated with opioids, and supply naloxone where appropriate. Also, ensure the person has been provided with an emergency opioid overdose protocol.2
'In training people to recognise the symptoms of opioid overdose and how to administer the nasal spray, pharmacists should ensure [they] understand it is not a substitute for professional medical care, and further doses of naloxone may be required,' Mr Jackson warned. Although the nasal spray contains two single dose devices, 'emergency assistance should be sought whenever an opioid overdose is suspected and the spray administered', he added. 
'The [nasal] spray can be administered even if the person is not breathing.' Inform users that 'each device contains only one spray and should not be pumped or "primed" before use.'
Be mindful that naloxone has a half-life <1 hour, which is shorter than all the opioids. Observe the patient for 2–3 hours after naloxone administration for relapse. This is particularly important following methadone or controlled-release opioids, where narcosis may persist for >24 hours.3
Resources
Refer to the PSA guidance document for the use of naloxone nasal spray in children, pregnancy and while breastfeeding, where the infant needs to be monitored for opioid withdrawal symptoms. Also, refer to the recommendations when supplied to a third party and follow–up advice.1
A training resource is available at: www.penington.org.au/​programs-and-campaigns/​resources/​cope-overdose-first-aid 
Although the nasal spray formulation is expensive at present, Mr Jackson said we can expect to see a price reduction, especially as multiple brands are available overseas.
References
Pharmaceutical Society of Australia. Guidance for provision of a Pharmacist Only medicine: Naloxone. Canberra: PSA; 2019.

Jauncey ME, Nielsen S. Community use of naloxone for opioid overdose. Aust Prescr 2017;40:137–40.