Promoting antimicrobial stewardship, patient safety and digital health are just three of the new global goals for pharmacy launched by the International Pharmaceutical Federation (FIP) on Monday.
The eight goals, which add to FIP's 13 Pharmaceutical Workforce Development Goals released in 2016, will 'support the transformation of the pharmacy profession around the world', according to the Federation.
FIP CEO Dr Catherine Duggan said the goals were a 'logical next step', following on from the existing workforce goals. 
'Having a clear and supportive, systematic and integrated global framework for the entire profession has many benefits,' she said.
'For example, the development goals can be used to facilitate applied research and evaluation in education and practice by universities and professional leadership bodies, respectively.
'This framework can also be a basis for investment in pharmacy healthcare by governmental agencies and funding authorities, and for national planning and delivery of policy initiatives.'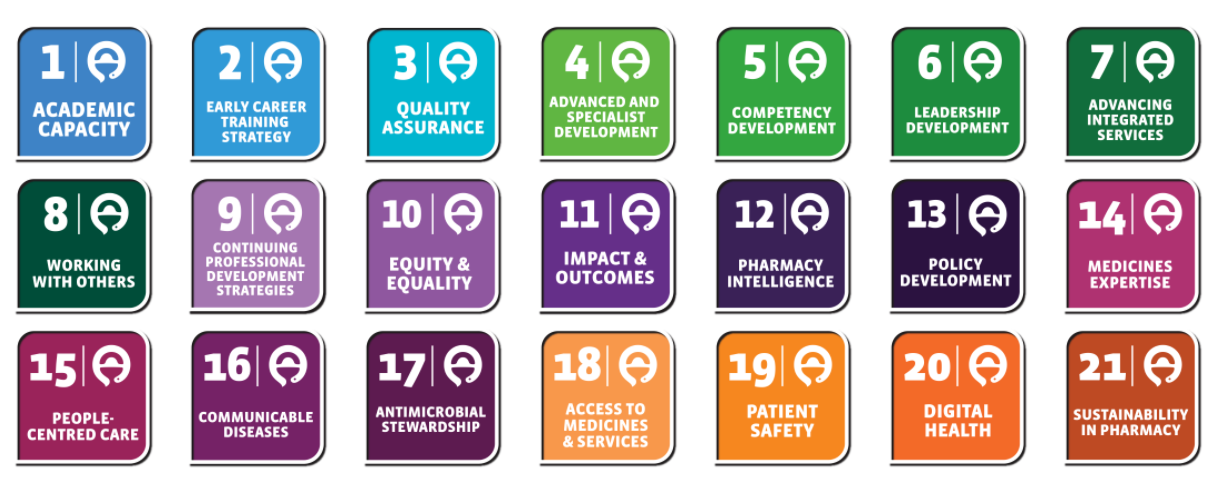 Newly appointed FIP Vice President and University of Sydney Pharmacy School Professor of Medicines Use Optimisation Parisa Aslani FPS said patient safety, in particular, had become a 'global emergency'.
Medicine safety and preventing medication-related harm was a large component of this, she said, particularly in relation to high-risk medicines and polypharmacy.  
PSA supported the development of the goals as a FIP Member Organisation, and there is strong alignment between FIP's aims and PSA's Pharmacists in 2023 report, including common goals, purpose and intent.
Uniting the profession
Launched as part of World Pharmacy Week (21–25 September), the goals align with FIP's mission to support global health by enabling the advancement of pharmaceutical practice, sciences and education, and with the broader aims of the United Nations' Sustainable Development Goals.
The new goals cover:
medicines expertise

people-centred care

communicable diseases

antimicrobial stewardship

access to medicines, devices and services

patient safety

digital health

sustainability in pharmacy.
Each goal includes a set of mechanisms to help facilitate the aim. For example, FIP Development Goal 20: Digital Health, aims to create a digital transformation within the pharmacy workforce and to establish systems to deliver digital health 
Mechanisms to achieve this include developing courses and training material to create a digitally literate workforce, and promoting the use of technologies such as electronic health records, apps, and artificial intelligence to support the delivery of innovative services.  
Dr Duggan said the goals would unite the pharmacists around the world. 
'These goals are a basis for the sharing of best practice, and will encourage global cohesion, solidarity and concerted action,' she said.
'The goals provide an organisation, a profession and an end user with tangible, achievable, purposeful scope of work set against clear priorities.'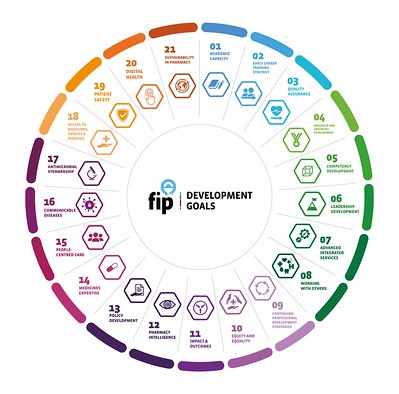 Flinders University academic pharmacist and Chair of the FIP Board of Pharmaceutical Sciences Ross McKinnon said the goals could also be used to track the profession's progress.
'A systematic and integrated global framework facilitates a global monitoring of trends and supports a global dashboard to monitor progress in pharmaceutical care, education, applied science and national health impact,' he said during a webinar launching the goals.
'The FIP development goals are a basis for sharing best practice, in both a global and national context, and will foster and encourage global cohesion, solidarity and concerted action.' 
A number of other Australians were also involved in developing the goals, including Tara Hehir MPS and Paul Sinclair, as part of the FIP Development Goals Internal Reference Group.
Patient safety focus
Among the new initiatives is Development Goal 19: Patient Safety, which aims to promote workforce and education strategies to reduce medication-related harm.
This was reiterated as a key aim for FIP in the release of a new Statement of Policy last week.
Programs that allow pharmacists to access patients' clinical information and non-punitive systems for the reporting, monitoring and analysis of safety events were among the recommendations for governments, policy makers, FIP member organisations and pharmacists.
'The role of pharmacists and pharmacy teams in patient safety requires recognition and support by healthcare organisations and regulatory bodies,' Prof Aslani said.
'Our goal is to increase the safe and effective use of medications, prevent errors and decrease the risk of harm associated with health care. 
'FIP encourages all healthcare professionals and other key stakeholders, including patients and their caregivers, managers, policy makers and educators, to consider designing and optimising services collaboratively to improve patient safety,' she said.