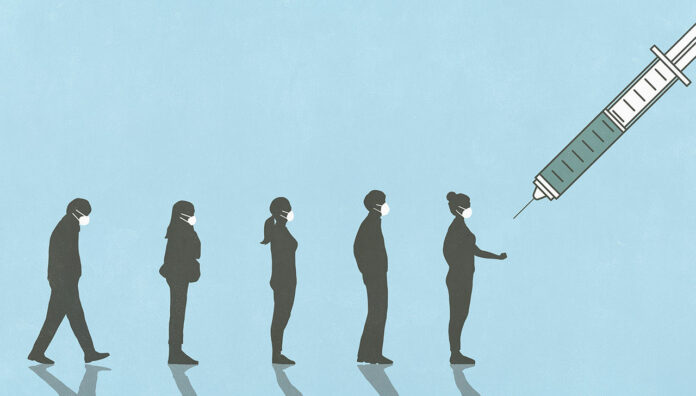 The first government-funded training modules for the COVID-19 vaccination have been released, as federal Minister for Health Greg Hunt confirms the rollout will begin later this month.
In a statement launching the training on Monday (8 February), Minister Hunt said the first modules are aimed at health professionals in hospitals who will administer the Pfizer vaccine, with modules for the AstraZeneca vaccine to come shortly. 
Training will include 'all of the elements which will be critical to ensuring that vaccination occurs in a safe and effective way', Minister Hunt said, including handling, storage, safety and surveillance.
'[The training is] not difficult, but it's an important step, and that includes content which is relevant to the vaccines that Australia will be using, in particular the use of what are called multi-dose vials,' he said.
'Instead of a single shot from one vial, what we'll see is that there are multiple doses, six in the case of Pfizer, 10 in the case of AstraZeneca on provisional advice, subject to TGA [Therapeutic Goods Administration] approval.'
Minister Hunt said the Pfizer vaccine remains on track for a late February start, with an early March commencement for the AstraZeneca vaccine. 
Last week, the Federal Government called on community pharmacists to help vaccinate millions of Australians against COVID-19 from the start of Phase 2a. Expressions of interest for community pharmacists to participate close on 19 February.
At a senate hearing on Friday (5 February), Secretary of the Department of Health Professor Brendan Murphy said the government expected a strong response from pharmacists, and that there would be 'stringent conditions' for vaccine centres.
'We've got to be able to deliver no wastage, have the right facility and have all the right support structures,' he said.
Hope Peisley, Assistant Secretary, COVID-19 Vaccine Taskforce, Department of Health, said the aim of the expression of interest process was to ensure 'equity and coverage across the country'.
'The worst thing that could happen is that we have an oversupply in one area and not in another, so we need to ensure that we've equity coverage so that people can be accessing the vaccine as soon as it's available to them,' she said.
PSA General Manager Policy and Program Delivery Chris Campbell said there had been a surge in demand for immunisation training. 
'Pharmacist immunisers will be needed now more than ever, and we are seeing record numbers put up their hands to complete immunisation training before the COVID-19 vaccine arrives,' he said.  
While it is important to remain up-to-date with the release of mandatory government-funded training modules, Mr Campbell said it would also be prudent for pharmacists keep an eye out for additional modules that relate to the vaccines they will be administering, in addition to the current required training for pharmacist immunisers and the newly released modules. The AstraZeneca module is expected to be released in the coming weeks.
'It is expected community pharmacists and general practice will be largely administering vaccines yet to be approved in Australia, such as the AstraZeneca vaccine,' he said.
'It is suggested that pharmacists complete the core modules as soon as practical, keeping in mind they will need to complete additional modules for the vaccine they will be administering.
'Pharmacist immunisers working in hospitals and across vaccine hubs as part of the Phase 1 roll out have already started completing the modules, in preparation for vaccination to start hopefully the end of February.'
Pharmacists critical to rollout
Community pharmacies will be 'critical in the rollout to the wider population' given their footprint across the country, according to the Member for the federal seat of Dobell and pharmacist Emma McBride MPS. 
But it is important to ensure pharmacists receive adequate remuneration for  non-Pharmaceutical Benefits Scheme (PBS) services, she said in parliament last week.
'I and many others were pleased to see the government commit $200 million to supporting the administration of COVID-19 vaccines by community pharmacists,' she said.
'I've undergone the training myself to be an immuniser, as have thousands of other pharmacists who are trained, prepared and ready to be part of this big nationwide effort.'
While the funding was welcome, Ms McBride said there was a clear need 'to ensure adequate funding for services that pharmacists provide outside PBS expenditure'.
'Pharmacists, like general practitioners and other medical professionals, are required to adhere to the strict protocols to administer the vaccine to the community,' she said.
'GPs are concerned around the level of remuneration, and, intuitively, pharmacists are concerned as well, particularly given that they must adhere to the same criteria and, as it stands currently, for less remuneration.'
Ms McBride also paid tribute to pharmacists across the country for their ongoing efforts during the pandemic. 
'I would like to acknowledge my fellow pharmacists, who have made a considerable contribution on the front line, staying open and offering critical services when many other primary care providers were closed – hospital pharmacists managing supply and aged-care pharmacists providing telehealth services,' she said. 
'For many of our most vulnerable Australians who have been forced into isolation, pharmacists have often been the only health professional they've had contact with.'
More information on the COVID-19 vaccination training can be found here.