Three pharmacists have been honoured at PSA's inaugural ACT Excellence Awards for their service to the community during a difficult year.
The awards, held on Wednesday 9 December, celebrated pharmacists at various stages of their career who have made exceptional contributions to different sectors of Canberra's community.
Brad Butt MPS was awarded Pharmacist of the Year, Mandy Wang MPS claimed Early Career Pharmacist of the Year and Erin Cooper Intern Pharmacist of the Year.
At the ceremony, PSA ACT Branch President Renae Beardmore underlined the importance of acknowledging the work of pharmacists who have given so much to the community in these challenging times.
'This year more than ever we need to celebrate pharmacists who have continued to provide essential medicines and health care to patients during bushfires and COVID-19,' she said.
Pharmacists on the frontline
Mr Butt has continued his innovative work in men's healthcare by developing a fee-for-service model catered towards men with urological conditions, which Ms Beardmore said displays many of the qualities consistent with PSA's Pharmacists in 2023 vision.
'Brad is the epitome of what a community pharmacist should be and has led by example, building a strong community-focused ethic within his pharmacy by providing exceptional and innovative personalised customer medication management services,' Ms Beardmore said.
Ms Wang has worked both as a leader to expand the role of pharmacists as well as cater to the healthcare needs of the communities' most vulnerable.
'During the height of the COVID-19 pandemic, Mandy reached out to special communities she identified as having little or no access to healthcare via the Pharmaceutical Benefits Scheme or usual government care,' Ms Beardmore said.
'As part of the 2020 influenza National Immunisation Program, Mandy personally vaccinated 618 patients and has displayed an incredible amount of commitment, professionalism and care for her patients and the community.'
The beginning of an exceptional career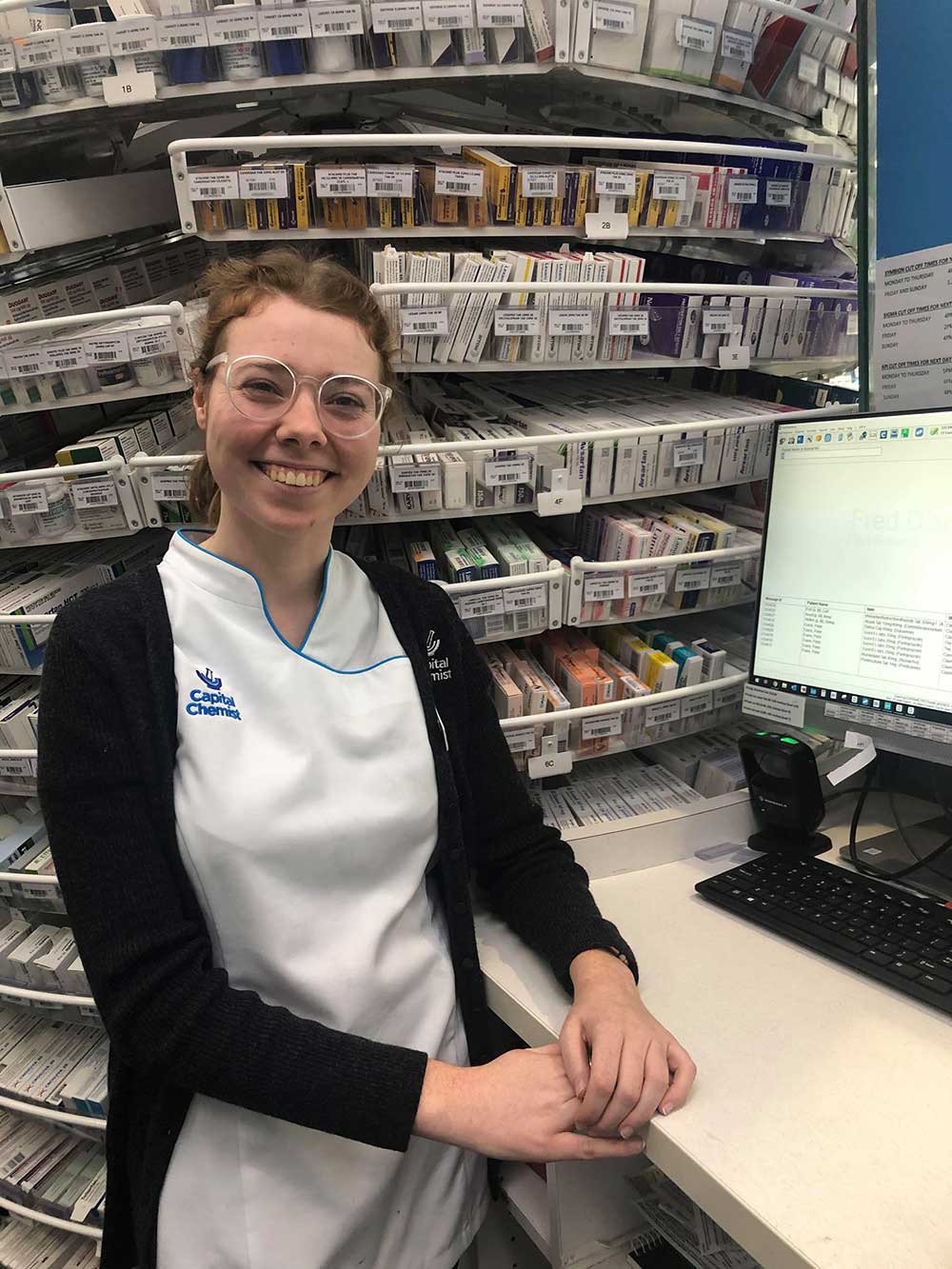 As an intern pharmacist, Ms Cooper entered the profession during one of the most difficult years to date. However, she rose to the occasion by implementing professional tools and supporting other pharmacists, as well as providing healthcare services to the community throughout the bushfires and pandemic.
'I moved from Orange to Canberra in early January, the day the smoke rolled in,' Ms Cooper said.
'I don't think anything could have prepared me for what the first three months of the year would be like.'
Despite these challenges, Ms Cooper hit the ground running by creating an intern guide in collaboration with a colleague for the National Australian Pharmacy Students' Association. Published in August, the tool is designed to help students apply for internships and get the most out of their intern year.
She was also instrumental in supporting her colleagues through the crises by upskilling pharmacy assistants to cope with the influx of customer questions.
'I was really passionate about ensuring our staff were equipped to manage all the different situations they might face during the COVID-19 rush – particularly when customers were unable to be in the pharmacy for long periods of time – so we developed a pharmacy assistant training roster to educate them.'
Ms Cooper and her colleagues also worked tirelessly to ensure their patients received the services they needed when unable to access other medical care.
'Our pharmacy is very professional services centered, so we prioritised providing a space for people in the community to talk to us comfortably in our consulting rooms and offered the services such as blood pressure checks, which they couldn't do on the phone to their doctor,' she said.
Ms Cooper credits the support of her colleagues with helping her thrive throughout the tumultuous year.
'It all came down to the fabulous team I work with, who are so supportive of everyone and always ready to have a chat if anyone needed help.'