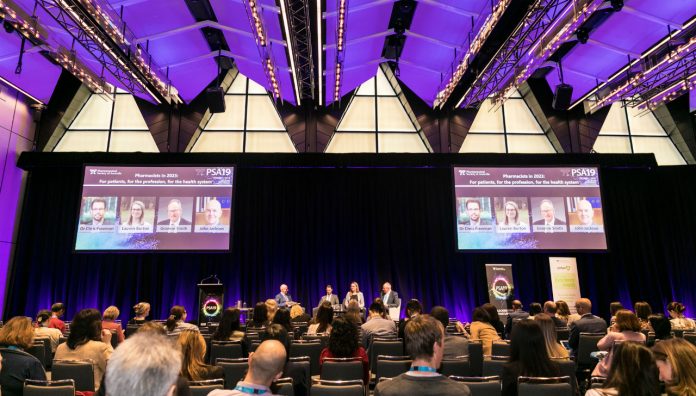 Rural and remote practice for pharmacists should be regarded as a 'seeding ground' to drive pharmacist's practice that can then be integrated back into metropolitan areas, PSA National President, Dr Chris Freeman told PSA19 yesterday.
He described the funding for rural and remote community pharmacy practice under the current agreement as 'completely inadequate to support that style of practice'. 
In the 'Roles, Recognition and Remuneration' session of the conference, Dr Freeman highlighted several of the 11 changes needed for healthcare evolution in PSA's Pharmacists in 2023 report which he launched in February this year after two years of consultation within the profession and the public, including partnering with the Consumers Health Forum of Australia.
'It's about integrating pharmacists into teams within healthcare settings so they can fulfil a much-needed societal role as stewards of the quality use of medicines.'
'We need the support of all the pharmacists in the profession and all the other leading pharmacy organisations. PSA is firmly committed to ensuring that pharmacists achieve scope of practice fulfilment in order to achieve healthcare delivery and safety, that we are recognised for our key role in healthcare and that we are remunerated appropriately to reflect our skills, training and expertise.' 
During a panel discussion centred on Pharmacists in 2023 with ECP Board Director, Lauren Burton and immediate past-president of the Pharmaceutical Society of New Zealand, Graeme Smith, Dr Freeman said Pharmacists in 2023 also mapped the incentives and funding schemes afforded to other health professionals but from which pharmacists are currently excluded.
'This mapping exercise looks at funding for nurses and GPs to not only go and stay in rural and remote areas but also to be supported through training and education and … providing clinical care.'
He said Rural Health Commissioner's current study of medical practice and GPs as rural generalists provided another opportunity to extend the role of pharmacists, as attention had now turned to allied health and other health professionals. 
'There is no reason why we can't utilise this as an opportunity in rural and remote practice for pharmacists to extend their scope,' according to Dr Freeman.
'There is absolutely huge opportunity with the demand on health services in rural and remote parts of Australia for pharmacists to do much more than what we are currently allowed. That should be seen as a seeding ground for where pharmacists' practice can be driven from. 
'We should first look at rural and remote areas to generate that change and then look at integrating that back into the metropolitan areas, rather than the other way around,' he said.
Ms Burton said one method of supporting ECPs to move and stay in remote areas was to continue discussions with them, 'about the impact they can make for professional development, opportunities and benefits which will create their own motivators'.
She could not see any reason why pharmacists and ECPs couldn't draw on the training and funding models used to support doctors in the same way in rural and remote areas.
Mr Smith, who was also a member of the New Zealand Ministry of Health's steering group, 'The Road to Pharmacy Action Plan 2016–2020', said the biggest difference between the New Zealand Action Plan and PSA's Pharmacists in 2023 was that the Australian document was written by pharmacists for pharmacists.
In contrast, the Action Plan was written by a wider group for the whole health system which then received acceptance from the start.
One of its most significant achievements came about suddenly in early 2017 when pharmacists were informed 'three weeks before the start of the flu season that [they] were now going to be funded to vaccinate over-65s and pregnant women, and after a very short consultation period. 
'There was a lot of upset by GPs who didn't understand that we were trained to the same standards, and actually what we were doing was increasing the pool of people who were vaccinated and improving the health of the population,' Mr Smith said.