Thousands of residents continue to be left without electricity or running water after storms battered Victoria's Dandenong Ranges recently. AP speaks to pharmacists on the ground.
The storm hit the region, located about 35 kilometres east of Melbourne, over a week ago, but more than 1,000 homes will have to wait until 10 July to have their power restored.
Trentham-based pharmacist Edward Weislitzer MPS said the impact on his community had been immense.
'A lot of people were trapped in their houses by trees and had to get neighbours to help them out,' he said.
Ongoing road closures also make it difficult for patients and staff to access the pharmacy.
'It took one [patient], who lives 12 kilometres from the pharmacy, 2.5 hours to get here because she had to go 50 kilometres in the wrong direction,' Mr Weislitzer told Australian Pharmacist.
'She was then stopped at a roadblock 10 minutes from the [pharmacy], but they let her through because she told them we were open and she needed to pick up her anti-epilepsy medicine.' 
King Chi Ines Tam MPS, from Pharmasave Monbulk Pharmacy, said her patients were also affected by the road closures.
'We couldn't get to the customers we normally deliver to, and we couldn't call them as their phones weren't working,' she said.
The extended power outages made operating a challenge, with Mr Weislitzer forced to dispense by lantern light for 4 days.
'Without the main lights and heating, it was dark and cold working in the pharmacy,' Ms Tam added.
'The internet was down, meaning no phone, so we couldn't send or receive faxes and emails. Our mobiles didn't have reception either, so we couldn't even send an SMS.'
Without eftpos, Ms Tam had to ask patients to pay in cash, which they had reduced access to with ATMs similarly out of commission.
But despite the obstacles, both pharmacies managed to continue to serve their communities.
'We remained open with limited power and staff, and we had a generator so there were partial lights and one dispensing computer,' Ms Tam said. 
The community also rallied together to help each other out.
'We gave out hot water bottles to customers without power at home, and the local supermarket was kind enough to allow customers to get cash out even without a purchase,' Ms Tam said.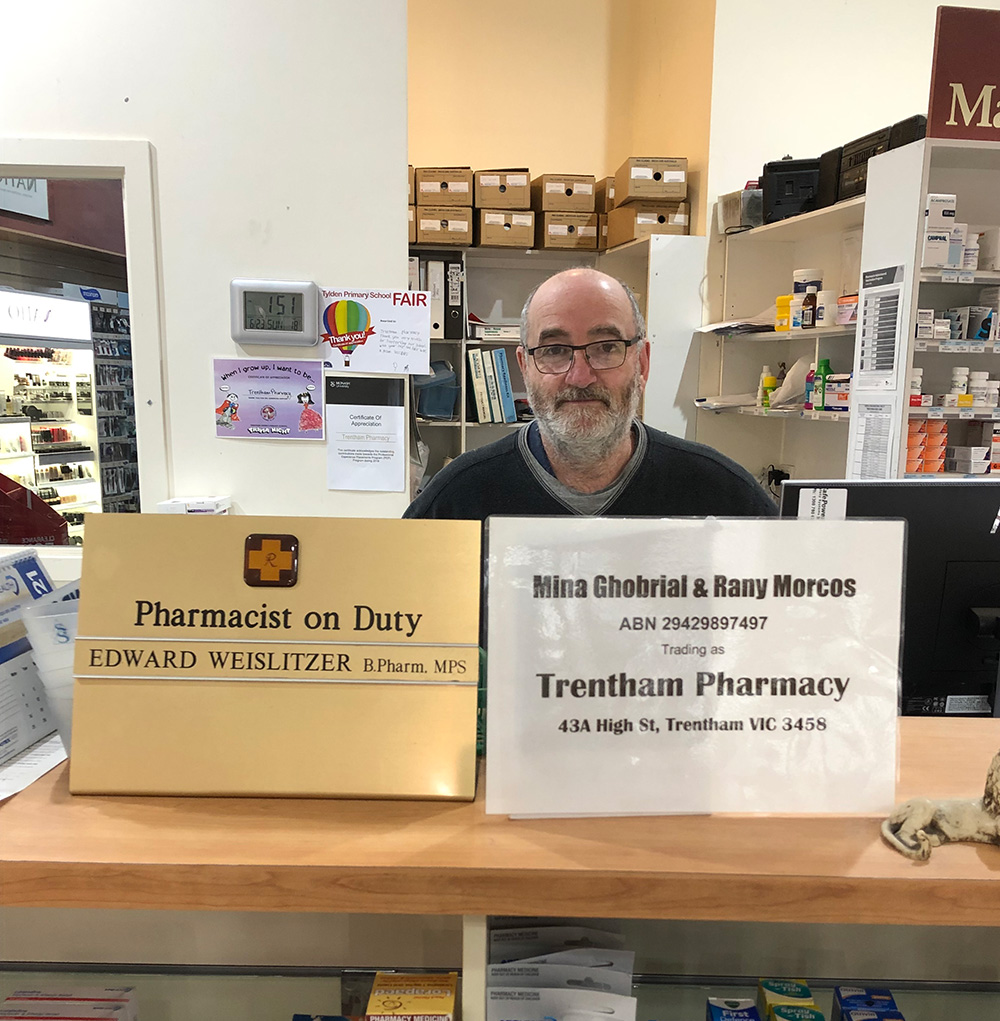 Victoria State Emergency Services (SES) threw Mr Weislitzer a lifeline during the crisis by prioritising vulnerable patients.
'They gave me a generator for half an hour because they wanted me to print a report of all the patients with insulin and other fridge lines so they could do a welfare check,' he said.
The local SES crew also made medicine deliveries to a nursing home for Mr Weislitzer.
'The girl who normally delivers couldn't get through and [the nursing home] didn't have enough supply for the weekend,' he said. 
'I rang up the SES and told them the problem, and they had a crew who were going to Creswick [49.7 kilometres from Trentham] that night, so they delivered to the nursing home for me. It was fantastic.'
Dispensing issues
Through the disruption, Ms Tam tried her best to help patients continue with their treatment.
'We let patients pay another time if they didn't have cash or couldn't afford to in this time of emergency,' she said. 
'As long as I was satisfied the patient had been stable on certain medicines and neither of us could immediately contact the doctor, I would provide an emergency supply of medicine – but I would still encourage them to review with the doctor when possible.'
A major roadblock both pharmacists faced, however, was processing electronic prescriptions.
'We could [take] paper prescriptions, but we couldn't dispense e-prescriptions without the internet,' Ms Tam said.
Mr Weislitzer found a temporary way around the issue by asking patients to send their e-prescriptions via SMS, to be entered into the system when the internet came back on.
'The trouble is that this only gave me the patient name and the drug, not the directions [of use], which made it challenging if someone was using [a medicine] for the first time,' he said.
One of Mr Weislitzer's ongoing patients, for example, had their dose of CBD oil changed and needed the medicine dispensed urgently.  
'But of course, in the system a new strength is treated as a new patient, so the script had to be scanned,' he said.
Thinking on his feet, Mr Weislitzer faxed the prescription to a fellow pharmacist in Melbourne, who scanned it and sent the order using his login details.
'It probably wasn't best practice, but my number one issue was to get people the [medicines] they needed,' he said. 
While the power has been restored to Mr Weislitzer's pharmacy and he is back online, there is still much to be done.
'I've got 10 days worth of … ordering and what have you, but we got through it as well as could be expected,' he said.