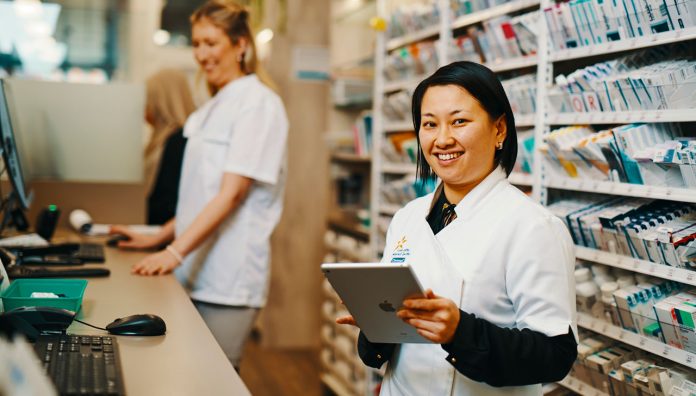 From dispensing using a digital image to the fast-tracking of electronic prescriptions, Australian pharmacists have been at the forefront of digital transformation during the COVID-19 pandemic. 
Key points:
The COVID-19 pandemic has led to a number of practice changes for pharmacists, including the implementation of electronic prescriptions.

PSA has launched a dedicated support line to assist pharmacists and pharmacy staff with this.

Pharmacists can call

1300 955 162

from Monday to Friday between 8:30 am and 7:00 pm EST or email

ep@psa.org.au
More than 10 million telehealth consultations between Australians and their health care providers have been conducted during the pandemic. Many of these patients have been able to receive medicines without leaving their homes due to the temporary introduction of digital image prescriptions and flexible contactless dispensing options.
While the aim of these initiatives has been to allow vulnerable Australians to reduce their risk of contracting the virus, the result for some pharmacists has been confusion and additional stress.
Speaking to Australian Pharmacist last month, Newcastle-based pharmacist Mark Shaw MPS said digital image prescriptions, for example, had proved difficult in practice.
'On a normal day, pre-COVID-19, we may have received a dozen emailed scripts via medical apps,' he said.
'Now we are getting a flood of scripts continually, and we are busy trying to cope.'
And there is more change to come, with Australia's first genuine and legally valid electronic prescription (e-prescription) created, stored and dispensed in Victoria this month.
E-prescriptions will be rolled out in two stages, beginning with the token model, which is now active. Using this system, a unique QR code such as those currently used for football matches and airline boarding passes – and known as a 'token' – is sent via SMS or email to a patient. The token can then be scanned at the pharmacy to unlock the prescription.
Later this year, the Active Script List (ASL) model will join the token model for e-prescriptions. This will allow patients who register for the ASL to give consent for a pharmacy to access all their prescriptions. It can be likened to an airline frequent flyer profile, which can show all flights that a person has booked.
While paper prescriptions will still be available, there are numerous benefits for pharmacies that embrace e-prescriptions, including:
increasing medicine safety by reducing prescribing and dispensing errors

improving efficiency in prescribing and dispensing medicines

removing the need for handling and storing a physical paper prescription

supporting digital health services, such as telehealth, to ensure continuity of patient care

providing an opportunity to protect community members and staff from exposure to infectious diseases such as COVID-19

maintaining patient privacy and integrity of personal information.
Help is at hand
To assist pharmacists with these monumental changes, the PSA has launched a dedicated pharmacist support line for queries about electronic prescriptions. 
The service will operate Monday to Friday from 8:30 am to 7:00 pm EST on 1300 955 162 or ep@psa.org.au.
PSA National President Associate Professor Chris Freeman said the interim image-based supply of medicine had been critical to ensure the supply of medicines during the pandemic, but that it had put significant pressure on pharmacists due to laws that were not clear. 
'The number one inquiry we have received from pharmacists during the COVID-19 pandemic has been around interim image-based supply of medicine arrangements,' he said.
'PSA welcomes the announcement by the government to move now to a staged and planned implementation of formal electronic prescription arrangements, which will see a safer, clearer and more secure electronic prescriptions model which protects patient's privacy and safety.'
The support line will be staffed by experienced pharmacists who have access to the latest information on how to adopt electronic prescriptions. 
'I would urge any pharmacist or pharmacy support staff member to utilise the support line, which will not only benefit them but in turn help pharmacies better educate their patients and members of the public on how electronic prescriptions work,' A/Prof Freeman said.
The PSA has also created a dedicated e-prescriptions website. View it here.
PSA is hosting a live webinar on e-prescribing: your questions answered tonight 
(27 May, 7:30pm EST). Register here.