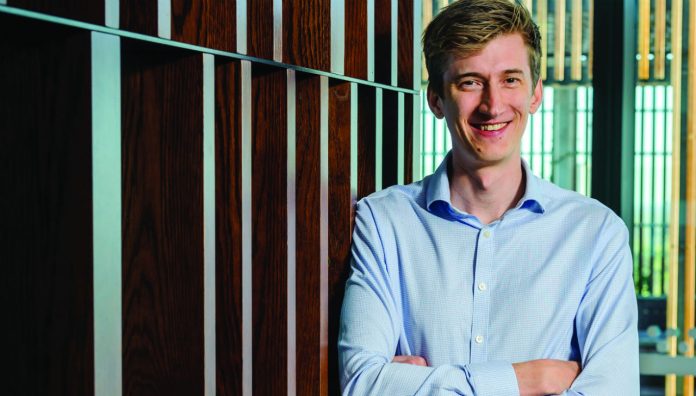 Michael Bakker MPS is an ECP on the move. He's a pharmacist team leader at South Australia (SA) Health's Flinders Medical Centre, and in his spare time he volunteers with Parkinson's SA.
Describe your role as team leader at SA Health.
I'm the team leader for rehabilitation, palliative care and mental health. The team leader roles were introduced 12 months ago and attached to our clinical portfolios. The idea behind the roles is to assist with operational activities in the department, such as organising rosters, contributing to the development program for senior and rotational pharmacists and managing high-performance sessions. As team leaders we regularly catch up with our team to see what challenges they might be facing, as well as ensuring their activities are aligned with our broader focus in the department.
An important part of the role is leading back up the chain of command, so senior managers are aware of what's happening on the ground. When we get direction from above, we make sure that it's implemented and championed on the wards.
How is telehealth used in your role?
Part of our service in ambulatory rehabilitation is providing treatment to people in their own homes. I'll often use video conferencing or telehealth to reconcile medicines with patients or to deliver medicines education in their rehab program at home.
We have the option to remotely monitor people's blood sugar levels or weight when required. It has given us the opportunity to scale our service, so we don't have to spend time on the road travelling between clients, improving access for rural and remote clients. It means I can tailor the time I discuss medicines with them and their carers to when they are most receptive and comfortable.
What sparked your interest in pharmacy practice for Parkinson's disease?
It all started from very subtle origins and has grown into a much bigger volunteering experience that I love. I was working in a community pharmacy and a nurse from Parkinson's SA came in and asked me if I'd be able to give her some information to relay to her clients. I didn't want to have anything lost in translation, so I thought it would be a good idea if I offered to give a talk to their clients, which they were ecstatic about. I started to realise community support organisations aren't often getting much support from pharmacists, and my knowledge and participation has grown from there.
I began giving talks to their consumer groups around six or seven years ago across metropolitan Adelaide and rural SA, and I'm now very proud to represent the organisation as a board member.
How has being involved with the SA Early Career Pharmacist Working Group (ECPWG) helped your pharmacy practice?
When I reflect on my time with the ECPWG, I think of the transition from being a student to intern, then going out and working by myself, to becoming a managing pharmacist. Your skills need to change during that time and you need to access different support structures.
Being part of the ECPWG has always helped me navigate periods of change. I've always found that there's someone to approach who can offer advice on their experiences moving from one role to the other. Now I get to help provide that support and direction to others.
What opportunities come through involvement in ECP Working Groups?
In our ECPWG, we try to provide people with the opportunity to be involved in the design of projects as well as talk to community groups. We put boots on the ground and create networking opportunities, so the ECPs can utilise the information that they've developed.
I've had plenty of opportunities to present to other groups of pharmacists – whether that's through our Accredited Pharmacist Special Interest Group or through our educational events. I've also had a great opportunity to MC a number of panel discussions through the ECPWG, such as the Networking and Careers day for PSA SA/NT last year and the NAPSA conference, which is really great for my development in public speaking.
A TYPICAL DAY in the life of Michael Bakker, hospital pharmacist
8.45 am – The day begins
My day starts with a handover meeting in the hospice. I hear from nurses about patient management overnight, which informs my priorities for review that day.
9:15 am – Coverage
I confirm all service areas are covered and make plans to respond to staff vacancies.
10:15 am – The ward
I prioritise seeing new patients, managing patient discharges and participation in ward rounds. Being present for treatment reviews assists value alignment and identifying the goals and direction of treatment for patients.
12:15 am – Job change
I plan the home visits I'll be doing that day, and I communicate with clinicians on any concerns for home rehabilitation clients. I may need to catch up with my team or team members to support their work.
1:00 pm – Head out
My afternoon consists of hitting the road for home visits or organising video calls with patients. These visits are similar to Home Medicines Reviews with a focus on supporting rehabilitation goals and management at home.
4:00 pm – Write it up
I come back home to write up my notes from visits and touch base with clinicians about clients they are concerned about. Whenever I have a moment, I try to get some writing done, whether academic writing, opinion pieces, preparing for journal clubs or reviewing my talks for a Parkinson's group.
Further resources
Want to access guidelines, professional standards and practice tools to support your practice? Visit www.psa.org.au/practice-support-industry/resources/
Explore new paths at www.psa.org.au/careerpathways