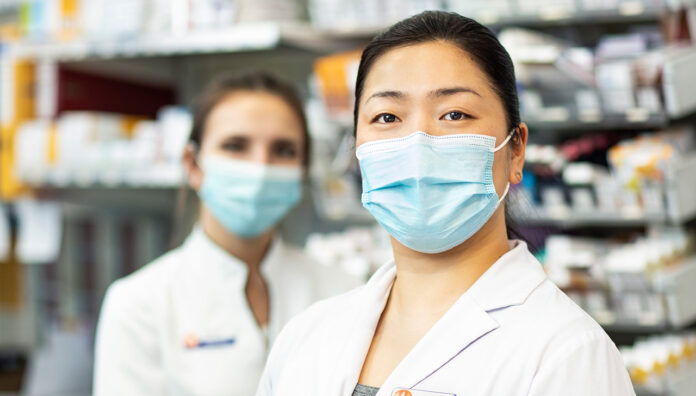 With medicine safety named Australia's 10th National Health Priority Area last year, pharmacists across the country are implementing innovative programs that help ensure medicines improve the health of their communities, rather than cause harm.
According to the Therapeutic Goods Administration, there are twice as many prescription opioid-related deaths and poisonings than with illegal opioids. And more than half of prescription opioids are prescribed for non-cancer pain by general practitioners, according to pharmacist Margaret Jordan. 
Ms Jordan runs a pharmacist-led opioid stewardship program in a south-east New South Wales general practice, which she discussed at the NPS MedicineWise National Medicines Symposium this week.
Ms Jordan developed an opioid policy for the practice that included: agreements with GPs to work collaboratively with a colleague for long-term opioid users; pharmacist engagement with patients and family/carers; development of treatment plans; monitoring and performance data reports; and resource development for patients and GPs (e.g. personalised handouts, tapering recommendations).
Opioid doses were standardised against an oral morphine equivalent daily dose (oMEDD), and usage was tracked. Ms Jordan presented results for the year, where the overall oMEDD was reduced at 6 months, and sustained at 9 months – demonstrating the value of a pharmacist in this setting.
'At the 9 month review, 18% of patients had no change to their opioids, but 39% were no longer prescribed regular opioids,' Ms Jordan said. 
'We now have a more educated and committed local community in practice.'
Young adults and OTC analgesics
It's not only experienced pharmacists who are improving medicine safety. Tahlia Duyster, an intern pharmacist at the Gold Coast University Hospital, conducted a prospective online cross-sectional survey on young adults' perceptions of the safety of OTC analgesics, which are accessible and commonly used. The size of the cohort was not disclosed.
Although more than 40% of respondents were aware of possible harms, nearly one-third believed OTC analgesics are completely harmless. A quarter reported taking an OTC analgesic for a non-indicated purpose (e.g. sleep, anxiety, asthma, suicide attempt). The survey found that 12.4% of the young adults believed that taking a higher dose than that recommended gave a better effect.
Information was collected for two age groups: school students aged 17–18 and university students aged 17–25. The survey found a shift in information sources as people aged, with younger students using their parents for information while older students were more likely to source their own information. 
Ms Duyster, who presented her findings at the symposium, wants to do further study to include non-university students and assess the impact of health literacy on the results.
'Potential knowledge deficits could be leading to approximately 750,000 young adults exposed to analgesic-related harm, leading to potentially preventable strain on the healthcare system,' Ms Duyster said.
'Further studies investigating and addressing these deficits could really help with that preventable strain.'
QUM indicators
Sarah Dinh from the NSW Therapeutic Advisory Group (TAG) presented a study that aimed to improve medicine safety for older hospitalised patients using indicators for quality use of medicine (QUM).
'Our population is ageing, the number of people with chronic conditions continues to rise and medicines are getting more and more complex,' she said.  
'Hospitalisation represents a key opportunity to address inappropriate polypharmacy in order to improve patient outcomes and reduce healthcare costs.'
The TAG's QUM indicators were classified into medicine-related harms (inappropriate polypharmacy, falls, impairment of cognitive and/or physical function), and interventions to reduce medicine-related harm (hospital-based medication reviews, post-discharge medication reviews, discharge summaries, medicine lists). 
Field testing was undertaken at 24 hospitals to measure the percentage of older high-risk patients who underwent assessment for each medicine-related harm, the percentage who received an intervention of a hospital-based medication review, and the percentage who received optimal discharge communications and post-discharge continuation of medication care.
Significantly, the assessment also included 'patient reported experience measures', which found only 20% of patients were aware of changes in their medicine while they were in hospital. Patient involvement in shared decisions needs improvement, Ms Dinh said.
Information on the NSW TAG polypharmacy QUM indicators and resources are available here.  
Improving cold chain management in the outback
From the central Australian outback comes a story of risks to cold chain management in remote communities. 
'Recent research in central Australia has highlighted questions regarding the integrity of the vaccine cold chain for remote Aboriginal communities,' said Alice Springs based pharmacist Tobias Speare MPS, Treasurer of the Central Australian Rural Practitioners Association, told attendees at the symposium. 
The group recently produced a video that aims to improve health literacy, and ensure effective vaccinations, by telling the story of a vaccine travelling from the supply centre to administration in a remote community in an engaging and culturally appropriate manner.
It discusses the many risks to the cold chain in remote areas, including the large number of people involved, high staff turnover, extreme weather, vast distances, complicated logistics and a lack of understanding of cold chain management by some people handling the vaccines. 'Vaccine Story is aimed at everyone involved in the process of transporting vaccines to remote communities,' Mr Speare said.
'It explains how vaccinations work in plain English … This is why you should care that the esky is packed correctly, or this is why you should check if a bush bus is going to a community on a particular day.
'I would encourage anyone involved in vaccine delivery to watch and share it.'