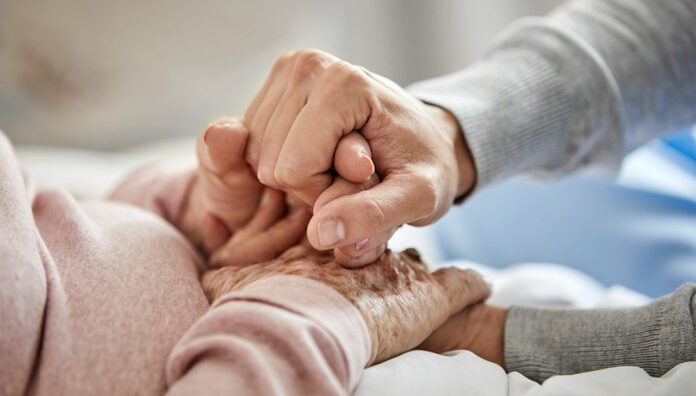 Residential aged care providers must now ensure chemical restraint is only used as a last resort, implemented for the least amount of time possible; recorded, monitored and reviewed. Many aged care providers are unsure what constitutes chemical restraint and how they can fulfil their obligations when restraint is proposed and used. 
Pharmacists working in aged care help providers recognise chemical restraint, recommend alternative strategies before use, and ensure timely monitoring and review.
What is chemical restraint?
Chemical restraint involves the use of medicines for the primary purpose of influencing a care recipient's behaviour, but does not include the use of medicines prescribed for1,2:

the treatment of, or to enable treatment of, the care recipient for:

a diagnosed mental disorder; or
a physical illness; or
a physical condition; or

 end of life care.
The medicines are usually psychotropics which affect mood, cognition and behaviour. These include antidepressants, antipsychotics, anxiolytics, hypnotics and anticonvulsants.
When psychotropic medicines are used to
 

manage behavioural and psychological symptoms of dementia is this chemical restraint?

Possibly. Dementia is not one specific medical condition or mental disorder. Dementia is a syndrome characterised by cognitive decline (e.g. memory, judgment) with functional impairment. Causes include Alzheimer's disease, Vascular or Lewy Body Dementia. 

Many people living with dementia develop psychological and behavioural symptoms. These can include anxiety, delusions, hallucinations, depression, insomnia, aggression, agitation, calling out, wandering and disinhibition. 

Psychotropics prescribed for the main purpose of managing behaviour (e.g. agitation, calling out, wandering) are chemical restraint. When psychotropics are prescribed to treat a diagnosed mental disorder, such as psychosis or depression, they are not chemical restraint.
Are hypnotics such as temazepam chemical restraint?
Possibly. Insomnia is the inability to fall or stay asleep. Most cases are related to poor sleeping habits, stimulating substances (e.g. caffeine, tobacco) or to a lack of exercise. Addressing these causes through sleep hygiene measures should be tried before medicines.
Prescribing a hypnotic with the main aim of stopping a resident from disturbing other residents or to fit in with the schedule of the home is chemical restraint. Just because a resident is dependent on benzodiazepines does not exclude them being chemical restraint. Prescribing a hypnotic for severe insomnia short-term (up to 2 weeks) after sleep hygiene strategies have been tried is not chemical restraint.
What do providers need to do when a chemical restraint is proposed or used?
When chemical restraint is proposed, providers must assess residents to identify behavioural causes and develop Behaviour Support Plans. They must consider, trial and document non-pharmacological strategies before restraint is used. 
Only the prescriber can assess whether chemical restraint is needed, not staff or relatives. The provider must ensure that the prescriber has assessed the resident, that they document the reason for restraint and that they obtain informed consent from the resident or their substitute decision maker. 
When chemical restraint is used, monitoring for effectiveness and side effects and regular documented review is required to ensure that restraint is still needed and the least restrictive form.
References
Australian Government. Federal Register of legislation. Aged Care and Other Legislation Amendment (Royal Commission Response No. 1) Bill 2021. 2021. At: www.legislation.gov.au/Details/C2021B00068

 

Aged Care Quality and Safety Commission. Regulatory Bulletin. Regulation of restrictive practices and the role of the Senior Practitioner, Restrictive Practices. RB2021-13. 2021. At: www.agedcarequality.gov.au/sites/default/files/media/rb-2021-13-regulatory-bulletin-regulation-restrictive-practices-role-snr-practitioner.pdf
A/PROF JUANITA BREEN BPharm, MSc(Dist), PhD, GradDipCommPracPharm, AACPA
is an accredited pharmacist who currently works as a clinical pharmacist consultant in the Aged Care Quality and Safety Commission Pharmacy Unit.
HELP US HELP YOU
Professionals learn and develop from the experience of their peers. AP welcomes member contributions of practice advice as well as questions to be answered in this column. 
Advice contributions may be about ethical dilemmas, pearls of wisdom or integrating new roles or technology into practice.
Responses should be 250–500 words. They may be edited for space, legal, accuracy or privacy purposes.