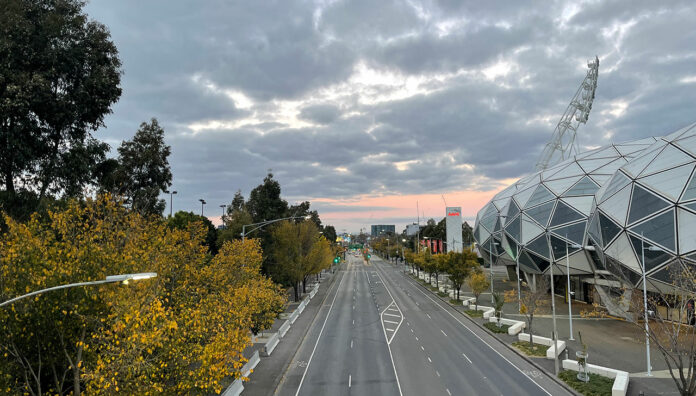 Victoria will join South Australia and Western Australia in requiring universal check in using a government-approved QR code from Friday.
The state's 7-day 'circuit breaker' lockdown will also be extended by at least a week, Victorian acting Premier James Merlino announced today.  
Current restrictions, which were set to end at 11.59 pm on Thursday (3 June), will remain in place for the next 7 days with 'some small changes', Mr Merlino said. 
For Melburnuians, there are still only five reasons to leave home: shopping for food and supplies; authorised work and study; care and caregiving; exercise; and getting vaccinated. However, from Friday residents will be able to travel within a 10-kilometre radius. 
It will still be mandatory for those 12 years and older to wear a face mask when outside of home, unless an exemption applies. And QR code check in will become the norm in pharmacies and all supermarkets and retail settings across the state. 
Unlike Melbourne, restrictions in regional Victoria will ease from 11.59 pm on Thursday. The five reasons to leave home will be removed and there will be no limit on the distance residents can travel from home, although travelling to Melbourne requires a permitted reason. 
The state recorded six new locally acquired COVID-19 cases yesterday, making a total of 67 active cases and over 350 exposure sites.
Mr Merlino said the continued lockdown was 'not the news that everyone wants to hear' but that it was necessary to control the spread of the virus given the new variant is 'quicker and more contagious than we have ever seen'.
'If we don't do this, this thing will get away,' he said. 'This variant of concern will become uncontrollable and people will die. No one wants to repeat last winter.
'We need all Victorians to follow the rules and get tested, and to get vaccinated when it's your turn. We can do this, but we need to do it together.'
The precautions were particularly important given health officials have observed the new Kappa COVID-19 variant 'starting to show up in places where normally it would be less likely', according to Victorian Chief Health Officer Professor Brett Sutton.
For example, experts believe transmission of COVID-19 occurred in an outdoor and well-ventilated area at the Brighton Beach Hotel.
'This variant is not the most infectious, but it is more infectious than anything we saw in the beginning and middle of 2020,' Professor Sutton said.
'At least 1 in 10 current cases have caught this virus in those casual contact settings, so not the workplace and home close contact settings where we know and expect transmission to occur.
'I have described it as an absolute beast because we have to run it down to the ground.'
Pharmacists forge on
Professional Support Adviser Amanda Fairjones MPS assists with queries through PSA's Pharmacist to Pharmacist advice line. She said there hadn't been too many questions about the latest Victorian lockdown. 
'I think Victorians, as a general rule, know what they're doing now,' she told Australian Pharmacist. 'We have had some questions about the requirements for pharmacies and what they need to ensure they're doing, what restrictions they need to enforce at work.'
This includes questions about masks and what to do if a customer enters the pharmacy without one. 
'Every pharmacy does what it feels best,' she said. 'Some pharmacies will offer the customer a mask. At other pharmacies, customers will be asked to go outside if they want to be served.'
Currently in Victoria, masks must be worn at all times outside of home, unless an exemption applies. But even in other states Ms Fairjones said it was advisable that pharmacists wear one.
For pharmacists facing another lockdown, Ms Fairjones said support services were also important. She advised anyone in need of assistance to contact the Pharmacists' Support Service or Lifeline. 
'For one pharmacist from Victoria I spoke to, the fact that they've gone back into lockdown and her pharmacy is right in the middle of where cases were popping up, was getting to her,' Ms Fairjones said. 
'They've had such a rough time and I think there might be some other Melbourne pharmacists who need support as well.'  
The advice line has been receiving many questions about COVID-19 vaccines – both how pharmacists can themselves get vaccinated, and when they will be able to vaccinate others. 
'I've been advising all pharmacists to complete the COVID training,' Ms Fairjones said. 'Even if you don't vaccinate, as a pharmacist it's still very good information to have.'