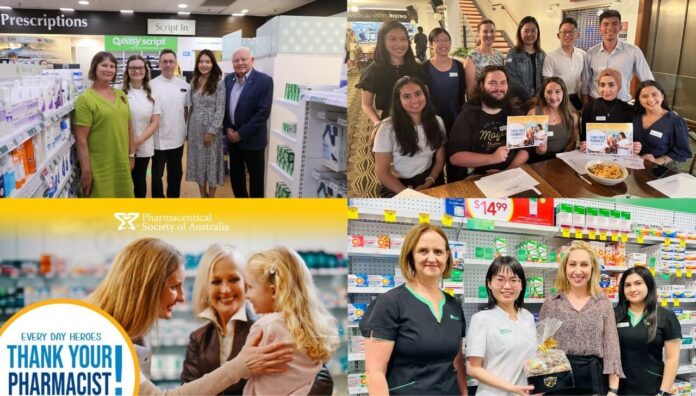 Politicians, patients and pharmacists turned out in droves to support their everyday heroes.
Australia's 36,000 practicing pharmacists show up for their communities every day – through pandemics, natural disasters, and ongoing medicine shortages.
The show of support on #ThankYourPharmacistDay2023 last week (16 March 2023) demonstrated just how aware the nation is of pharmacists' ongoing dedication.
The PSA National President Dr Fei Sim kicked off the celebrations by declaring 'Every single pharmacist is a hero'.
'#ThankYourPharmacistDay is an opportunity for communities to come together and celebrate the hard work and dedication of all pharmacists,' she said.
'I have spent the last 12 months meeting hundreds of pharmacists from around Australia who all share a passion for healthcare and have dedicated their lives to improving the health of their communities.' 
Politicians voice support for pharmacists
As pharmacy scope of practice continues to expand around Australia, and the community is poised to rely more than ever on pharmacists for healthcare services, politicians took the opportunity to thank pharmacists for their service throughout the COVID-19 pandemic and beyond.
Our pharmacists continue to help through the pandemic – from vaccines to antivirals and masks.

Today we say thank you – for all you've done and continue to do. Ensuring all Victorians are healthy and safe @PharmacyAmcal @PSA_National #thankyourpharmacist pic.twitter.com/nVqrtiABUG

— Mary-Anne Thomas MP (@MaryAnneThomas) March 16, 2023
Up to 150 politicians of all persuasions acknowledged the tireless work of pharmacists for their communities, including health ministers at a state and federal level.
View this post on Instagram
'Pharmacists every single day are not just dispensing medicines, they're giving health advice to members of their community. And we were reminded of how accessible they are to us right through the worst phases of the COVID-19 pandemic,' said federal Minister for Health and Aged Care Mark Butler.
View this post on Instagram
'You're encouraged to visit a local pharmacy and thank your pharmacist for the important work they do each and every day,' added Queensland Minister for Health Yvette D'ath.
Love your local ❤️

It really can't be understated how important our local pharmacies are.

It was great to drop in on the team at my local pharmacy in Devonport today to say a big thank you for the incredible work they're doing. pic.twitter.com/5vNm7Xdrg1

— Jeremy Rockliff (@jeremyrockliff) March 15, 2023
Many MPs opted to drop by the local community pharmacies in their electorates to champion their everyday heroes, including Tasmanian Premier Jeremy Rockliff and Western Australian Premier Mark McGowan.
View this post on Instagram
Pharmacist and member for Dobell Emma McBride understands the importance of pharmacists to their communities from both sides of the coin. She showed her appreciation for the profession by dropping into her local pharmacy for a chat.
View this post on Instagram
Patients and pharmacists get in on the action
In a story that encapsulates the difference pharmacists can make to the lives of their patients, Tae Richards told PSA about the transformative care GP pharmacist Brooke Shelly MPS provides for her son Jakob.
Patients also took the opportunity to thank their pharmacists for helping them prepare for travel, and for delivering medicines when they were sick with COVID-19.
I just called my chemist to thank them. They have been extra marvellous since I need to stock up on stuff before I go away for three months.

And it's #ThankYourPharmacistDay today (maybe)?

— Prof Sandy O'Sullivan (Wiradjuri, trans they/them) (@sandyosullivan) March 16, 2023
While #ThankYourPharmacistDay is about showing appreciation for an integral healthcare profession that is too often overlooked and undervalued, it also provides an opportunity for pharmacists from all settings to reflect on their own contribution, and that of their peers.
Made some graphics to raise awareness of the great work that we do and a personal thank you to all of my pharmacist colleagues out there as I'll be working late tomorrow😊 #EveryDayHeroes #Frontlinehealthcare #ThankYourPharmacistDay pic.twitter.com/UvhF4V2WJN

— Raymond Truong (@truryAdelaide) March 15, 2023
'I feel so lucky that I get to collaborate with amazing pharmacists across Australia everyday to drive exciting, innovative initiatives to improve medicine safety,' said Amanda Cross MPS, Research Fellow at Monash University's Centre for Medicine Use and Safety and PSA Victorian 2019 Early Career Pharmacist of the Year.
With sweeping change underway in the profession, pharmacists also expressed excitement about scope of practice expansion and wider involvement in healthcare teams.
'With the expansion of pharmacist services, we are now the go-to for vaccination services, minor ailment management and referral, wound care and medication compliance and review – ensuring patients are optimally managed to assist them to live their best life,' said Canberra Pharmacy owner and men's health advocate Brad Butt MPS.
'There is good evidence that patients have better outcomes if their care is managed by a multidisciplinary team. Pharmacist's knowledge of medicines, and the connection with the individual patients, is integral to that team care approach,' added WA-based community pharmacist and professional services manager Joe Foster MPS.
To read inspirational stories from your fellow pharmacists and learn more about the meaning behind Thank Your Pharmacist Day, click here.