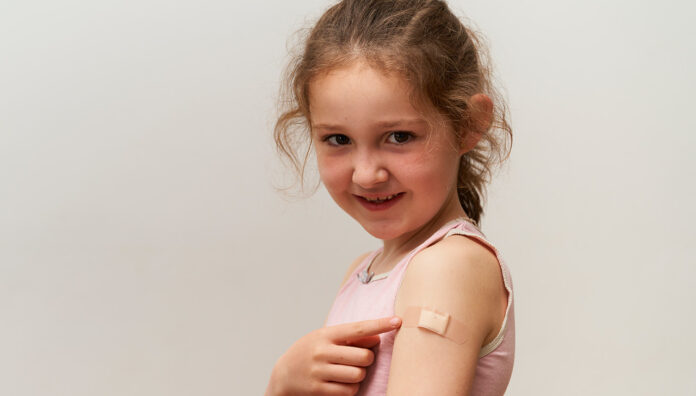 From tomorrow, children aged 6–11 years can receive a Moderna COVID-19 vaccine. 
The Australian Technical Advisory Group on Immunisation (ATAGI) released its recommendations on Spikevax today, following the Therapeutic Goods Administration's (TGA) provisional approval last week.
ATAGI recommends Moderna's COVID-19 vaccine can be used for primary vaccination in children aged 6–11. It described Spikevax as an 'alternative option' to Pfizer's paediatric vaccine, noting: 'Pfizer remains the only vaccination available for children who are 5 years old. There are currently no vaccines licensed for children aged 4 years and under.'
The Moderna vaccine is available 'in over 4,000 points of presence around the country', according to federal Minister for Health Greg Hunt.
'Individual pharmacies or general practices, state clinics or Commonwealth clinics, will indicate when they have completed their training and they're ready to commence,' he said.
'But from a national perspective, the program will begin tomorrow on the availability of individual pharmacies, GPs, state, Commonwealth, or Indigenous clinics. That's a very important step forward.'
Pharmacists must check if local regulations allow them to administer vaccinations to this cohort. Refer to PSA's microsite for state and territory COVID-19 vaccine regulatory requirements.
Those considering administering the Moderna vaccine to children should review ATAGI's advice carefully, along with the TGA's product information. Pharmacists also need to complete the specific training module for Moderna for children aged 6–11 once it is available in the coming weeks.
Unlike the Pfizer vaccine, there is no paediatric-specific formulation for Spikevax. As such, ATAGI recommends immunisers be vigilant about the potential for dosing errors. 
'The recommended schedule for Moderna vaccination in children 6–11 years is two doses (50 micrograms per dose; 0.25 mL), 8 weeks apart,' according to ATAGI's recommendations. 
'This extended interval may improve immunogenicity and vaccine effectiveness following the second dose, based on data obtained in adults.'
It noted the interval could be shortened to a minimum of 4 weeks for children at risk of moderate to severe COVID-19 in special circumstances (as outlined in ATAGI Clinical guidance on the use of COVID-19 vaccines).
'Parents and providers are encouraged to weigh up the benefits of earlier protection with the benefit of having a longer dose interval,' according to ATAGI. 
The most common short-term adverse events seen in clinical trials for Moderna's vaccine in the 6–11 year age group included:
injection site pain

redness and/or swelling

axillary swelling or tenderness

fatigue

headache

fever

muscle pain. 
The TGA looked at data from the KidCOVE clinical trial when making its decision. Conducted in the United States and Canada, the study included up to 4,000 children aged 6–11 years and demonstrated that the immune response to the vaccine was similar to that seen in older age groups.
Expert push to increase child vaccination rates
So far, 49.2% of children aged 5–11 (1.12 million) have had at least one dose of Pfizer's vaccine. The government wants to increase this to at least 76%, Minister Hunt said yesterday.
He has convened a panel of health experts and government officials, who will meet next week to discuss how to boost Australia's child COVID-19 vaccination rates.  
Led by vaccination program expert Professor Julie Leask, the roundtable will include Commonwealth, state and community representatives and is 'specifically aimed at continuing to drive that rate higher'. 
Community pharmacists were some of the first to vaccinate children in this age group with Pfizer's paediatric COVID-19 vaccine when the rollout began on 10 January. 
Although the initial take up was strong, the University of Sydney's Prof Leask said demand had since plateaued. Approximately 5,000 first doses per day are currently administered to children aged 5–11, compared with roughly 47,000 doses per day in the fortnight after the rollout began.
'Some parents may not have had the time to book an appointment and some are waiting because their child has been infected with COVID-19,' Prof Leask said. 'And there is some hesitancy that needs to be addressed.'
Children under 5 years of age are the last cohort in Australia to become eligible for a COVID-19 vaccine. 
Speaking in a video produced by the federal Department of Health, Dr Lucas De Toca, COVID-19 Primary Care Response First Assistant Secretary said both Pfizer and Moderna were trialling their vaccines for use in young children.
'In the meantime, the best thing that we can do to protect younger kids, noting that the risk of severe disease is lower than older people, is to make sure that everyone around them is vaccinated,' he said. 
It also included ensuring that 'their older siblings 5 years and over are vaccinated, their parents and uncles and aunties and everyone else around them is vaccinated, and that we continue to practice COVID-safe behaviours to minimise our risk of transmission'.