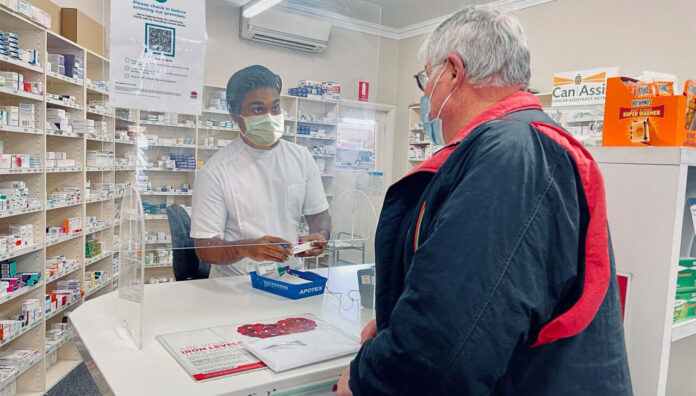 As Australia's vaccine rollout ramps up but supply remains limited, 'there are no reasonable arguments for constraints some states have placed on community pharmacists administering COVID-19 vaccines,' according to PSA National President Chris Freeman. 
'In the next 3 weeks, the number of rural/remote community pharmacies involved in the roll-out will increase from 49 (Queensland only) to 300 pharmacies in NSW, SA, Victoria, WA, NT and Queensland,' A/Prof said. 
'I am keen to see this ramp up to the nearly 4000 community pharmacies which were assessed as suitable ASAP. It is vital for surge capacity when supply increases in September/October that these sites are activated now.'
PSA CEO Mark Kinsela tweeted his agreement with Chris Freeman, who told PSA members in his president's message this week: 'Like all of you, I am frustrated at the pace of the roll-out and regulatory barriers which are limiting pharmacist vaccinators from fully playing their part in Australia's pandemic exit strategy.'
What a joke, the Government aren't even using the whole health system to deliver vaccines at the moment – let's look to pharmacy first #medicinessafety #MPS https://t.co/sA3c0F6LmF

— Mark (@markkinsela) July 6, 2021
NSW Premier Gladys Berejikilan said pharmacists already play an important role in Australia's vaccination program, including delivering yearly influenza vaccinations, and their skills should be used. 
'We have a chance now, between when the vaccines arrive, to really increase our capacity. The New South Wales Government has done that by increasing our mass vaccination clinics, by increasing the sites where people can get the vaccine and by having really solid conversations with pharmacy, which will continue,' Ms Berejiklian said yesterday.
'I have been making that point at National Cabinet for a long time … As we know, the work has to happen now so that when the doses arrive there are enough points of access, enough places for people to go to get the vaccine.'
This was echoed by Queensland's Chief Health Officer Jeanette Young: 'I personally think that every GP in our state should be vaccinating before we start looking beyond that – and every pharmacy'.
NSW rollout
Ms Berejiklian announced last week that 22 pharmacies across regional and rural New South Wales will begin administering the AstraZeneca vaccine as part of a pilot program this month. 
The program is limited to people over 60 years of age in areas where access to a GP or vaccine clinic is difficult due to geography.
As the only community pharmacy thus far approved to offer the COVID-19 vaccine in the New South Wales Southern Tablelands, Marulan Pharmacy owner Shabab Hasan MPS is excited to get started.
Mr Hasan found out his pharmacy, almost 170 kilometres south-west of Sydney, had been approved to offer COVID-19 vaccinations a fortnight ago.
However, it was through a phone call from ABC news last week that he discovered his was one of the first 22 locations.
It has since been a rush to ensure his pharmacy is prepared to offer the vaccine to eligible residents in Marulan, as well as those in surrounding areas. 
'I've been trying to organise everything in the last couple of days and just get my head around it all,' Mr Hasan told Australian Pharmacist. 
'I had to get the booking software ready for the system … I'm also going to get a second pharmacist in.'
Marulan Pharmacy is usually a one-man operation, but Mr Hasan said he wanted a second set of hands to ensure everything runs smoothly. The plan is for one pharmacist to serve customers while the second administers vaccinations in a consulting room. 
Demand for the vaccine is likely to be high, as Mr Hasan's is the only pharmacy in the area offering the service thus far. He believes the closest pharmacy offering vaccinations is in Braidwood, about 120 kilometres south.
Even Goulburn, a larger town 40 kilometres away, doesn't yet have a pharmacy that can provide the vaccine.
'My catchment area includes all the local population [about 1,500 people] as well as everyone in Goulburn and everyone in the Southern Tablelands,' Mr Hasan said. 
'I think when people see something is available in a pharmacy, they feel like it's an easier process. So a lot of people are excited because instead of having to wait in a doctor's surgery or a clinic, they can just come in.'
Mr Hasan said getting organised to deliver the vaccine had been a 'learning process', but he hoped it was just the beginning. 
'Over the course of preparing for the COVID-19 vaccine rollout, I have learnt a great amount about public health and vaccinations … Not only has this entire process strengthened my organisational skills, but it has also been very enriching,' he said.
'The services aspect of pharmacy is something that's growing and I think that's the future. I see this as an opportunity to do something and help the community … I'm happy to be a part of it and to help my profession as well.'
Along with the pharmacy rollout, Ms Berejikilan also revealed the government will establish two new mass vacation centres in NSW, in Macquarie Fields and Wollongong, as well as a large clinic in Sydney's CBD. The sites are in addition to the existing hub at Sydney Olympic Park and a second centre in the Hunter Region.
Action plan
National Cabinet last week agreed on a new 4–phase pathway out of the pandemic. The phases, which are subject to further development and review, will be based on meeting certain vaccination thresholds.
Prime Minister Scott Morrison said the country was currently in the suppression phase, with the post vaccination phase beginning 'once we reach a threshold of vaccination, to be determined by the modelling process we're currently engaged in'.
'What it means is, Australia gets vaccinated, Australia is able to live differently,' he said.
Commonwealth Chief Medical Officer Professor Paul Kelly agreed with the Prime Minister. 
'Vaccination will see us get out of this current situation,' he said. 
'If you are eligible for a vaccine go and get it. If you are due for your second dose, regardless of what that vaccine is, go and get that second dose of that vaccine – match, don't mix. And, for those of you that are hesitant, go and talk to your GPs about the vaccine and line up and get that vaccine.'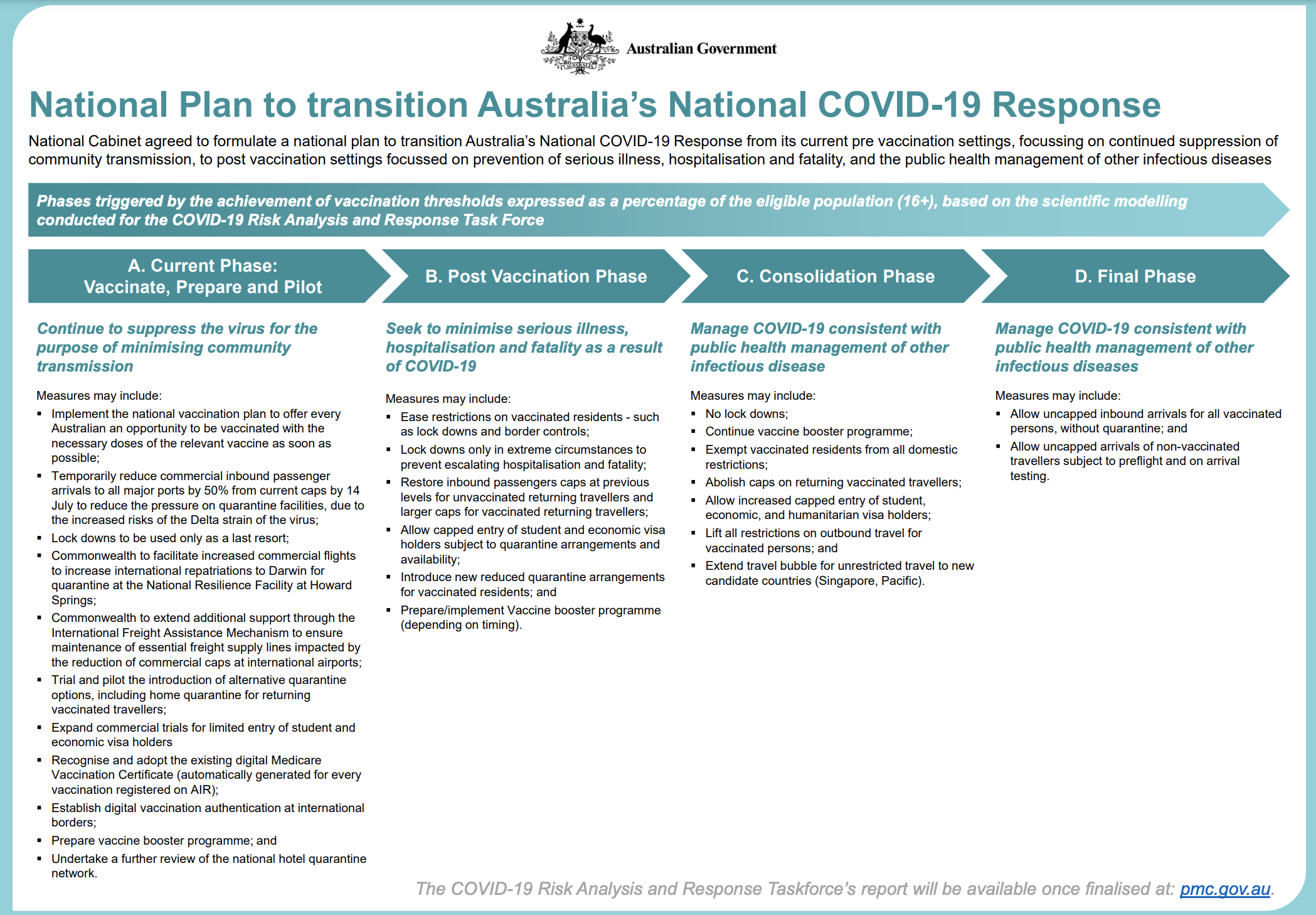 The phases were described as:
Current phase: Vaccinate, prepare and pilot

Continue to suppress the virus for the purpose of minimising community transmission

Temporary 50% reduction in international arrivals, due to the increased risk from the Delta strain

Lockdowns used as a last resort to manage outbreaks

Trial and pilot alternative quarantine options, such as home quarantine for returning vaccinated travellers

Post vaccination phase

Seek to minimise serious illness, hospitalisation and fatality

Ease restrictions such as lockdowns and border controls on vaccinated residents

Allow capped entry of student and economic visa holders 

Consolidation phase

Manage COVID-19 consistent with other infectious disease

No lockdowns

No domestic restrictions for vaccinated Australians

Extend travel bubble to new countries 

Final phase

No quarantine for vaccinated travellers

No caps on non-vaccinated travellers, subject to pre– and post-flight testing