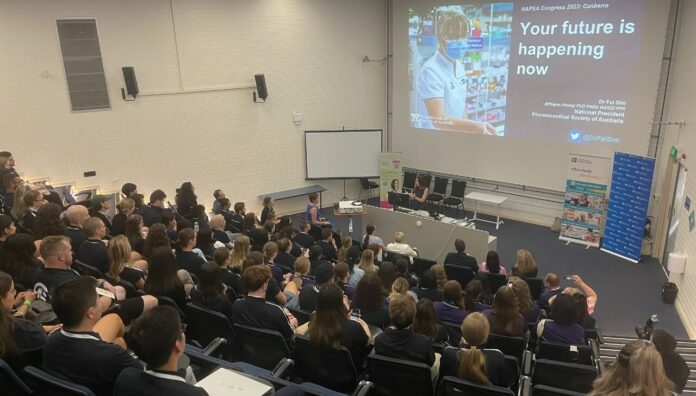 The 2023 National Australian Pharmacy Students' Association (NAPSA) Congress, held from 16–21 January, was chock-full of memorable moments – AP brings you the highlights.
The week began with a unifying tone during PSA National President Dr Fei Sim's opening plenary address which explored the theme 'Your Future is Happening Now'.

Dr Sim spoke to the opportunities COVID-19 presented to the pharmacy profession, pharmacists practising to top of scope, and the role of pharmacists as key members of healthcare teams.
Dr Fei Sim @PSA_National not only an inspiration to the pharmacy profession but an inspiration to women, I'm proud to be a future woman in pharmacy #napsacongress23

— Laura Edmondson (@laurazepam91) January 17, 2023
She also shared four life-long lessons with students before they embark on their pharmacy careers:
build professional relationships and network – now

bite off more than you can chew, and start chewing like mad

make a positive impact at every opportunity; and

don't let past negative experiences deter you from succeeding.
Building a career in pharmacy is like running an endurance relay race, Dr Sim told AP.
'Pharmacy students should keep up the momentum, expect hardships, but work together collaboratively and support each other to achieve the best outcome,' she said.
Praising the NAPSA team for running such a successful post-COVID event, Dr Sim said attending conferences is vital for networking and building professional connections.
'PSA is students' and pharmacists' partner at all stages of their career,'  she said. 'One can always expect to be inspired when they attend conferences.'
Healthcare barriers
PSA also led a discussion on pharmacists and climate change, with PSA General Manager Policy and Program Delivery Chris Campbell highlighting that pharmacists' role needs to change to adapt to new conditions, including expanded continued dispensing arrangements and better access to telehealth.

To emphasise the 'outrageous' limitations to telehealth, Mr Campbell cited a recent example of a pharmacist from Thursday Island who had to take a helicopter to see a patient lacking telehealth access.
'We have a transient and latent workforce that may be caring for others, [including] children or family with disability,' Mr Campbell told AP.
'They may have pockets of time where they are available to contribute, and currently we don't allow them to do that because of the funding mechanism that requires them face to face.' 
If we allow pharmacists to provide telehealth consultations to patients with reduced access to healthcare in rural and remote areas, this system can be scaled up to incorporate natural disaster management, Mr Campbell said.
'You get it right for rural and remote Australia, then you get it right when there's a natural disaster, because we have the infrastructure to support telehealth,' he said. 
'That means when a natural disaster occurs and people are isolated, we're still able to provide care.'
Career pathways
Meanwhile, in a session on career pathways for pharmacists, PSA General Manager – Education, Training and Knowledge Development Kerri Barwick MPS spoke about new and emerging areas of practice – including GP pharmacy, on-site pharmacists, disability care, and pharmacist prescribing.
'Aged care began with a medicine safety report; then a small pilot in one place,' she said. 'When we have proof of concept, we gather data and use that to get more pilot sites as well as advocate for funding for these new roles – and we have now seen the government's support with a $345.7 million dollar commitment,' she said.
View this post on Instagram
PSA not only helps to enable these pathways and funding opportunities, but also spearheads the education required to fulfil them, Ms Barwick said.
A key part of the session was broadening students' understanding of their future career options, but the value of community pharmacists was also emphasised.
'Even if you're not practising in an aged care facility, you can use all the tools, information and knowledge needed for working as an [on-site] pharmacist in community pharmacy,' she said.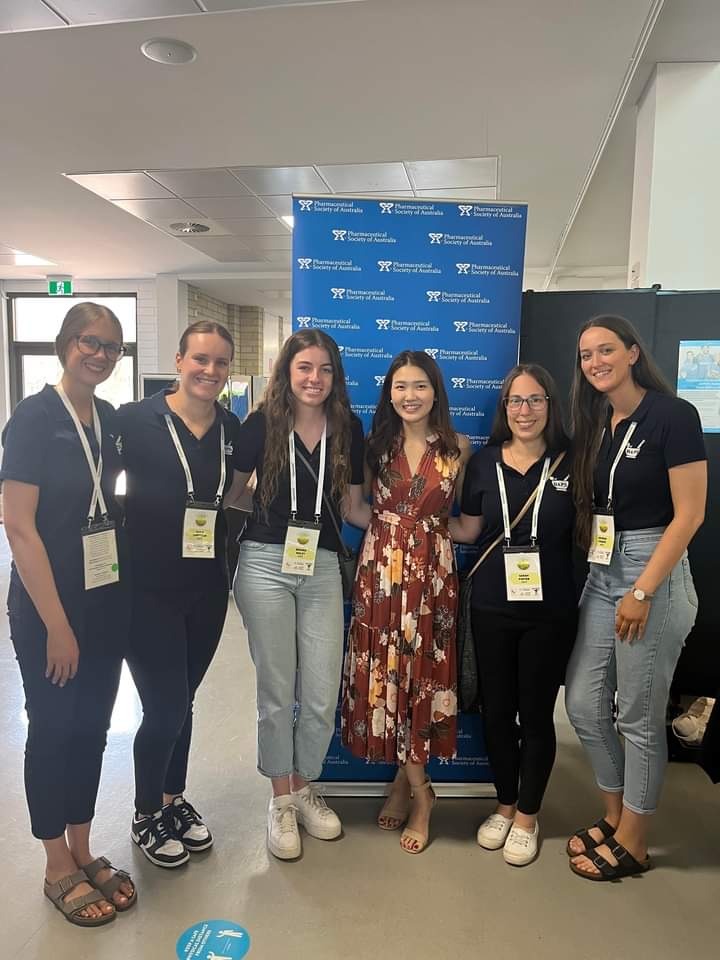 'A lot of the ageing population still live at home, and community pharmacists have a really important role looking after [these] vulnerable people.'
Ms Barwick also unveiled PSA's plans for a 'realistic education pathway for young pharmacists', including the redesign of the Graduate Diploma of Advanced Pharmacy Practice.
Students have the opportunity to include three units in the postgraduate diploma – PSA's Intern Training Program, immunisation training and the new 'Flying Start' program.
Launching this year, 'Flying Start' supports newly registered pharmacists in their first 100 days of practice.
'Things change for you [from] being an intern and having preceptor support to being out there on your own and not having that network,' said Ms Barwick.
The networking and mentoring opportunities available for students at such conferences such as NAPSA are also invaluable, Ms Barwick emphasised.
'After the sessions, most of the speakers stayed to chat with students,' she said. 'The students were also out every night [engaging in] social activities. 
'Pharmacy is a small world, so some of those friendships will last right the way through their career.'
Inspiring pharmacy students
For Laura Edmondson from the University of New England, A key take-out covered in several sessions, however, was the importance of gender equality in pharmacy practice.
Great to see pharmacy students from all across Australia here with us in Canberra #NAPSAcongress23 @NAPSACongress @CaSPA_UC @UCFacultyHealth @UniCanberra pic.twitter.com/RO4JwKEmAl

— Lynn Cheong (@lynn_cheong) January 16, 2023
'Everyone deserves the same healthcare,' she said. So as future pharmacists it's our job to be aware [of this importance] and that everyone should feel safe when coming to see us.'
Dr Sim's opening speech gave attendees some 'powerful' advice to inform their learnings throughout the week, said pharmacy student Sarah Foster.
'We were able to reflect on what she said and act upon that throughout the week by gaining new knowledge and building new networks,' Ms Foster said.
As a fourth year pharmacy student at Victoria's La Trobe University, Ms Foster found the session Deb Hawthorne MPS presented on GP pharmacy particularly impactful.
'It renewed my energy for wanting to practise in that area, and [heightened my] understanding of the transitions of care between hospitals, GPs and residential aged care [facilities],' she said. 
'All those [sectors] need to come together, with pharmacists in the middle [managing] medication, to ensure patients are cared for appropriately.'
Ms Hawthorne's work in the 2022 Transitions of Care Improvement Project with intern pharmacists from Wangaratta Hospital helped Ms Foster understand her future prospects as a pharmacist based in regional Victoria.
'It made me want to get involved with the Wangaratta Hospital and with Deb herself to extend my practice,' she said.
After a challenging few years for the profession, it was also encouraging to hear so much enthusiasm from presenters and fellow delegates at the Congress.
Such eye opening words from Dr Clara Tuck Meng Soo regarding LGBTIQ+ healthcare!! It's so easy to make such a difference to someone's life #napsacongress23

— Emma O'Donnell (@emodonnell_) January 16, 2023
'Seeing all of these pharmacists so passionate for community pharmacy and all the professional services it involves was a great way to renew the energy that has [perhaps] been dwindling over the last couple of years,' she said.
And the winner is… PSOTY Wildcard announced
As the NAPSA congress drew to a close on Saturday, University of Canberra student Ingrid Stroud was announced as the Pharmacy Student of the Year Wildcard, who will compete alongside state finalists in the national PSOTY competition at PSA23.
This year's judges PSA Chief Executive Officer Mark Kinsela, early career pharmacist Erin Cooper and NAPSA representative Emma O'Donnell congratulated Ms Stroud while commending the other Wildcard finalists on their clinical skills.
'It is heartening to see the future of our profession on show, demonstrating a high level of clinical knowledge, capability and passion – it's clear that the future of pharmacy is incredibly bright," said Ms Cooper, winner of the 2021 PSA MIMS Intern Pharmacist of the Year Award.
'Congratulations to Ingrid on taking out this year's wildcard competition. We look forward to seeing you at PSA23 for the national finals.'