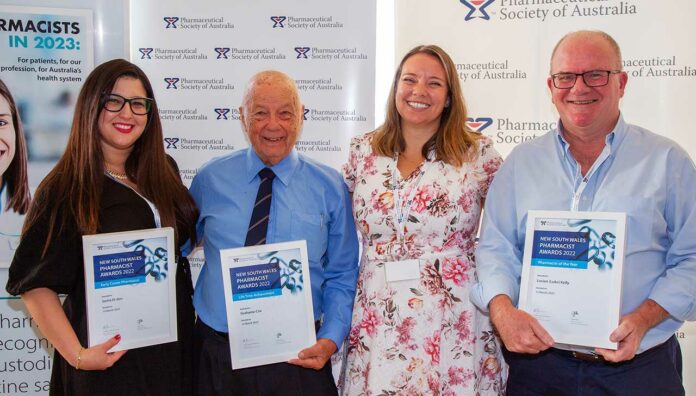 Four outstanding pharmacists were recognised for their dedication to the profession at PSA's New South Wales Annual Therapeutic Update (ATU) last weekend.
The winners included Intern Pharmacist of the Year Blake McCallum MPS, Early Career Pharmacist of the Year Dr Sarira El-Den MPS, Pharmacist of the Year Luke Kelly FPS and Lifetime Achievement Award recipient Grahame Cox FPS. 
Presented by PSA NSW Branch President Chelsea Felkai MPS in her hometown of Newcastle, the awards celebrated the varied ways pharmacists contribute to their communities. This ranged from supporting rural patients, as in the case of Broken Hill-based Mr McCallum, to helping shape modern pharmacy practice, as Mr Cox has done over his 50-year-career.
'The calibre of submissions this year was very high, and it wasn't an easy decision when you consider the way in which pharmacists have stepped up over the past 2 years,' Ms Felkai said.
'I congratulate this year's award recipients for their substantial contribution to the profession, supporting the health and wellbeing of the NSW community.'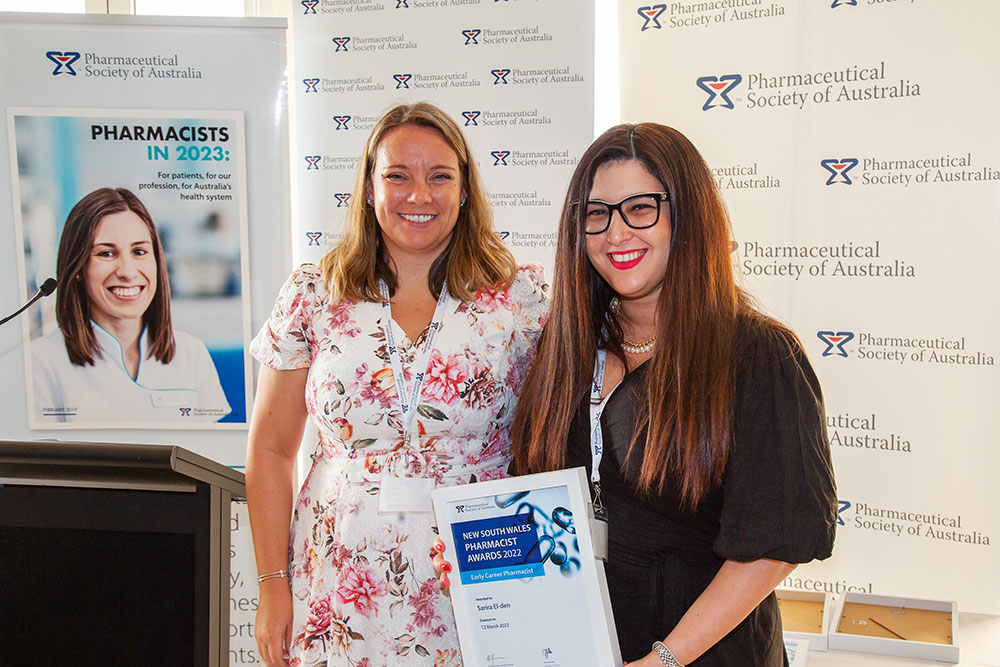 Mental healthcare champion
A Senior Lecturer at the University of Sydney, Dr El-Den was recognised for her contribution to pharmacy education and research. This includes providing Mental Health First Aid training to thousands of pharmacists across the country and completing a PhD in perinatal mental healthcare.
She is also one of the lead researchers in the PharMIbridge trial, which aims to empower pharmacists to better support patients with severe and persistent mental illness.
Dr El-Den said receiving the award was an honour that she hoped would help increase the visibility of pharmacists working in mental health.
'We know that pharmacies are a health destination, but people often don't realise that this includes mental health,' she told Australian Pharmacist. 
'This award makes me want to work harder – and faster, if that's possible – to ensure all pharmacists' contributions to mental healthcare are visible to consumers and our healthcare colleagues.'
Dr El-Den developed a passion for mental healthcare while working in community pharmacy and seeing the impact pharmacists can have first hand.
'Whether it's providing advice and counselling about psychotropic medicines or supporting a person experiencing a mental health crisis, pharmacists' everyday contributions improve their communities' mental health,' she said.
'I would like to work with pharmacists to continue to build the evidence base, so that the impact of pharmacist-led mental healthcare can be demonstrated.
'By doing so, we can ensure that pharmacists are supported through education, training, resources and appropriate referral pathways, as well as recognised and remunerated for their integral roles in mental healthcare.'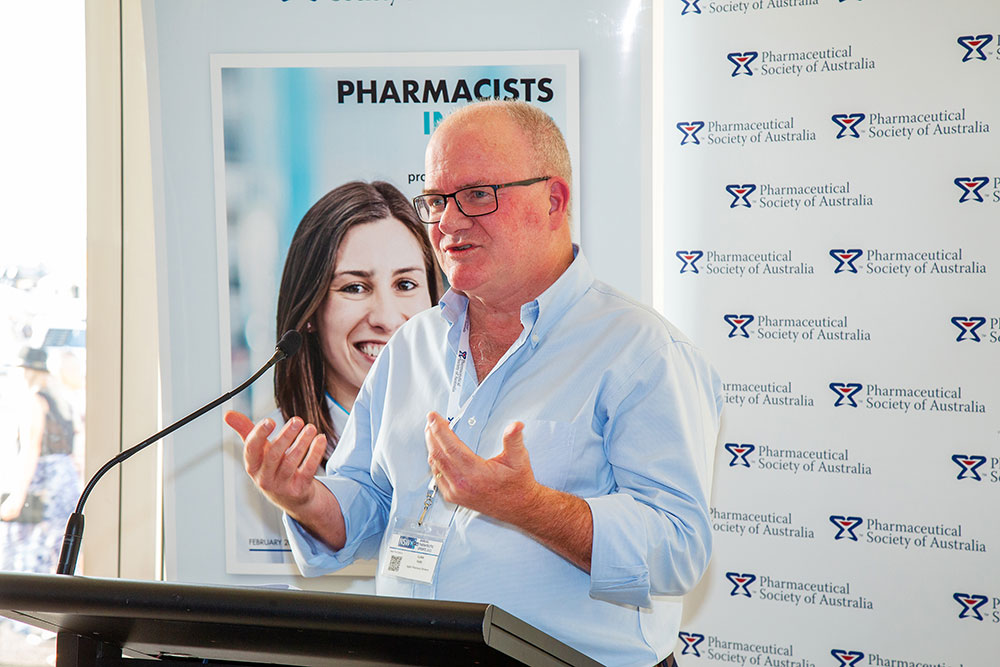 A local legend
Former PSA NSW Branch Committee member Luke Felly FPS was initially attracted to the patient interaction and the diversity of roles within the pharmacy profession. He has taken full advantage of this variety, working as a community pharmacist, business owner, lecturer and pharmacy broker over his 40-year career.
Mr Kelly, who was made a PSA Fellow in 2020, graduated with a Bachelor of Pharmacy from the University of Sydney in 1981. He has spent the majority of his career in the Hunter region, owning three pharmacies over 30 years alongside his wife.
The pair sold their last pharmacy in 2016 to start a pharmacy broker service. This also meant Mr Kelly could devote more time to his role as President of the Newcastle Hunter Valley Pharmacists Association (NHVPA) and begin teaching at the University of Newcastle.
When asked what the highlight of his career has been so far, Mr Kelly said he was most proud of 'guiding students and ECPs towards fulfilling careers in pharmacy'. 
'I have enjoyed the many achievements that can come with ownership, and I have enjoyed the interactions that have come from my NHVPA roles, including being a small part of the PharMIbridge trial,' he told AP.
'The most enjoyable role, however, has been more recent, and that is the teaching I have done at the University of Newcastle … Our profession will be in good hands.'
Mr Kelly advised ECPs to 'be proud of being a pharmacist'.
'It's great to be a part of a profession that chooses to do things because it's right, not because it's profitable,' he said. 'Having said that, it's high time we were recognised and remunerated for what we do, not just what we supply.
'ECPs have a knowledge base and skills that are underutilised, and we need to fix that.'
Other ATU highlights
The PSA's annual NSW ATU conference brings pharmacists together to discuss the latest activity and innovations within the profession. 
Sessions this year included a panel discussion on medicine safety featuring PSA National President Associate Professor Chris Freeman, Dr Hayley Croft from the University of Newcastle and Genevieve Adamo from the Poisons Information Centre. 
The discussion focused on the role medicines play in intentional and unintentional poisonings, as well as how pharmacists can better advocate for people with a disability and their carers, particularly in group home settings.
Other conference highlights included an ECP International Women's Day breakfast, with a panel of influential women and allies sharing stories of biases that are found within workplaces and need to be challenged.
'The vibe from attendees at the conference was fantastic, with everyone buzzing to be able to network with new and old friends and colleagues,' Ms Felkai said. 'It was wonderful to mingle and listen to the good and the bad that pharmacists are dealing with right now.'
Did you attend the NSW ATU? See if you can spot yourself in our photo gallery below.