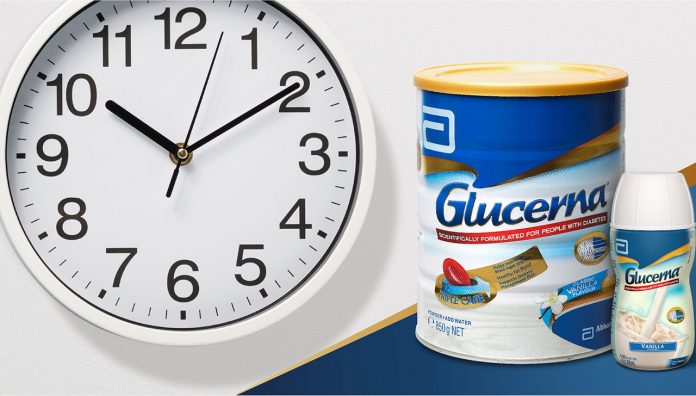 ADVERTORIAL BY GLUCERNA®
It can be challenging for those with impaired glucose tolerance or insulin resistance to maintain a healthy, low GI diet; especially considering those busy, on-the-go lifestyles.1
Glucerna® meal or snack replacement is a complete and balanced health shake that minimises spikes in blood sugar levels through its unique blend of slow-release carbohydrates.2 Your patients can shake up their lives and take a small step towards reaching their health goals by including this delicious, scientifically formulated health shake in their day.
Glucerna® is nutritionally complete, balanced and scientifically formulated with:2
A slow-release carbohydrate system, making it low GI which helps to manage blood sugar levels
A healthy fat blend, including plant-based omega-3s, which help to support a healthy heart3
Prebiotic fibre which supports gut health.4
Formulated for people with prediabetes and diabetes, as part of a diabetes management plan including diet and exercise.
Did you know about 1.7 million Australians have diabetes?
This includes all types of diagnosed diabetes (1.2 million known and registered) as well as silent, undiagnosed type 2 diabetes (up to 500,000 estimated).1
For more product information, please visit glucerna.com.au. Glucerna® meal and snack replacement is available in a 850g vanilla powder and 200mL ready to drink bottle from quality pharmacies nationally.
®Registered trademark of Abbott Australasia Pty Ltd. ABN 95 000 180 389. Food for Special Medical Purposes. Use under medical supervision. ANANZGLU190020.
References:
Diabetes Australia. Diabetes in Australia. At: www.diabetesaustralia.com.au/diabetes-in-australia
Glucerna powder (S434.185) Product Label.
West SG, Hecker KD, Mustad VA, et al. Acute effects of monounsaturated fatty acids with and without omega-3 fatty acids on vascular reactivity in individuals with type 2 diabetes. Diabetologia 2005;48:113–122.
Sabater-Molina M, Larqué E, Torrella F, et al. Dietary fructooligosaccharides and potential benefits on health. J Physiol Biochem 2009;65(3):315–28.